Skincare pop quiz: what's the difference between toner and essence? (Yes, there is a difference! In fact, there are numerous distinctions.) According to Junko Gomi, CEO of H2O+ Beauty®, toner and essence serve two entirely different purposes. "They typically aren't interchanged for one another," she notes. 

That said, it's understandable why you might mistake toner for essence and vice versa — or even believe that they're interchangeable. Both can appear clear and/or milky; both feel lightweight and watery; and, adds Gomi, "both are used after cleansing." Add this to the fact that "essence" is a fairly recent addition to the skincare lexicon for many countries outside of Korea and Japan, and it's no wonder many of us are befuddled!

Lest we go another moment pitting toner vs. essence against one another — or wondering whether essence is the same as toner — let's dig in. Below, whether you need both toner and essence, how to apply toner and essence, and the definitive truth about whether toner or essence comes first in a skincare routine. 
What does toner do?
In short, toner nixes grime. "Toner is considered as an extension of the cleansing step," Gomi explains. It should be applied after you've washed your face. Post cleansing, "toner is used to remove leftover impurities from the surface of the skin," Gomi says, "including dead skin cells, leftover makeup, or [residual] face cleanser." In doing so, toner cleans pores and helps stave off blemishes. 
How to choose the best toner for your skin
If your skin is oily and/or prone to blackheads, consider toners that contain alpha hydroxy acids (AHAs) and/or beta hydroxy acids (BHAs). These acids slough away dead skin cells and cut through excess sebum, respectively. Try COSRX® AHA/BHA Clarifying Treatment Toner, $19, which contains both types of acids, or the new Deep Sweep toner from Farmacy Beauty®, which contains 2% BHA and papaya fruit enzymes. Both products are excellent for deep cleaning pores — and diminishing sebaceous filaments — without leaving skin feeling tight or stripped.

On that note: steer clear of alcohol-based toners. Although alcohol kills bacteria and thus (ostensibly) prevents blemishes, it's incredibly drying. Over time, this does not bode well; dried-out skin can overcompensate by producing excess sebum, which ultimately leads to more clogged pores. 

If you fear you've already overdried your skin with alcohol-based products (fun fact: many American toners contain alcohol), or you have naturally dry skin to begin with, look for toners that are specifically formulated with gentleness in mind. "Some toners can restore and balance the skin's PH levels, while soothing and hydrating the skin," Gomi notes. Look for ingredients like hyaluronic acid and flower extracts, which hydrate and soothe. (Try the Rose and Hyaluronic Acid Deep Hydration Toner from Fresh®, $45, which contains a flurry of floating rose petals.)
How to apply toner
To recap: the function of toner is to remove any impurities your regular cleanser may have missed. It's a deep cleaner, of sorts. And, similar to how household cleansers (e.g. Windex®) cut through grime when they're sprayed on a cloth, toner works most effectively when it's applied to a cotton ball (or cotton round). After you've washed your face and patted your skin dry, shake a few drops of toner onto your cotton ball. Then, sweep the cotton ball gently across your skin, focusing on areas that appear particularly congested. Prepare to marvel at the residual grime that'll (almost inevitably) appear on the cotton ball. 
What does essence do?
If you think of toner as taking bad things out of your skin, essence is putting good things into your skin. Often referred to as "miracle water," essences are watery, lightweight liquids that're supercharged with "nourishing, water-soluble ingredients," Gomi notes. These ingredients target specific skin concerns, such as unevenness, crepiness, and dehydration.

Essences also function as the first layer of hydration in a skincare routine. Perhaps this is why Gomi calls them the "backbone of skincare" in Korea and Japan, where moist, plump skin is sought after. 

Additionally, essences "prime" the skin for subsequent products — like serums and moisturizer — by softening the skin and allowing for better absorption. In fact, part of the reason essences are so lightweight is so they can "absorb quickly and efficiently into the skin," and act as a non-imposing base for other layers to come.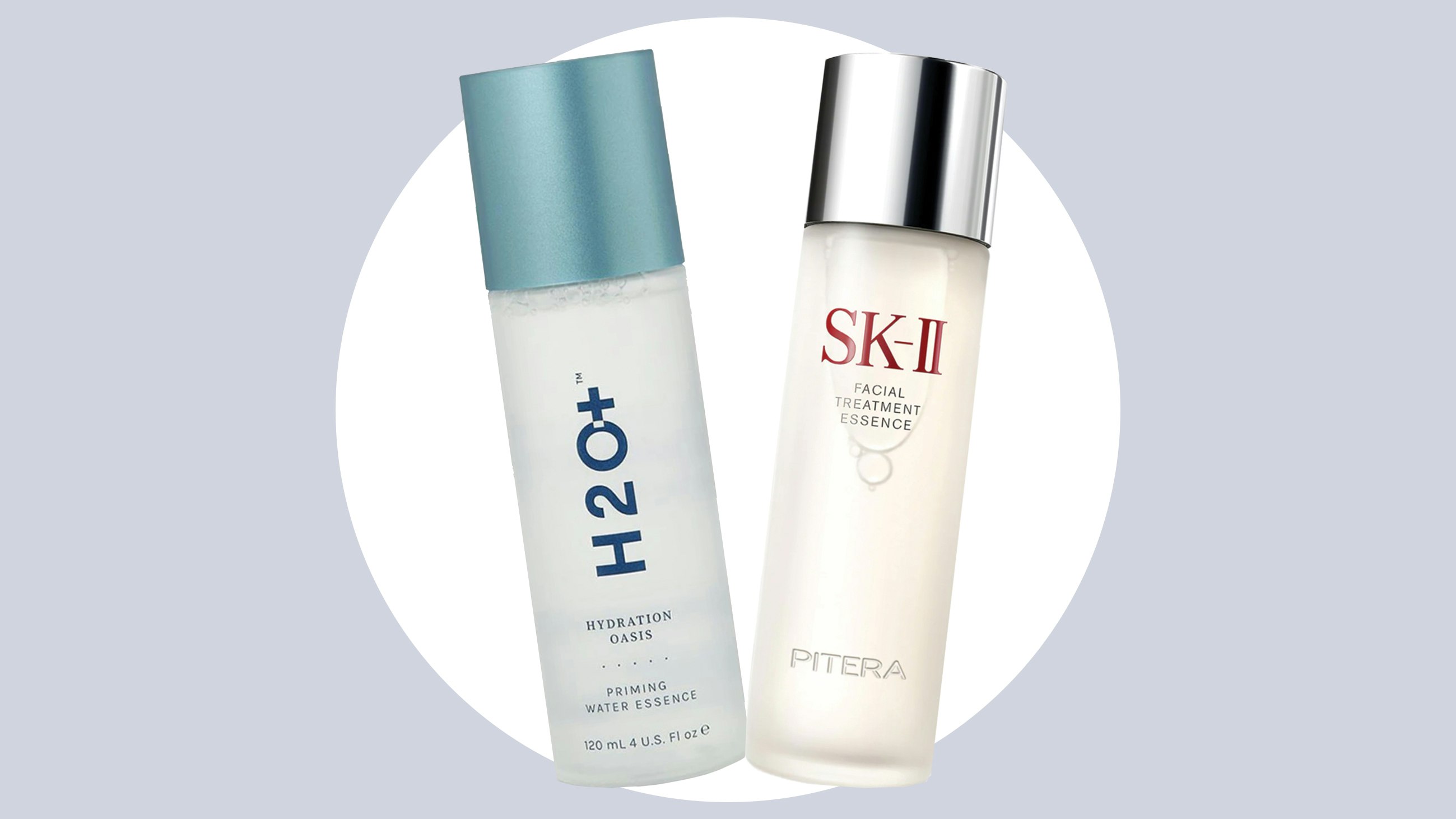 How to choose the best essence for your skin 
Gomi says it's hard to go wrong with essences, as they're inherently gentle, hydrating, and suitable for virtually every skin type. Two key ingredients she does recommend, though, are hyaluronic acid and glycerin. Why? Hyaluronic acid attracts and holds onto moisture, and "Glycerin is a humectant that helps to balance the moisture level in your skin," Gomi explains. "If the humidity is high, humectants also draw moisture from the air." (Side note: Hyaluronic acid and glycerin are excellent ingredients to apply after face steaming, which adds moisture into the air, for this reason.)

Try H2O+ Hydration Sensitive Essence, which checks both HA and glycerin boxes, along with barrier-protecting ceramides and soothing chamomile. (Really, try it; this essence has sparked my deep, steadfast love for the product category as a whole.) If you're a fan of that dewy glass skin look, consider these ultra-hydrating essences, too. Or, if you're looking to splurge, consider the cult classic SK-II® essence, which is infused with the brand's proprietary pitera — a fermented ingredient derived from sake. 
How to apply essence
Instead of using a cotton ball to apply essence (as you would with toner), Gomi recommends pouring a quarter-sized puddle directly into your palms. Then, gently pat the essence over your face and neck. This method helps to drive nutrient-rich ingredients into the skin, instead of wiping them away with a cotton ball. (For more on the benefits of patting, read about the 7 Skin method.) Then, follow with your serum, moisturizer, and sunscreen of choice. 


Read more about K-Beauty Trends