Chances are, you've been dealing with your facial hair the same way since your upper lip 'stache first appeared in eighth grade. We get it: While there are a lot of options out there for facial hair removal, it's easier to stick with what you know. But rethinking your method could lead to better outcomes — think smoother skin, less irritation, and fewer ingrown hairs. Depending on your skin type and the kind of facial hair you're dealing with, switching it up could go a long way.

Before you do that, it also helps to optimize your pre- and post-facial hair removal skincare regimen. For one, "it is important to avoid anything that could cause skin irritation in your skincare routine, such as retinoids, AHAs, and BHAs," says Chicago, Illinois-based dermatologist Caroline Robinson, MD. (That includes in-office treatments like chemical peels, too.) Your skin also shouldn't be compromised in any way before hair removal — so, no redness, no irritation, and definitely no sunburns. Then, after any form of hair removal, you should "avoid direct sunlight and treat the skin gently," says Dr. Robinson. Applying a basic moisturizer and a sunscreen with SPF 30 or higher will yield the smoothest, safest results. Ready to get rid of some fuzz? Keep reading to find the best method for you.

Editor's Note
Retinol shouldn't be used by women who are pregnant, considering getting pregnant, or nursing. Please consult with your doctor before use.
Hair Removal Method:
Shaving
Why it works: Done right, shaving is one of the most straightforward and foolproof ways to remove hair. (This applies to both men and women!)  "The trick is to gently loosen the hairs with a gentle cleanser first, use a sensitive-skin shaving cream, shave in the direction that the hair grows without pulling on the skin, and hydrate immediately after," says Dr. Robinson. (Try the eos Shea Better Shave Cream for Sensitive Skin, $5)  You may have heard the old myth that shaving causes hair to grow back faster and thicker, but that's absolutely not the case. "Shaving does not and cannot modify the shape, thickness, color, or rate of growth of the hair," she says. (More likely, hair appears thicker because shaving gives each hair a blunt tip, making it coarse and stubbly-looking.) 

What to keep in mind: "Shaving can flare acne and needs consistent maintenance," says Michele Farber, MD, a board-certified dermatologist at Schweiger Dermatology GroupSM in New York, New York. If you're looking for something that is gentler on the skin or leaves your skin feeling silky for longer, keep reading.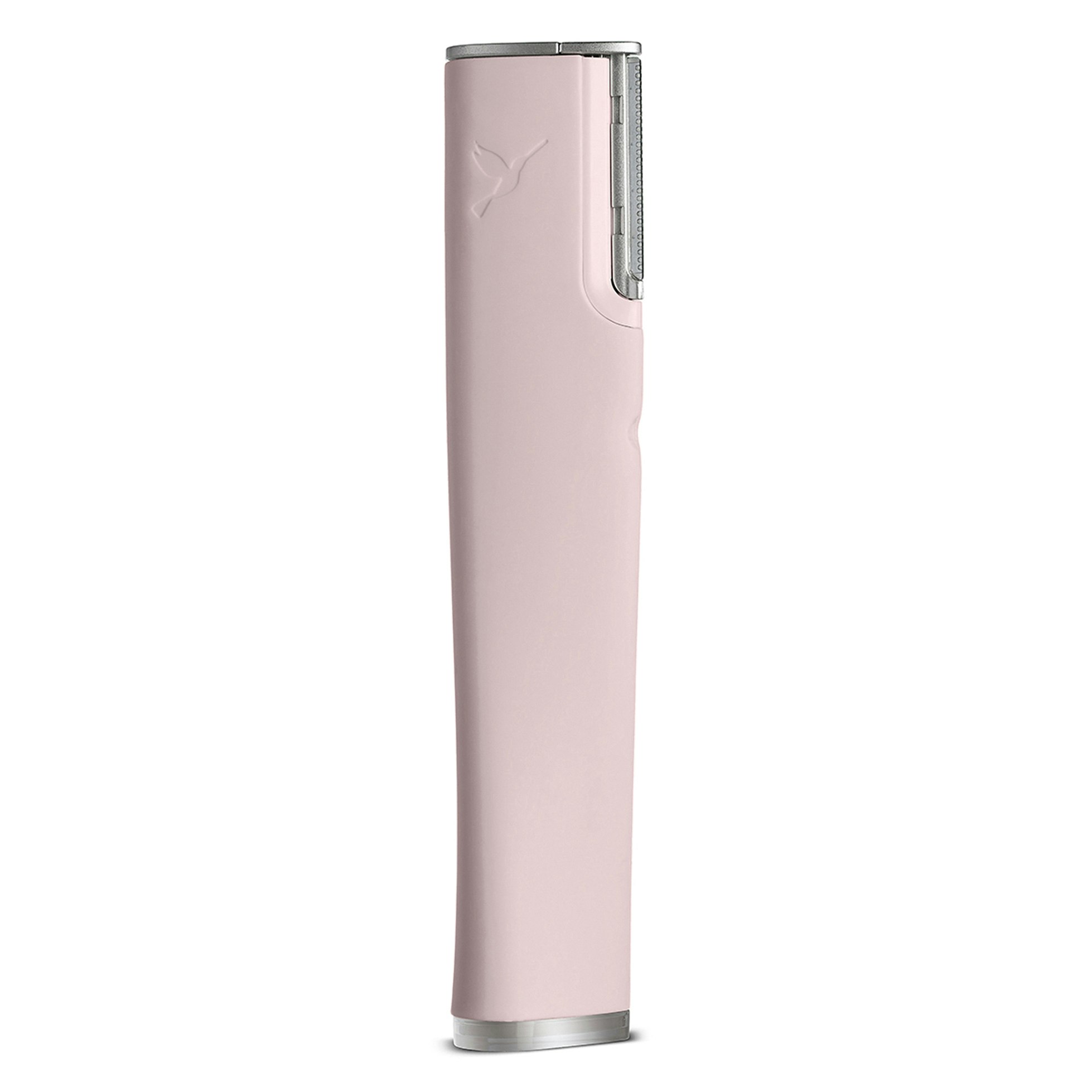 Hair Removal Method:
Dermaplaning
Why it works: If you're looking to remove peach fuzz — that blonde or fine baby hair, often called vellus hair — you'll need something that's a little more thorough than your average razor. For this, "dermaplaning is a great option," says Dr. Farber. "It's generally gentle on sensitive skin." While dermaplaning and razors both use blades, there's a difference: Dermaplaning, which you can do with at-home devices like DERMAFLASH® ($199), uses a small blade to scrape off the superficial layer of peach fuzz and skin buildup — so it doubles as mild exfoliation. 

What to keep in mind: You need to repeat every four to six weeks to maintain the results. Furthermore, it's important to note that dermaplaning won't remove coarser hairs, like darker upper lip or chin hairs — only those baby-fine hairs and dead skin. (Intrigued? Read one Spotlyte editor's DERMAFLASH review.)
Hair Removal Method:
Depilatory Creams
Why it works: You might see this as an old-fashioned option, but it's ideal for dealing with those random dark, coarse chin hairs — the work of hormones, typically. "Depilatory creams work by breaking the bonds in keratin to help get rid of unwanted hair," says Dr. Farber. While they're easy to use and tend to be super-effective — which is why they're good for coarse hair — the pH of the creams can also be alkaline, which can cause skin irritation. (Learn more about the delicate pH balance of your skin here.) That being said, "newer formulas are gentler and often have moisturizing ingredients to [help] prevent irritation," she says. (Consider the Completely Bare Go Fuzz Free Facial Moisturizer and Hair Inhibitor,  $12, which contains skin-softening jojoba oil.) Whatever cream you choose, just make sure to follow the directions closely — especially about how long to leave it on and how often to use it.

What to keep in mind: Don't use depilatory creams if you have ingrown hairs — they won't work, as the product won't be able to penetrate the skin and reach the hair to destroy it. Also, avoid using depilatory creams if you're prone to hyperpigmentation; In some complexions, depilatories can irritate the skin and result in post-inflammatory hyperpigmentation (PIH). 
Hair Removal Method:
Waxing
Why it works: If you get ingrown hairs often — which are caused when the sharp end of a hair grows back into skin, creating what looks like a small, embedded loop — waxing may be your best bet. Since it pulls hair out at the root, the new follicle tips that emerge are softer and less likely to curl into your skin. Plus, since you can wax a large area in one go, it's faster than other hair removal options. If you're a newbie, "start with a small area and make sure your skin responds without side effects," says Dr. Farber.  This is particularly true if you're using hot liquid wax like Gigi® Facial HoneeTM, which requires you to warm the product from solid to liquid form before you spread it on the skin. If the notion of hot liquid wax seems intimidating, consider trying a pre-prepared wax strip. Wax strips like the Nad's Facial Wax Strips, $5, which work particularly well on coarse hairs, nix the chances of burning your skin or making a mess!

What to keep in mind: With liquid wax, caution is key: "You can cause burns and incomplete hair removal," explains Dr. Farber. Also, if you use a vitamin A derivative on your skin, such as retinol, talk to your healthcare provider before waxing — this treatment can thin skin, and waxing can irritate or even tear it. 
Hair Removal Method:
Hair-Inhibiting Cream
Why it works: Hair-inhibiting creams are now available via prescription, and these versions are more reliable than their OTC counterparts. Hair-inhibiting creams stymie any stubble by blocking an enzyme involved in hair growth. "As a result, many women will experience a reduction in hair growth, slower hair growth, or the appearance of less hair as thicker hairs are converted to thinner hair," says Dr. Robinson. "Some women, however, do not experience any improvement." Most people can use it, though it likely won't get rid of every single hair in a given area.
Editor's note As always, talk to your doctor before starting any new treatment, medication, or supplement.
What to keep in mind: It's a little high-maintenance. "The medicine must be applied to skin with empty hair follicles, meaning the hair that is present must be removed by other means prior to applying the twice daily medication," says Dr. Robinson, who only recommends using it with another means of hair removal. Last but not least: It can also cause breakouts. 
Hair Removal Method:
At-Home Laser Hair Removal Devices
Why it works: Just as in-office laser hair removal devices use heat-producing wavelengths of light to zap hair, "at-home lasers use a similar principle, but produce less energy and require much more effort to deliver enough heat to diminish hair growth," says Dr. Robinson. "Oftentimes, they are not able to remove the hair completely, but they can be helpful in minimizing the volume and thickness of hair in a given area." 

What to keep in mind: Some of these DIY at-home lasers may use IPL (intense pulsed light), which can confuse melanin, skin's pigment, with hair in deeper complexions. For that reason, they're ideal only if you have fair skin and dark hair, and a patch test in an inconspicuous area is highly recommended.


Discover more advice for at-home treatments here: