We'll admit it: We spend plenty of precious time babying the skin on our faces, but our bodies often fall by the wayside. Even if you're consistent about applying moisturizer from head to toe on a daily basis, we're willing to bet that your SPF routine doesn't get the same courtesy. (Don't feel too guilty; Spotlyte editors are in the same boat.) 

It's time that changed. In the name of total protection from sun damage — the primary source of skin aging, by the way! — we're sharing what we believe to be the best SPF formulas for the skin on your body. Whether you're ready to drop some cash or are searching for an affordable pick, keep reading, because we've got you covered . . . literally.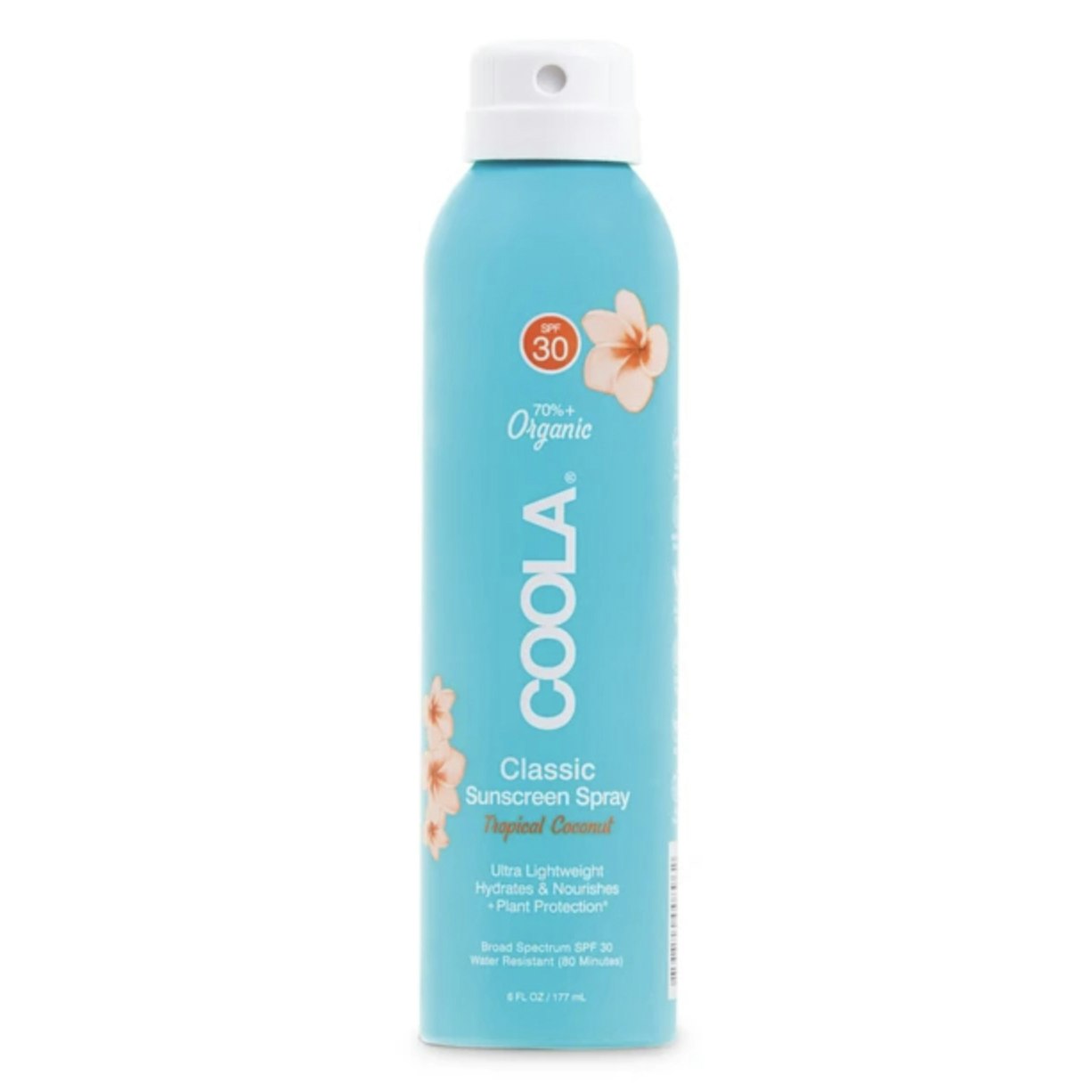 1/12
COOLA® Organic Sunscreen Body Spray in Tropical Coconut Broad Spectrum SPF 30 
Who: Joslyn Winkfield, Creative Lead, Digital

Why: I'm definitely a spray type of gal when it comes to body sunscreen. I find it's easier to cover those hard to reach areas, like my back and bottoms of my feet. And when I want something light and non-greasy for everyday use, I spray this delightfully tropical sunscreen from COOLA on before getting dressed or taking a dip. The summery scent works nicely under perfumes with lavender and bergamot notes, and the formula melts into my skin from neck to foot with no purplish white cast.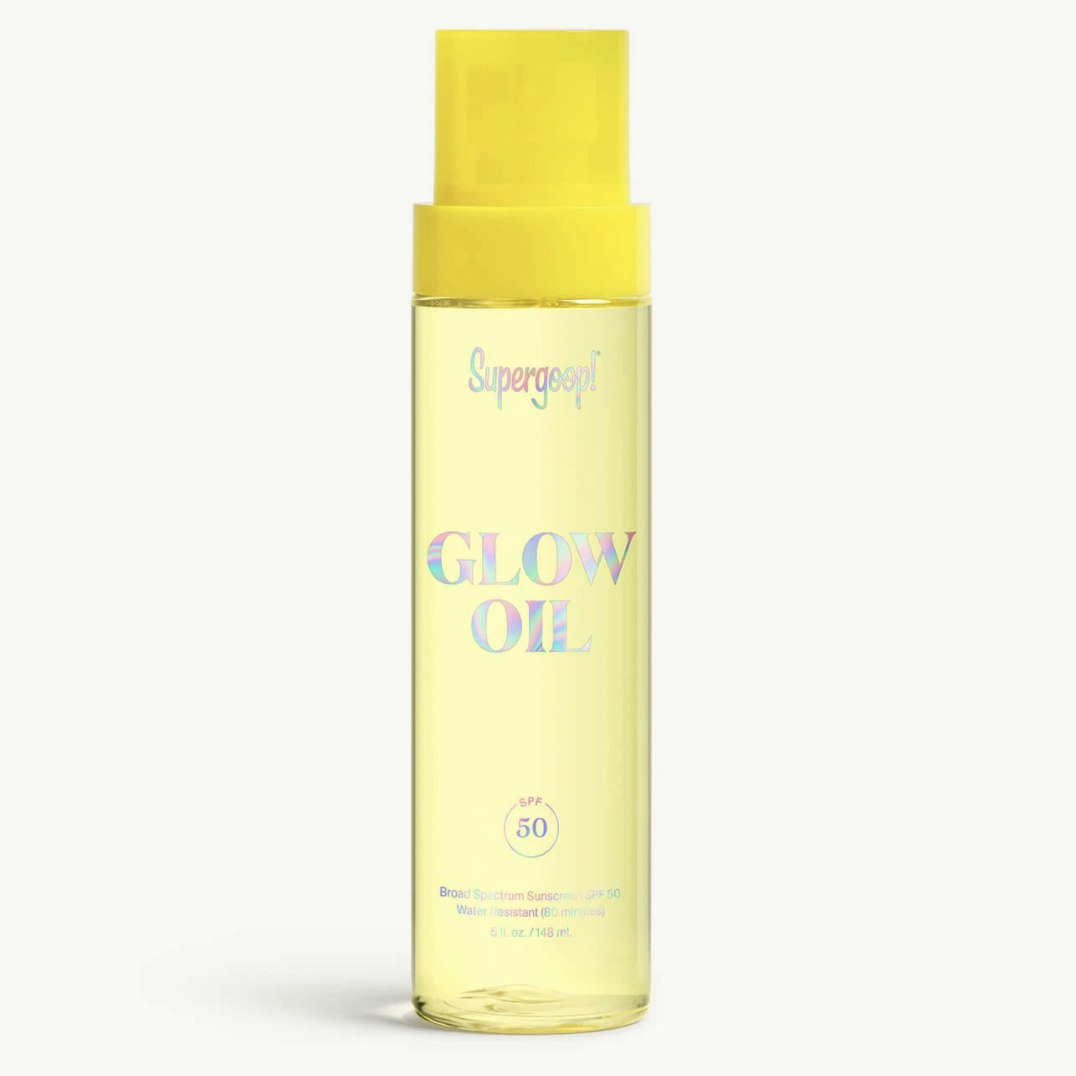 2/12
Supergoop!® Glow Oil SPF 50 
Who: Joslyn 

Why: While I don't enjoy extra shine on my face, I'm a superfan of a glistening, golden beach body. Enter this delicious oil from Supergoop!, which has been updated to be reef safe (aka octinoxate-free). It's rich with nourishing antioxidants, shea butter, and a bevy of good-for-me oils (like radish and grapeseed) and is topped off with a light, cooling cucumber scent. Thanks to SPF 50, I can glow safely for 80 minutes before needing to reapply. That means it's the perfect product for those summer naps by the pool.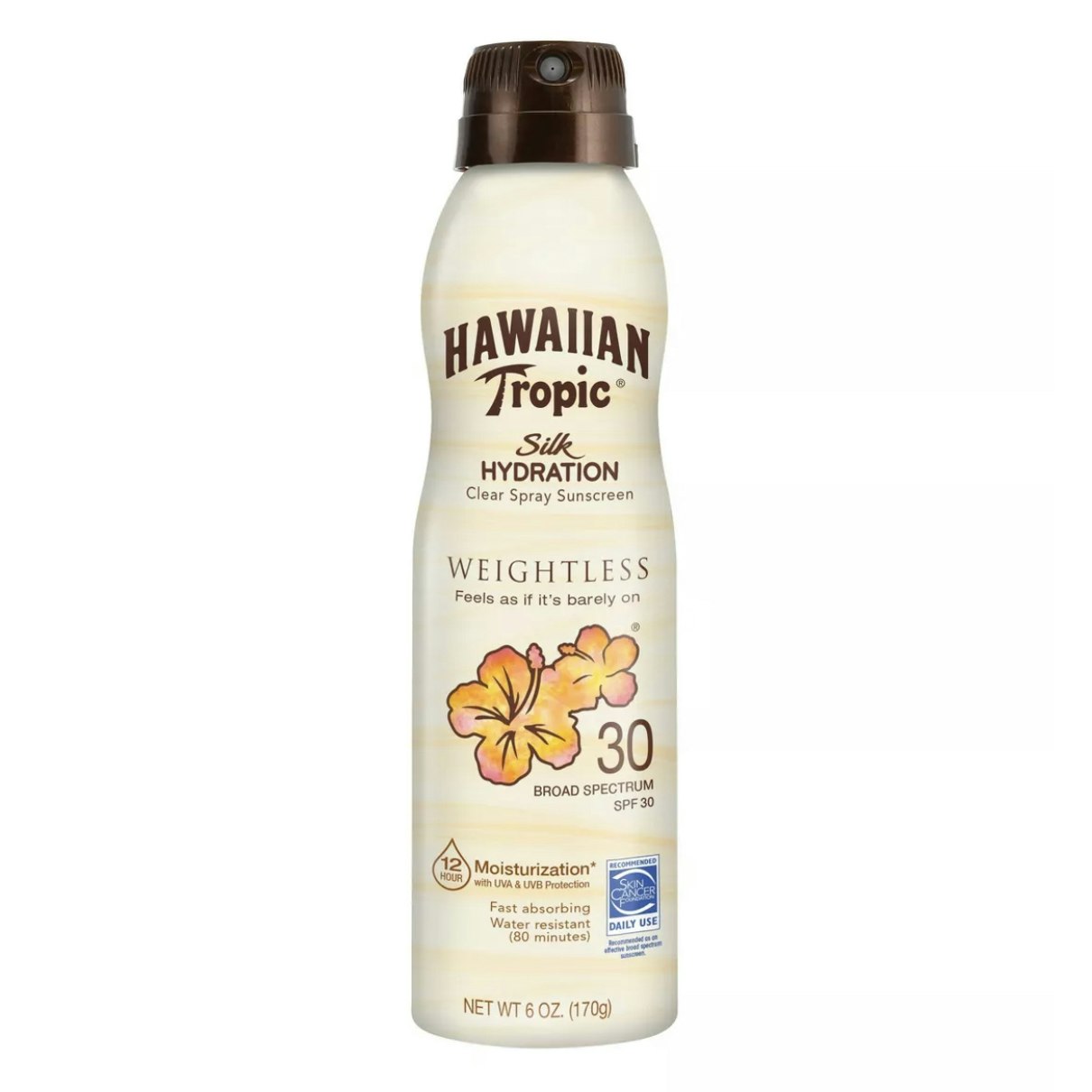 3/12
Hawaiian Tropic® Silk Hydration® Weightless Clear Spray Sunscreen Broad Spectrum SPF 30
Who: Emily Orofino, Senior Beauty Editor

Why: I scoffed at the descriptor of "weightless" — that is, until I tested the formula. The only reason I knew I was wearing it was because I saw the spray come out of the canister, but I couldn't really feel the sensation of the spray itself. The sunscreen feels featherlight, like a moisturizing dry oil without the sheen. It's also available in multiple protection factor options — SPF 15, 30, and 50. The cherry on top is the tropical fragrance; white floral and coconut notes make me feel like I could be in the Caribbean when I'm really in Connecticut.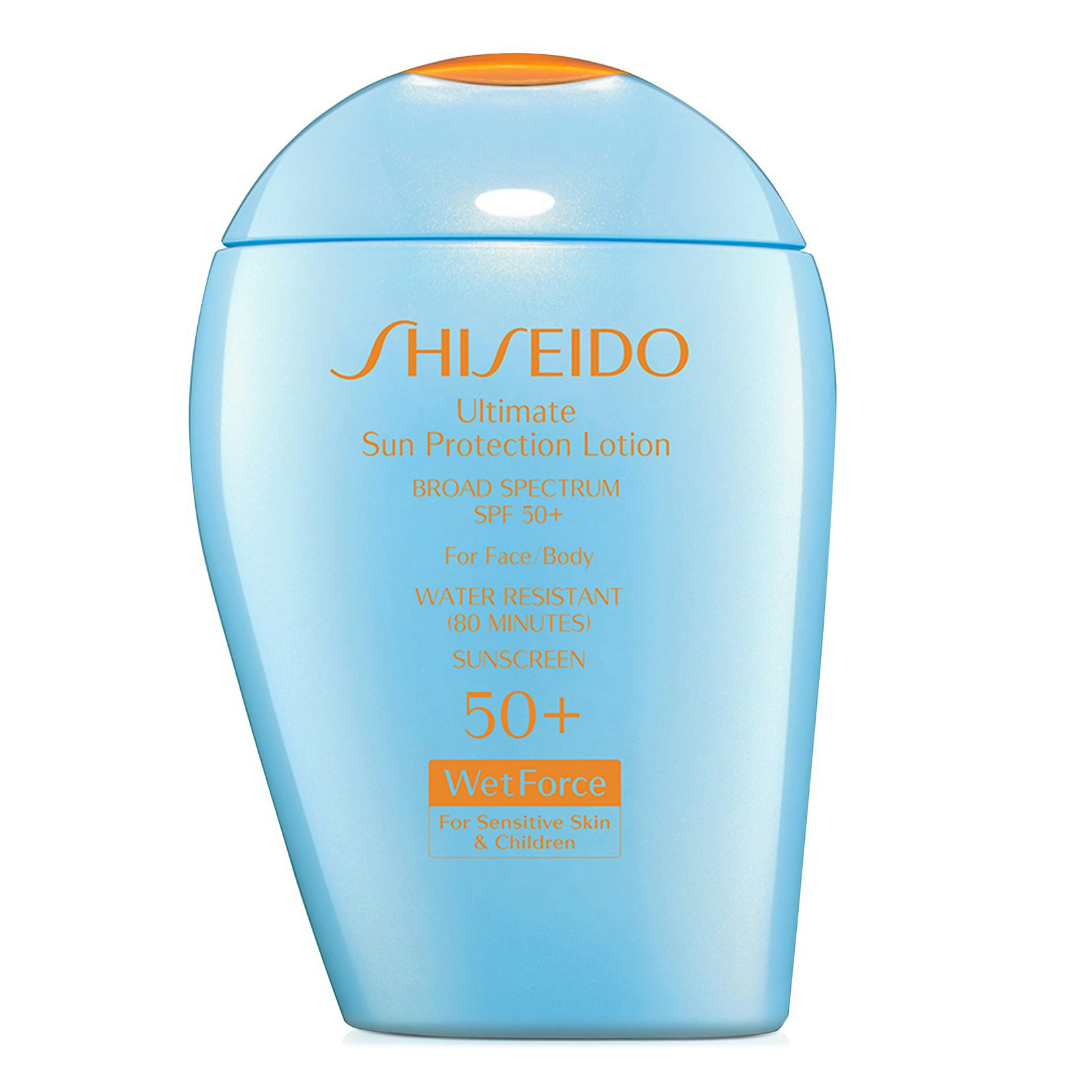 4/12
Shiseido® Ultra Sun Protection Lotion Broad Spectrum SPF 50+ WetForce for Sensitive Skin & Children
Who: Emily 

Why: Let me get this out of the way up front — this product will leave a white cast behind. There's a good chance this is due to the huge percentage (over 19%!) of mineral sunscreen zinc oxide in the formula. I tolerate the chalky finish because, holy cow, it is effective, in big part because the formula does not move. This product features a unique SPF complex that becomes more potent when wet, making it an ideal sunscreen for those who love to get their swim and surf on.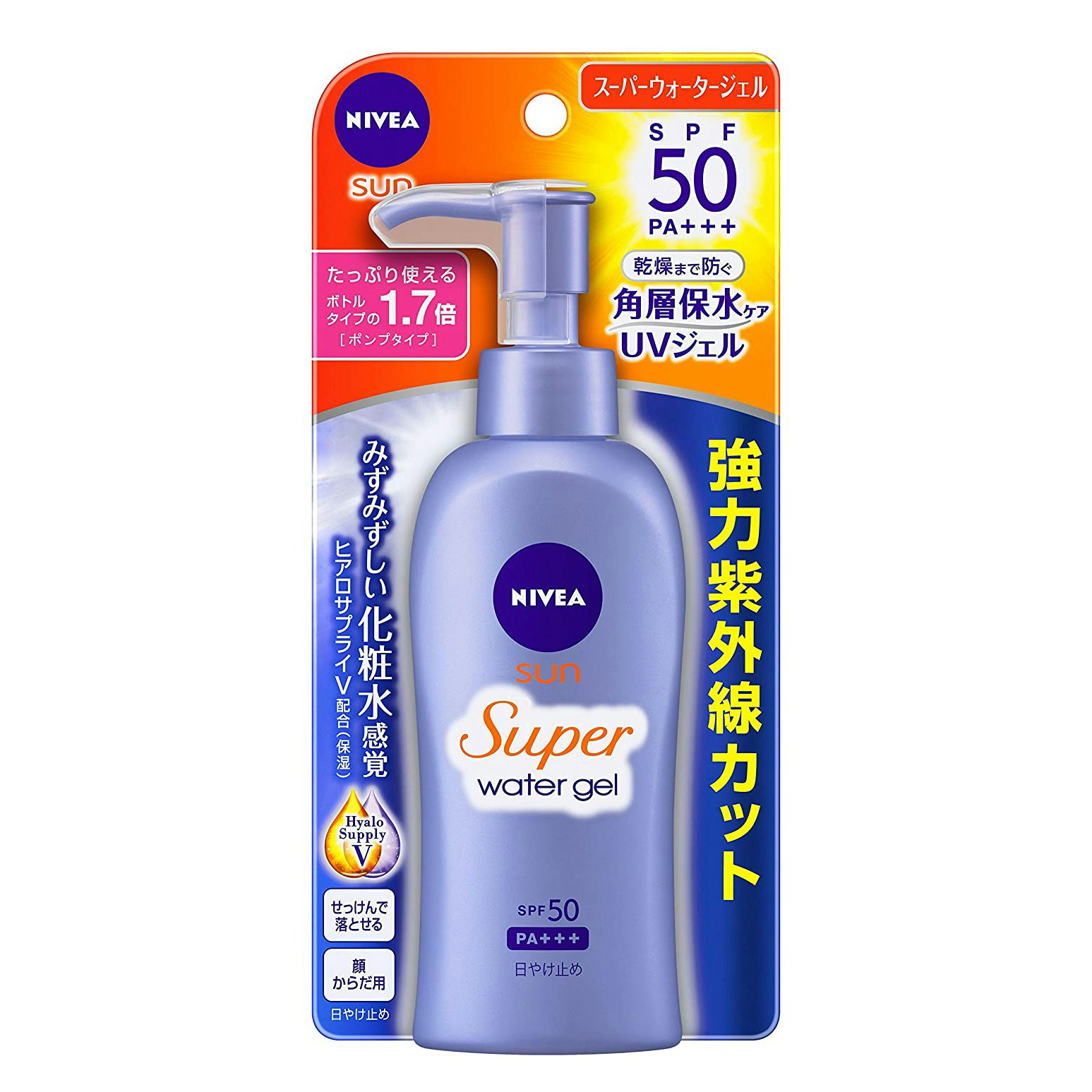 5/12
Nivea® Sun Super Water Gel SPF 50 PA+++ 
Who: Thia Laurain, Senior Social Media Editor

Why: When it comes to affordable sunscreen, I always turn to Japanese or Korean brands to get my fix because SPF is an integral part of all K-Beauty and J-Beauty skincare routines — and thus, brands in those countries have arguably more advanced SPF innovations launching every day. (Learn more about the specific differences between Korean sunscreen and American sunscreen formulas here.) This Nivea Sun Super Water Gel SPF 50 PA+++ has been my go-to body sunscreen for quick, everyday outdoor activities for over three years because of its lightweight gel texture. It instantly sinks into skin, leaving only a fresh, vaguely-citrusy scent — no sticky film or greasy residue — behind. The SPF 50 PA+++ formula provides powerful sun protection, so I know I'm covered if I linger at the farmers' market or decide to take a leisurely detour on my walk home. Important to note: Since the sunscreen is an import from Japan, shipping can take a little longer than your usual online order — typically around two weeks, in my experience. Sometimes it is available for two-day shipping on Amazon Prime®, however, so keep an eye out — and stock up when you can!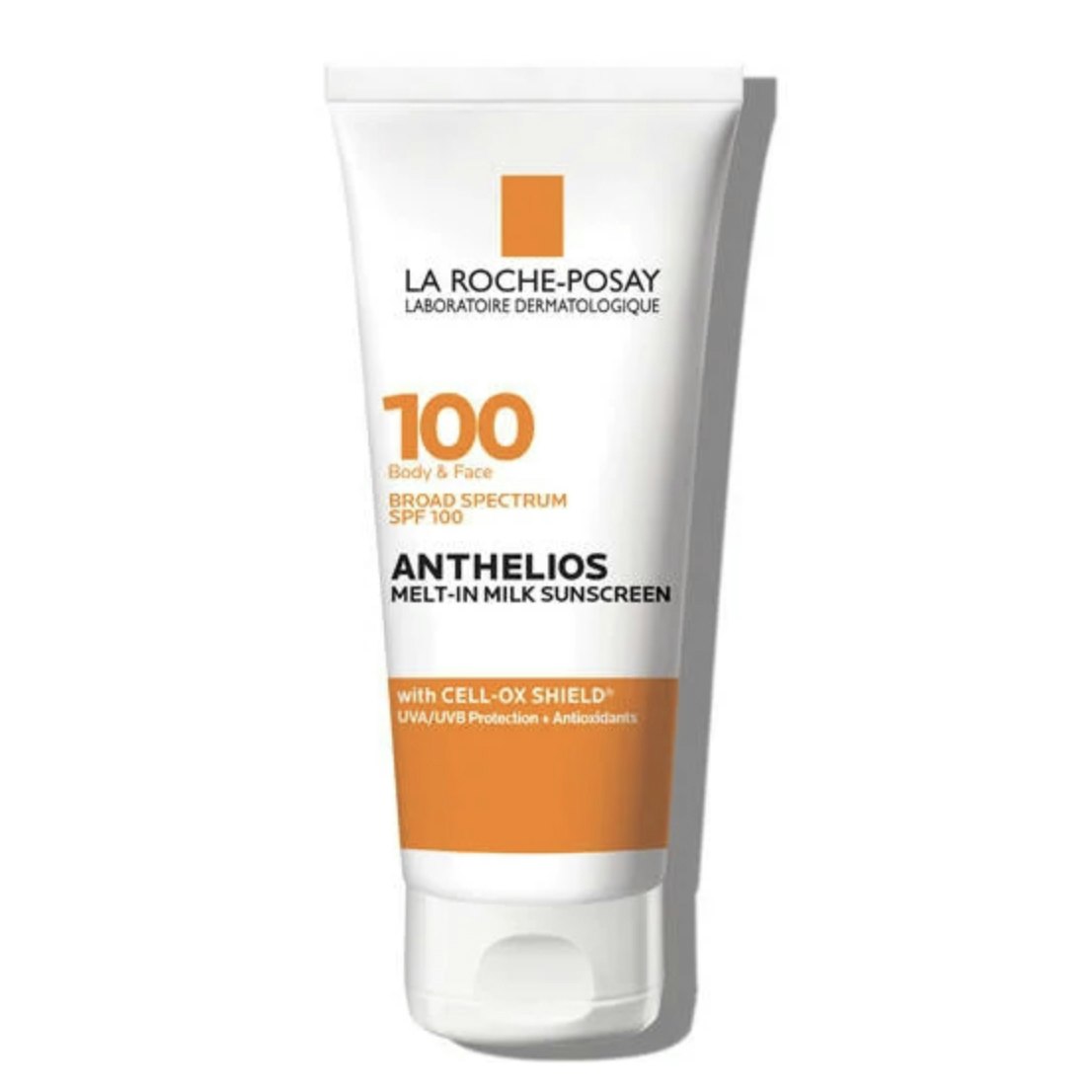 6/12
La Roche-Posay® Anthelios 100 Melt-In Sunscreen Milk Broad Spectrum SPF 100
Who: Thia

Why: With fair, freckled, very Irish skin, I'd describe my sun protection needs as, "I'll take all the help I can get." For me, that means: the higher the SPF, the better. I've long been a fan of the Anthelios 60 Melt-In Sunscreen Milk from this French pharmacy favorite, so was thrilled to learn that an SPF 100 version had just launched this summer. I can attest that the increased SPF completely keeps my skin from getting fried (with consistent reapplication every two hours, of course!), but does not amplify any chalkiness or greasiness in the beloved formula. In fact, I think this latest iteration of Melt-In Sunscreen Milk might be my all-time favorite. Je l'aime!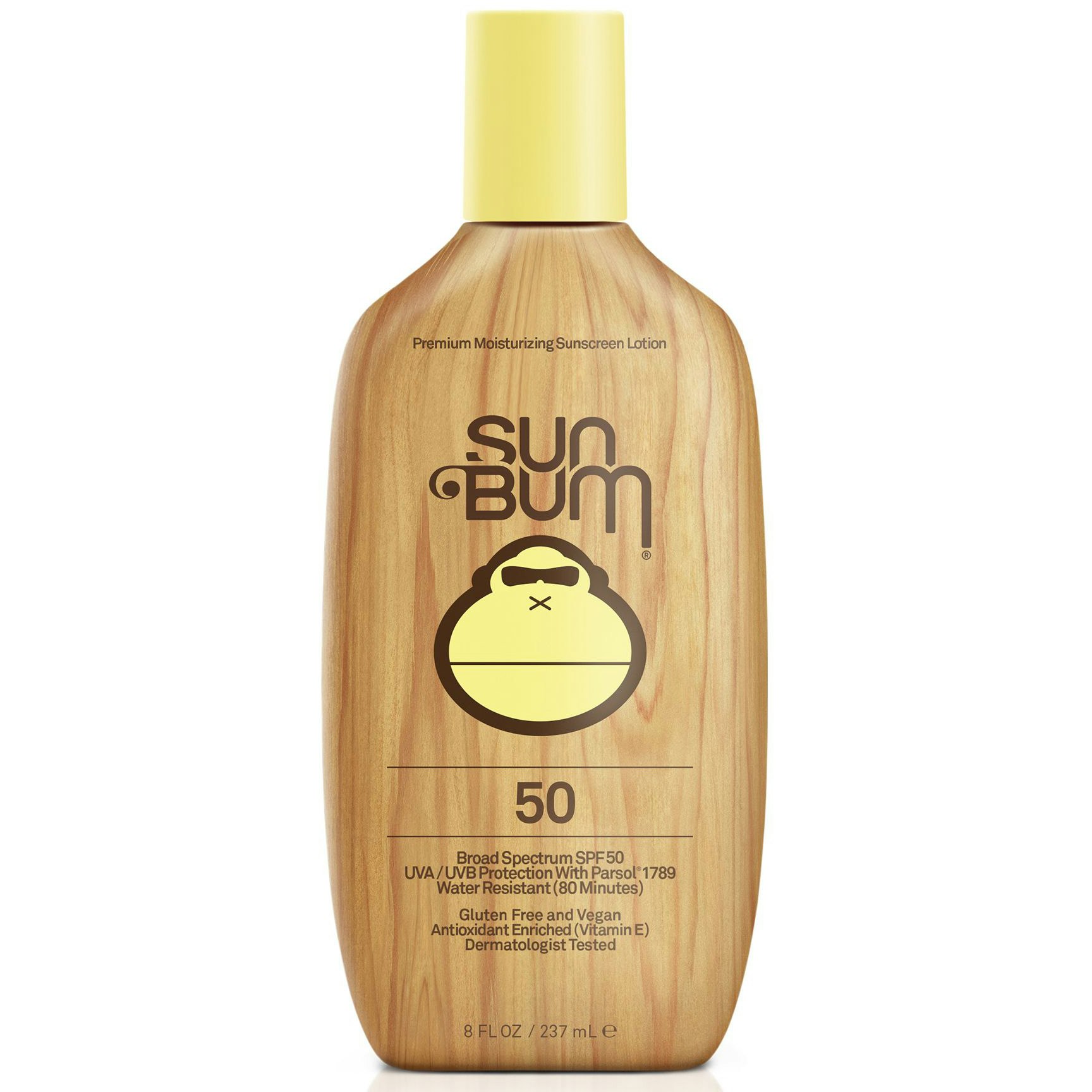 7/12
Sun Bum® Original SPF 50 Sunscreen Lotion
Who: Madisen Theobald, Senior Social Media Editor

Why: I've always known Sun Bum to be the ultimate protector from the sun, but I had yet to try any of the brand's beachy-scented products until early this summer — and now I get what all the hype is about. Sun Bum's Original SPF 50 Sunscreen protects my fair, lightly freckled skin as soon as I step out the door, whether I'm running errands or laying out by the pool. The ultra-moisturizing (not sticky or shiny) formula protects me from harmful UVA/UVB rays while infusing my skin with nourishing vitamin E. It is my new go-to sunscreen of the summer — so it's safe to say I'm officially a Sun Bum convert.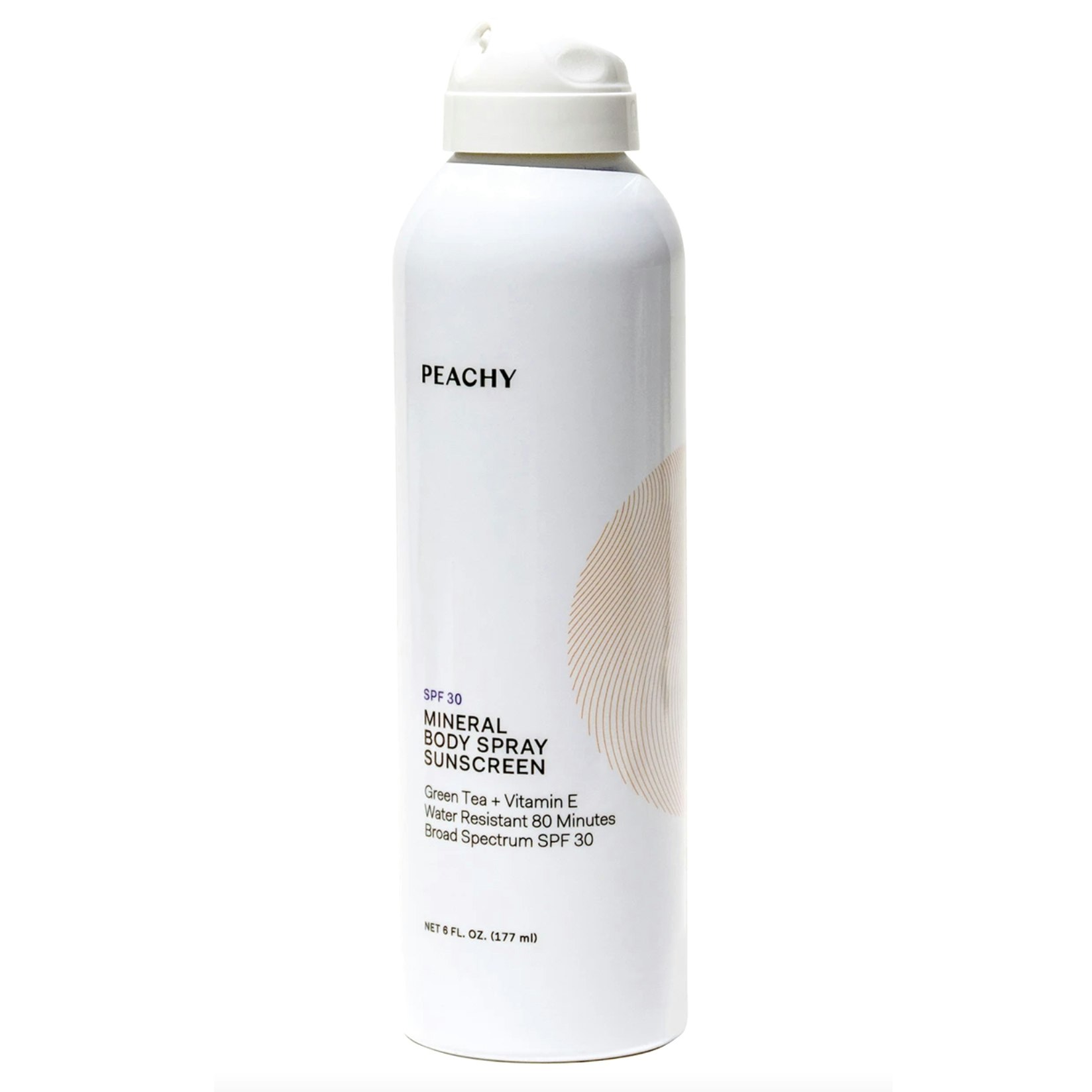 8/12
Peachy® Mineral Sunscreen Spray Broad Spectrum SPF 30 
Who: Madisen 

Why: Whenever I head to the beach this summer, this is the sunscreen I'll always toss in my tote. This Peachy Mineral Sunscreen Spray is perfect for covering large areas of your body, so it makes coverage easy and effective without getting your hands sticky. (If you want, you can blend it with your hands, but it's not required!) This continuous spray is also oil-free, reef safe, and hypoallergenic, so you are not putting any harsh chemicals on your body. It is perfect for gals on the go, a spontaneous beach trip, or any sweaty other outdoor activities. I love to spritz my legs with this product right before heading out the door on my (attempted) daily bike rides!
9/12
Neutrogena Ultra Sheer® Non-Greasy Sunscreen Stick SPF 70
Who: Priscilla De Castro, Visual Editor 

Why: I am a jeans and t-shirt type of woman, even in the summertime. To avoid a farmer's (and sandal!) tan, I keep this Neutrogena sunscreen stick by my front door. This stick application is ideal: I initially used a spray-on SPF, but found that misting inside my apartment left my hardwood floors slippery (oops!). This formula is even more easy to use, because unlike using a spray, I can apply it to my arms and feet without ever getting it on  my actual hands. No rubbing in is necessary — I can grab my keys and just go. The high sun protection factor of 70 guarantees I won't come back home with new tan lines.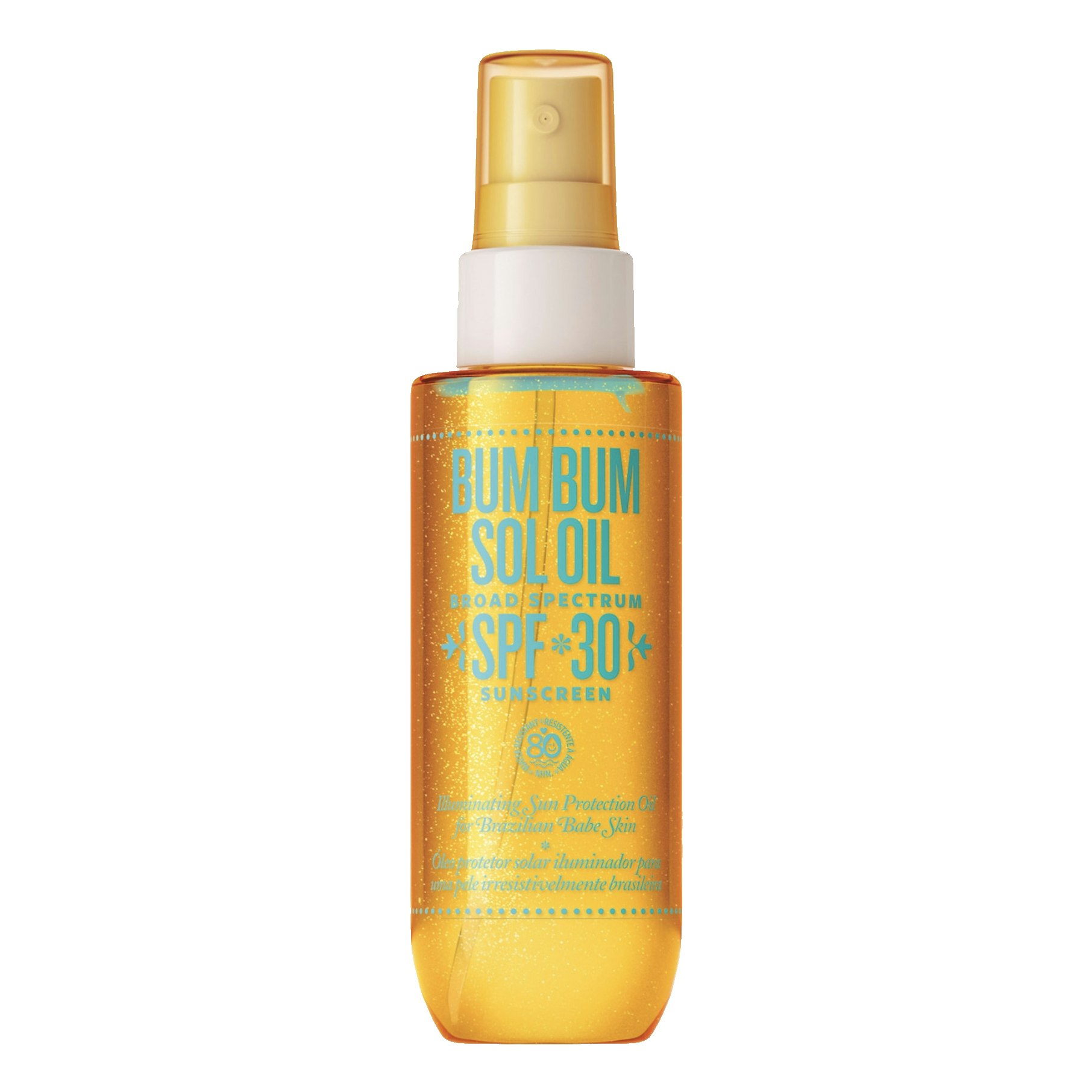 10/12
Sol de Janeiro® Bum Bum Sol Oil SPF 30
Who: Priscilla

Why: I am diligent about using sun protection on my face, but admit to previously sunbathing for hours with an SPF 2 sunscreen oil in order to get my olive skin to be more sun-kissed. I have since grown wiser and have upgraded to this Sol de Janeiro SPF 30. The first thing I noticed upon first trying it was the scent, which was a total hit in my household — it's infused with notes of caramel, pistachio, and jasmine. I like to spray the formula all over my body and take the time to rub it in, so the SPF is evenly distributed and my skin fully absorbs it. Once it's on, the oil doesn't make my skin feel greasy, but soft and nourished, with an added glow. On top of all this, I still get the amazing tan that I crave — and feel like I actually spent my beach day in Rio de Janeiro.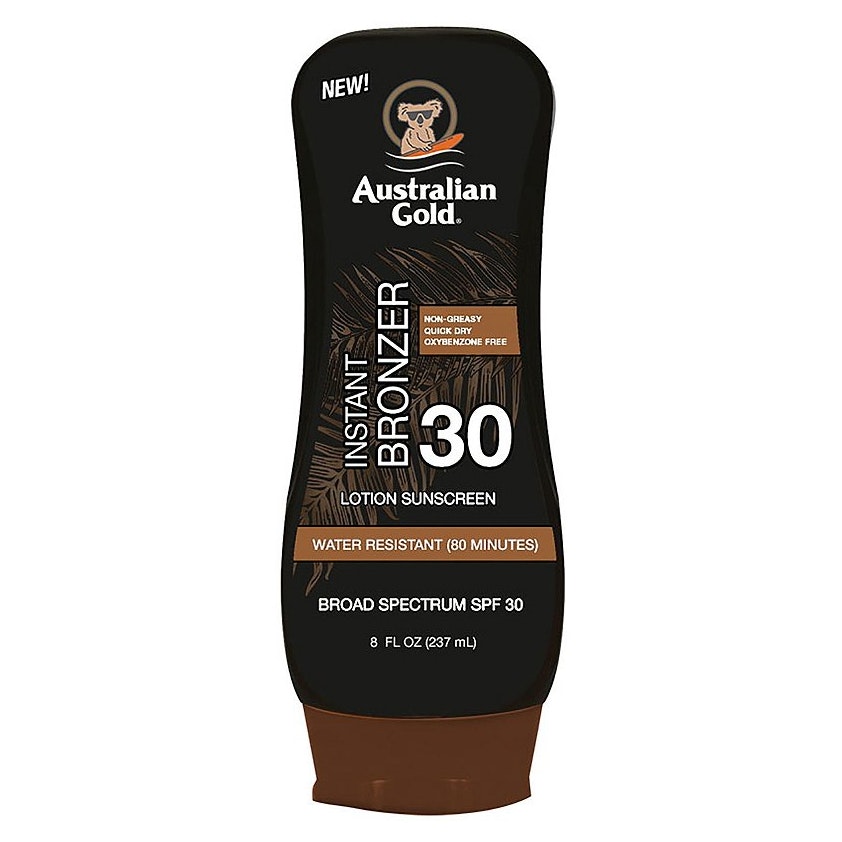 11/12
Australian Gold® SPF 30 With Instant Bronzer
Who: Sophie Wirt, Beauty Editor

Why: When I'm faced with the choice between UV protection and a sunkissed glow, I prefer to have my cake and eat it too. This spritzable sunscreen allows me to do just that; in addition to SPF 30 protection, it imparts a sheeny, barely-there body bronze. Plum oil and cocoa butter add additional lustre, and leave my skin smelling like some sort of tropical lava cake to boot.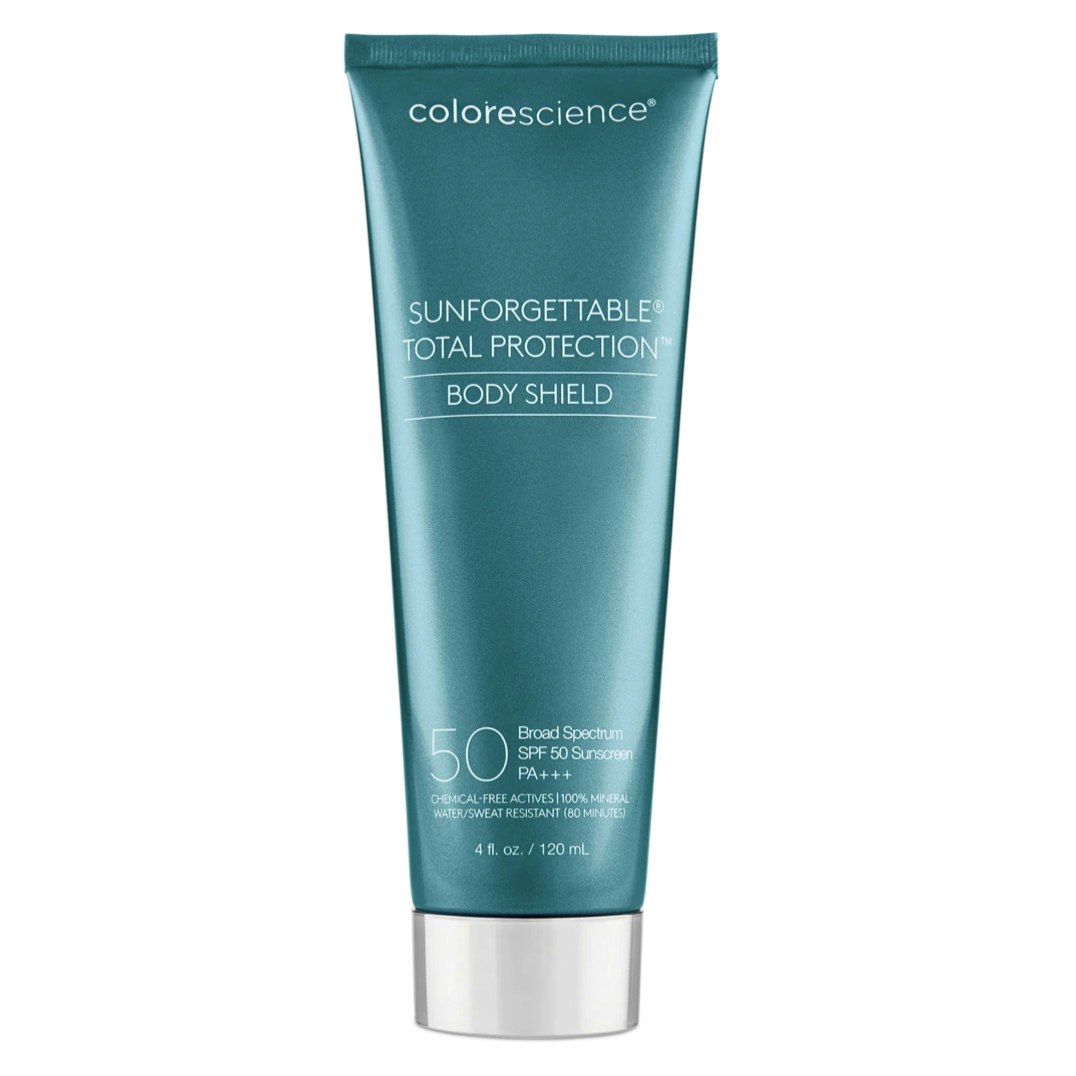 12/12
ColoreScience® Sunforgettable® Total ProtectionTM Body Shield
Who: Sophie

Why: I coddle the skin on my face — cocoon it in moisturizer, enliven it with antioxidants, and, most importantly, shield it with sun protection. The rest of my body, however, receives scant attention in the skincare department. (Layering products on your face is one thing; extending to the entire body is tiring!) Once I discovered this multifaceted formula, however, the concept of a "body care" routine seemed much less cumbersome. A single tube is packed with many of the key ingredients I layer on my face, including pollution-thwarting antioxidants, skin-softening shea butter, and blue-light-busting iron oxides. The impressive SPF 50 PA+++ is thanks to zinc oxide, which — despite its reputation for chalkiness — doesn't leave a white cast in its wake. 
Discover more sunscreen content:
Some complimentary products were provided to the authors for the purpose of writing this article.

Product prices may vary from the time this article was written.

Allergan® may receive commissions for purchases made through links in this article.