As a beauty editor, part of the gig is to educate readers on how to take care of their skin. Sure, we're all excited to share info on new ingredients, but we've all had the secret to a younger, healthier-looking complexion all along: Sunscreen. We can practically hear the annoyed groans from here, but the truth is that it's an incredibly effective and protective product — just so long as it's being used. 

Many dermatologists we've interviewed for SpotlyteTM have explained that they don't necessarily have a list of "the best sunscreens for face" that they rattle off to patients. All they care about when it comes to the sunscreen you wear is that you wear it regularly. And while it's of course ideal that you slather on SPF from head to toe daily, especially in the warmer months, we know that very few people out there are willing to commit to that. (If you're one of those people, join us right this way!) We also know that starting by wearing sunscreen on your face every day makes it more likely that you'll make it a habit — and then, applying SPF to your body will feel like less of a chore. 

In the name of protecting "the moneymaker," as we like to say, keep reading. Here, after years of rigorous testing, our editors have shared their favorite sunscreens for face that they rely on to keep their skin healthy and protected. Whether you're on a budget or ready to splurge, have a fair skin tone or a rich one, or simply don't want to feel greasy every time you put on SPF, we have an option for you.
1/12
Black Girl SunscreenTM SPF 30
Who: Joslyn Winkfield, Creative Lead, Digital

Why: As a black woman, it's pretty hard to resist trying a sunscreen that speaks directly to me. In fact, it's pretty hard in general to find options that don't leave a white, blue, or chalky cast on my brown skin. So when I saw this item while roaming the internet (and at such a good price!), testing it out was a no-brainer. And, just as I hoped, the formula is crystal clear, feels lightweight under my makeup, and offers a nice amount of protection. Because it's free of toxic chemicals like oxybenzone and octinoxate, I don't have to worry about hard chemicals on my skin or affecting the environment, and I love the additions of yummy ingredients like moisturizing avocado, jojoba, and sunflower oils, skin-evening cacao, and melanin-boosting carrot juice. 
2/12
SLMD® UV Bounce SPF 30
Who: Joslyn 

Why: I'm normally not very experimental with my sunscreen. Just give me the usual squeeze bottle with SPF 30 or higher, and I tend to be pretty satisfied. However, when this powder formula from Dr. Sandra Lee, aka Dr. Pimple Popper®, came across my desk, my intrigue was piqued. As someone with oily skin that's only intensified by summer's heat, I'm happy to "de-shine" with purpose. Not only does this broad spectrum mineral power take away unwanted glow, it allows me to reapply sun protection without messing up my makeup. It gets an extra thumbs-up for me for coming in three adaptable shades (with a convenient pop-up brush design), so people of all skin tones can get quick and easy protection from UVA/UVB rays, blue light, and infrared radiation.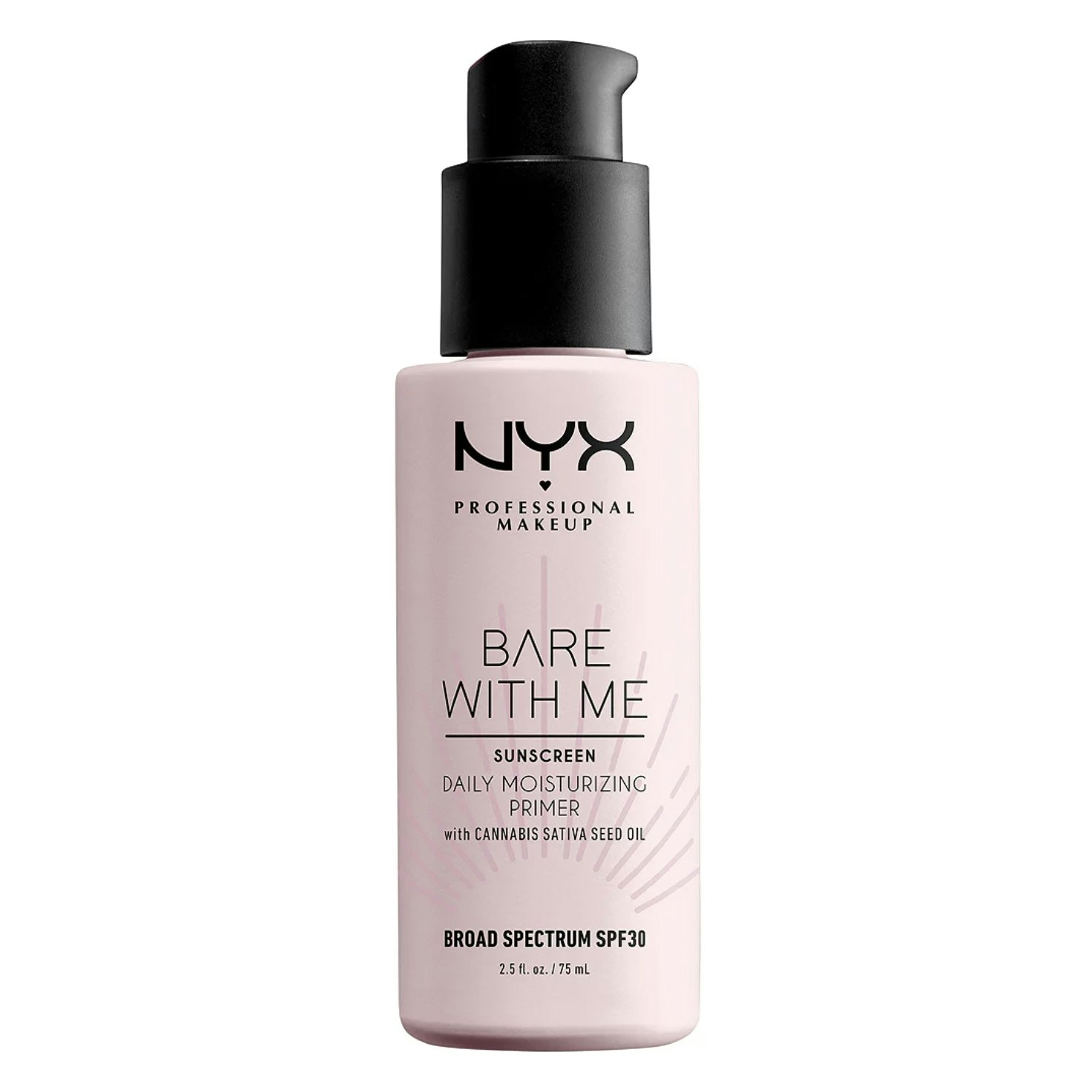 3/12
NYX Professional Makeup® Bare With Me® Daily Moisturizing Primer Broad Spectrum SPF 30
Who: Emily Orofino, Senior Beauty Editor

Why: My hot tip: Make sure your beauty routine is riddled with SPF-infused products for layer after layer of protection. My signature move is slathering on primers made with sunscreen, which helps me commit to SPF before I've even thought about the weather forecast. While this affordable from NYX is a bit thick and closer in texture to a true sunscreen than other SPF primers I've used, it's rich (likely due to the cannabis sativa oil) and absorbs surprisingly fast, leaving behind a slightly tacky canvas to grip the rest of my makeup routine. I'm a fan! Another very specific bonus: The pump top has an on-off mechanism that prevents a makeup bag mishap with a simple twist.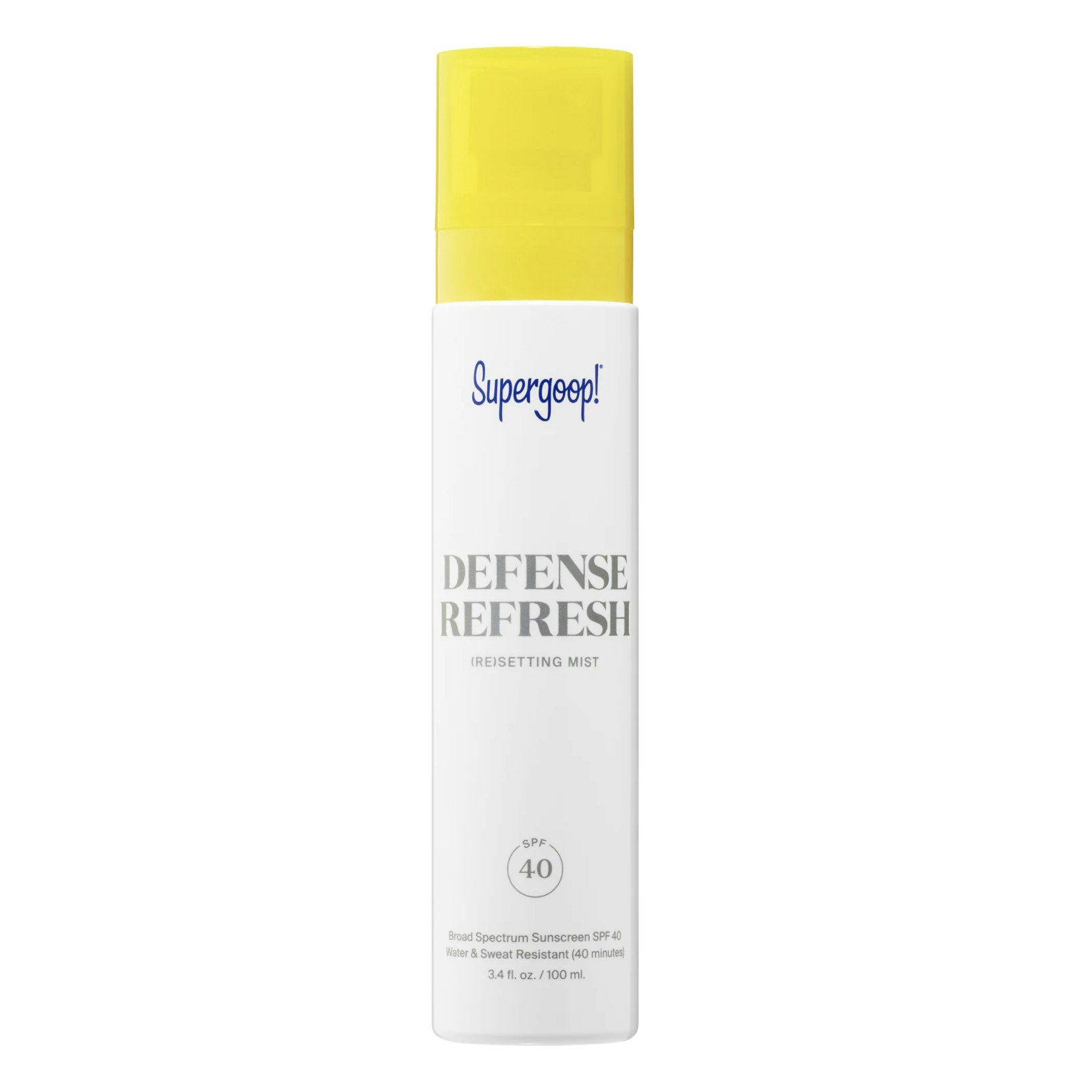 4/12
Supergoop!® Defense Refresh (Re)setting Mist SPF 40 
Who: Emily 

Why: Every summer, this is my all-time, can't-leave-home-without-it SPF essential. It's a no-brainer: It transforms applying sunscreen from a fussy chore into the laziest, easiest step of my routine. You spray it on over makeup to help set it in place, control oil with rosemary and peppermint, and (most importantly) shield skin with SPF 40, all with a quick shake of the bottle and spritz. I keep it in my purse so I can mist myself — and anyone else in my immediate vicinity who will allow it — throughout the day.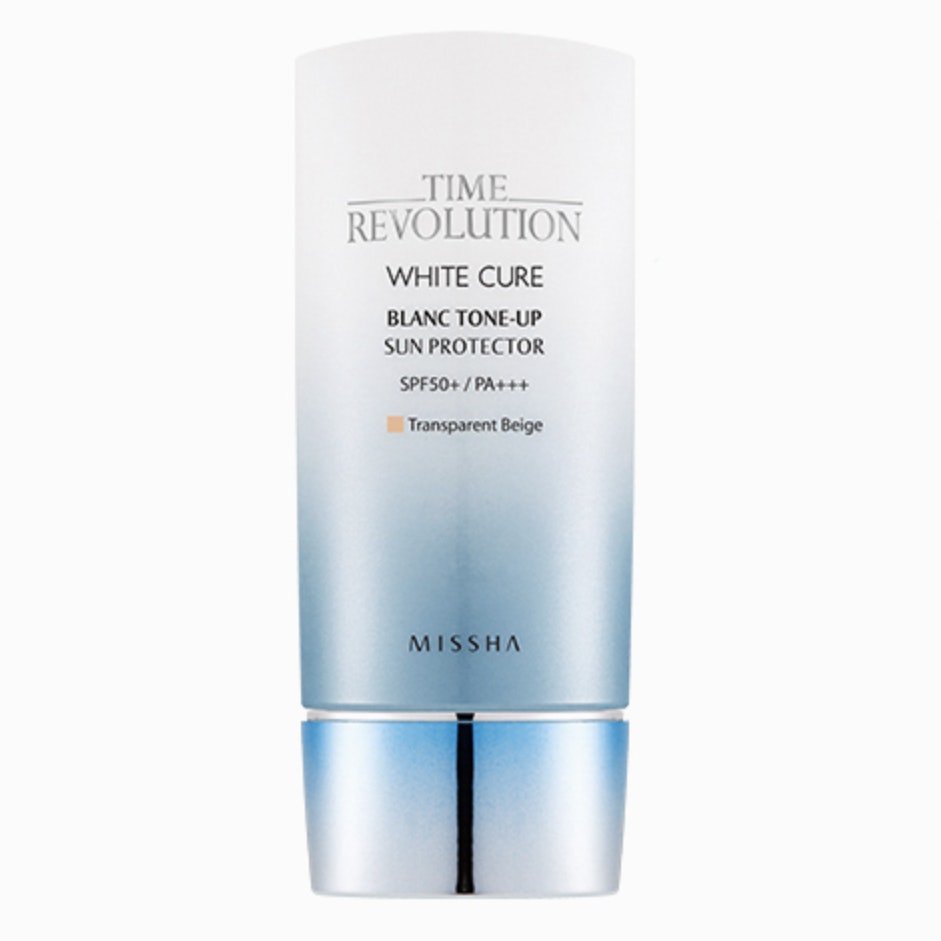 5/12
Missha® Time Revolution White Cure Blanc Tone-Up Sun Protector SPF 50+ PA+++
Who: Thia Laurain, Senior Social Media Editor

Why: Back when I was first getting into K-Beauty, Missha was one of the first Korean skincare brands I tried, and the All Around Safe Block Essence Sun SPF 45 quickly became a staple in my routine. While I'm still a fan of many of Missha products today, the Time Revolution White Cure Blanc Tone-Up Sun Protector SPF 50+ PA+++ is now the sunscreen formula I turn to on a regular basis. With a light, fresh scent (not sunscreen-y at all!), quick-absorbing, non-greasy formula, skin-evening beige tint, and powerful SPF 50 PA+++, this sunscreen packs in far more features than the $14 price would suggest. Worried about the beige tint? Have no fear: Even if you are ultra-fair or have medium-olive skin, the formula's tint is so sheer that it would suit a range of skin tones from ivory to tan.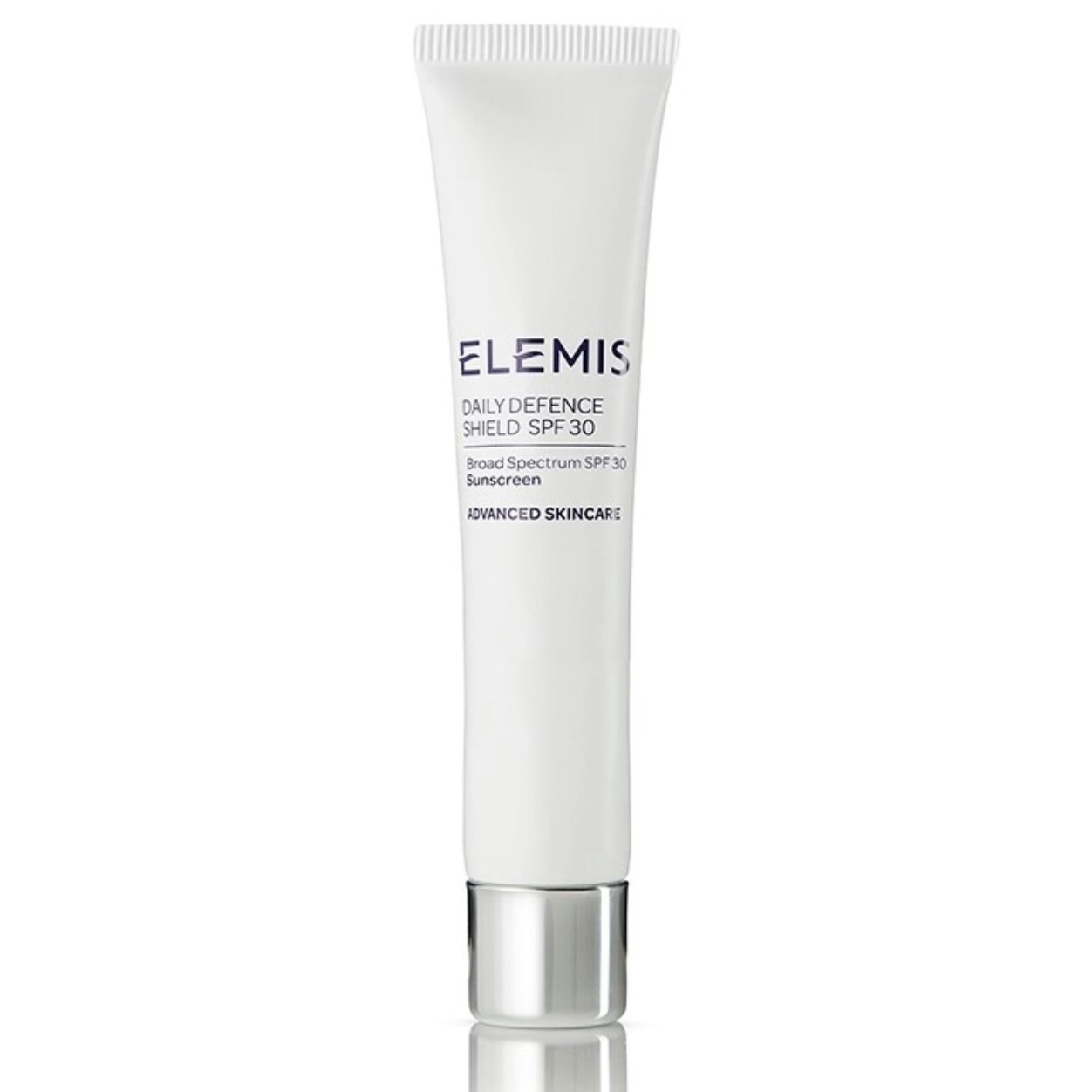 6/12
 Elemis® Daily Defense Shield SPF 30 
Who: Thia

Why: If you are averse to the smell, texture, or residual shine of traditional sunscreen, this lightweight SPF is going to change your life. Seriously, it's just that good. With a light serum-meets-lotion texture, instant absorption into the skin, and no telltale sunscreen scent, this fragrance-free SPF 30 fluid will make the application of daily sunscreen an absolute pleasure. The brand's Pro-Collagen Marine Cream SPF 30 is my holy grail daily moisturizer; But on days where I want to layer a heavier or lighter moisturizer underneath, a few generous dabs of Daily Defense Shield SPF 30 serve as my final step. I know that $60 may seem like a steep price for sunscreen, but if the silky, luxurious-feeling formula actually gets you to apply SPF every day, I think that's priceless.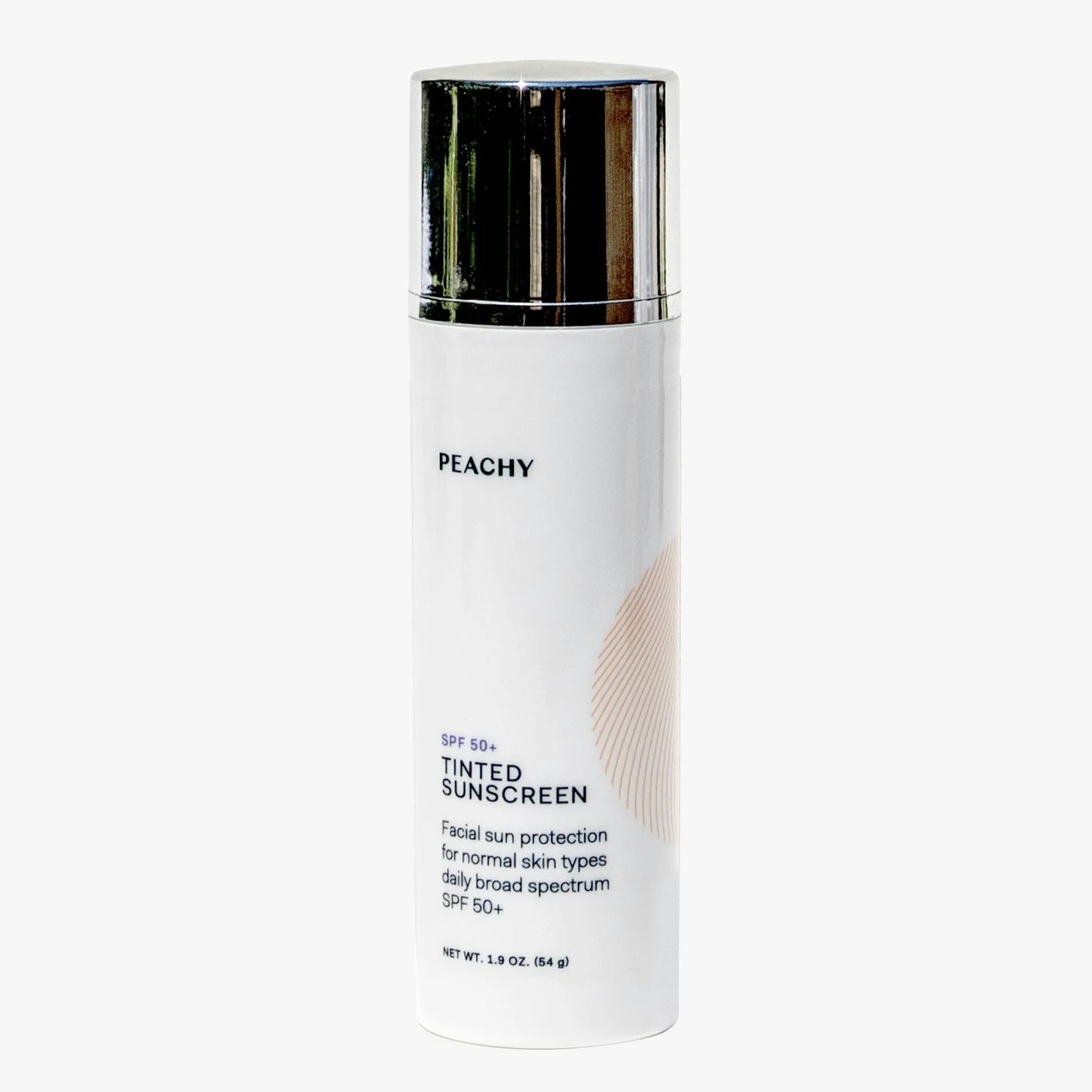 7/12
Peachy® Tinted Facial Sunscreen Broad Spectrum SPF 50+ 
Who: Madisen 

Why: One thing I look for in a facial sunscreen is for it to feel like any other product I am putting on my face — e.g. foundation, primer, moisturizer. I don't want a thick, glossy product that feels and "looks like" a sunscreen on my sensitive skin. This is why I am rotating the Peachy Tinted Facial Sunscreen into my daily routine. Not only is it quick and on-the-go, but because of its mid-toned hue, it can act as a light coverage foundation for my skin. It's a weightless lotion that offers a smooth, matte finish — no greasy selfies here.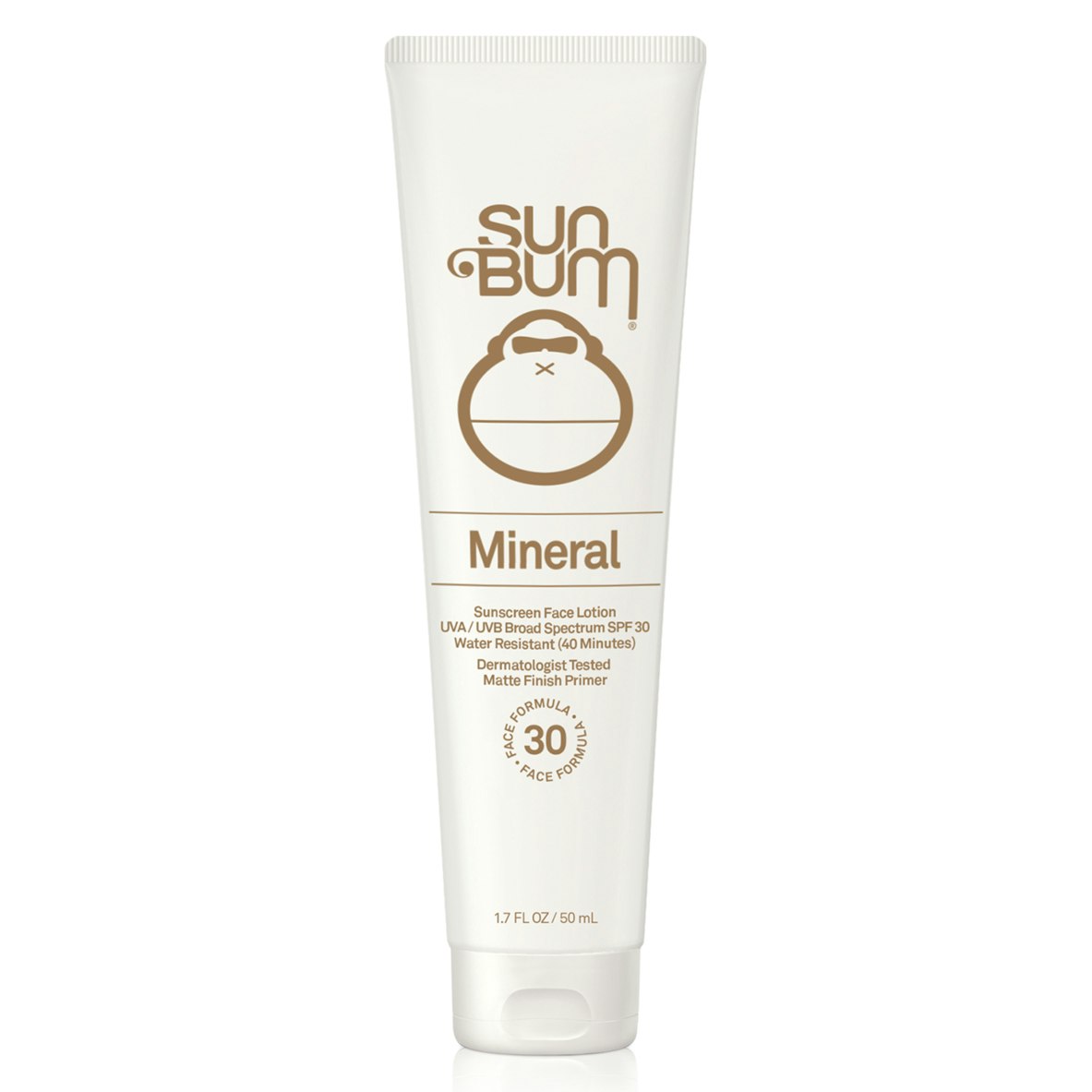 8/12
 Sun Bum® Mineral SPF 30 Sunscreen Face Lotion 
Who: Madisen Theobald, Senior Social Media Editor

Why:  I have always been hesitant to put globs of sunscreen on my acne-prone face — I felt like the oils and chemicals from these paraben-infused products were ruining my skin. But when I tried out the Sun Bum Mineral SPF Sunscreen Face Lotion, my skin didn't feel the slightest bit clogged or oily. The hydrating formula was as lightweight as a makeup primer and super silky (glides on like butter). I am obsessed with texture, and I'm such a fan of this product that sometimes I just like to put it on as a substitute for my moisturizer. While some mineral formulas do notoriously leave a white cast, this one doesn't — it is truly non-tinted and suited for all skin tones and types. This product is the cornerstone of my summer morning routine.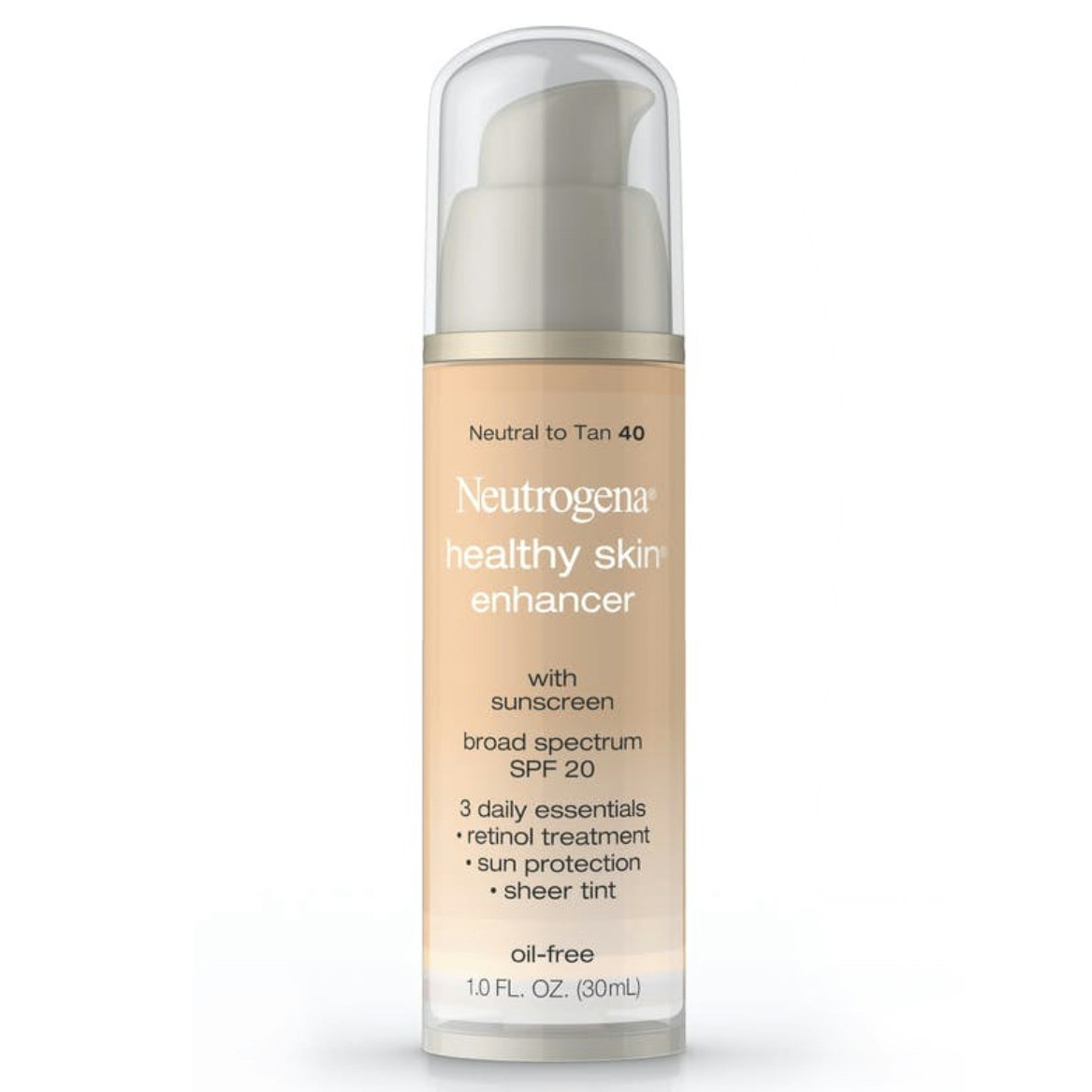 9/12
Neutrogena Healthy Skin® Enhancer Broad Spectrum SPF 20 
Who: Priscilla De Castro, Visuals Editor

Why: I have been using this product since my early college days — over 10 years ago — when I determined that foundation (or heavy makeup in general) is not my thing. I stumbled upon this product at my local drugstore and fell in love. The sheer formula is just enough to even out my skin tone (neutral-tan is a perfect match for my olive skin), goes on smoothly, and has an easy application pump (half a pump goes a long way!). More importantly, though, it has SPF 20. When I first got hooked on this product, I only was looking for coverage, so I am happy to have inadvertently followed the cardinal rule of dermatologists ("apply SPF daily!") for over 10 years. Bonus: The long-lasting bottle was very wallet-friendly on my student budget, but even now, I still favor this product over anything else.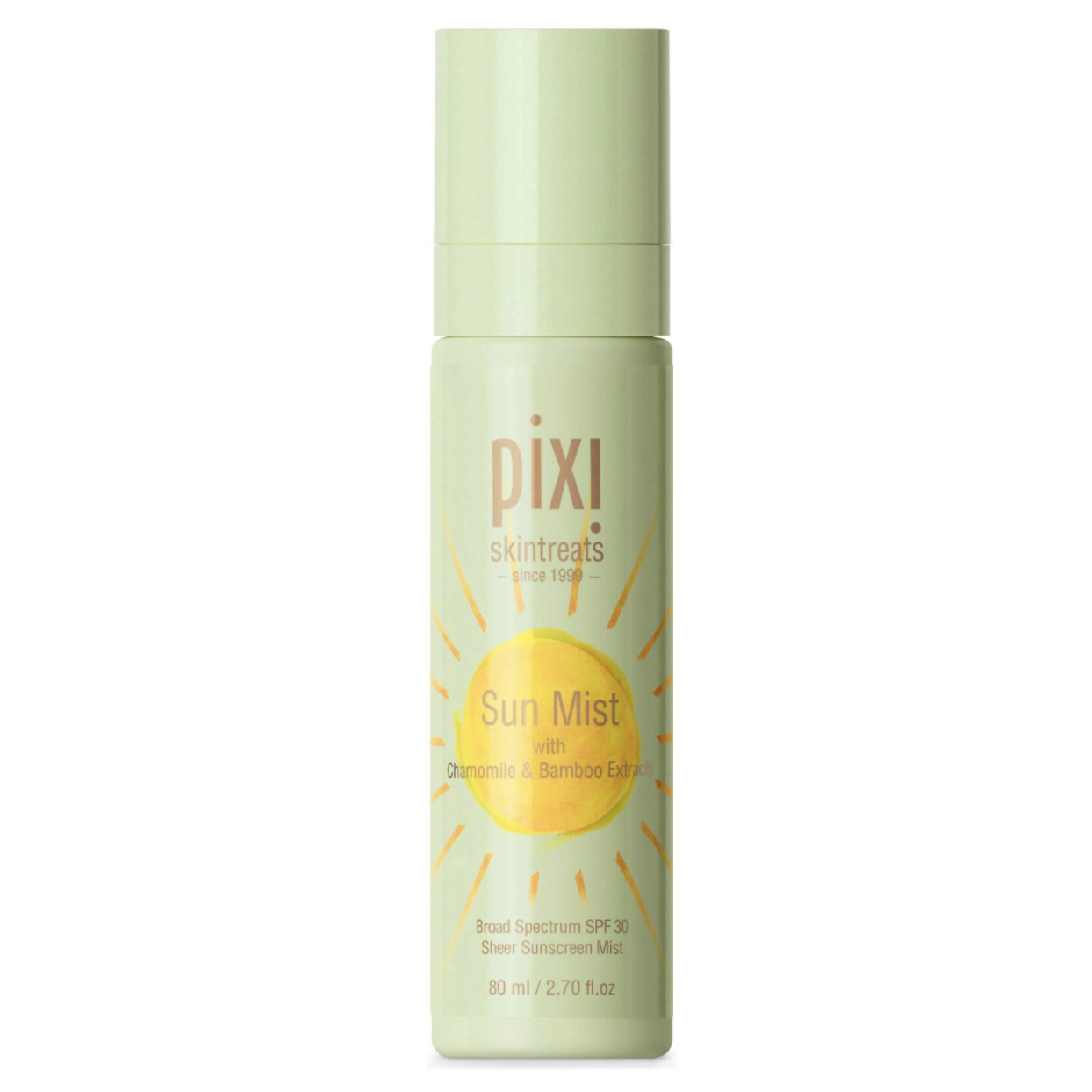 10/12
 Pixi® Sun Mist Broad Spectrum Protection SPF 30 
Who: Priscilla 

Why: Every time I go on a summer vacation, I make sure to pack this product. I love exploring towns — and eating and drinking al fresco — which generally means I'm racking up sun exposure for over nine hours. That's why I rely on this travel-friendly, spray-on SPF 30, which helps me mist my face every two hours to ensure continuous protection. Because there's no white residue or a sticky feel, the refreshing spray encourages me to reapply throughout the day. And, as an added bonus, it smells good too!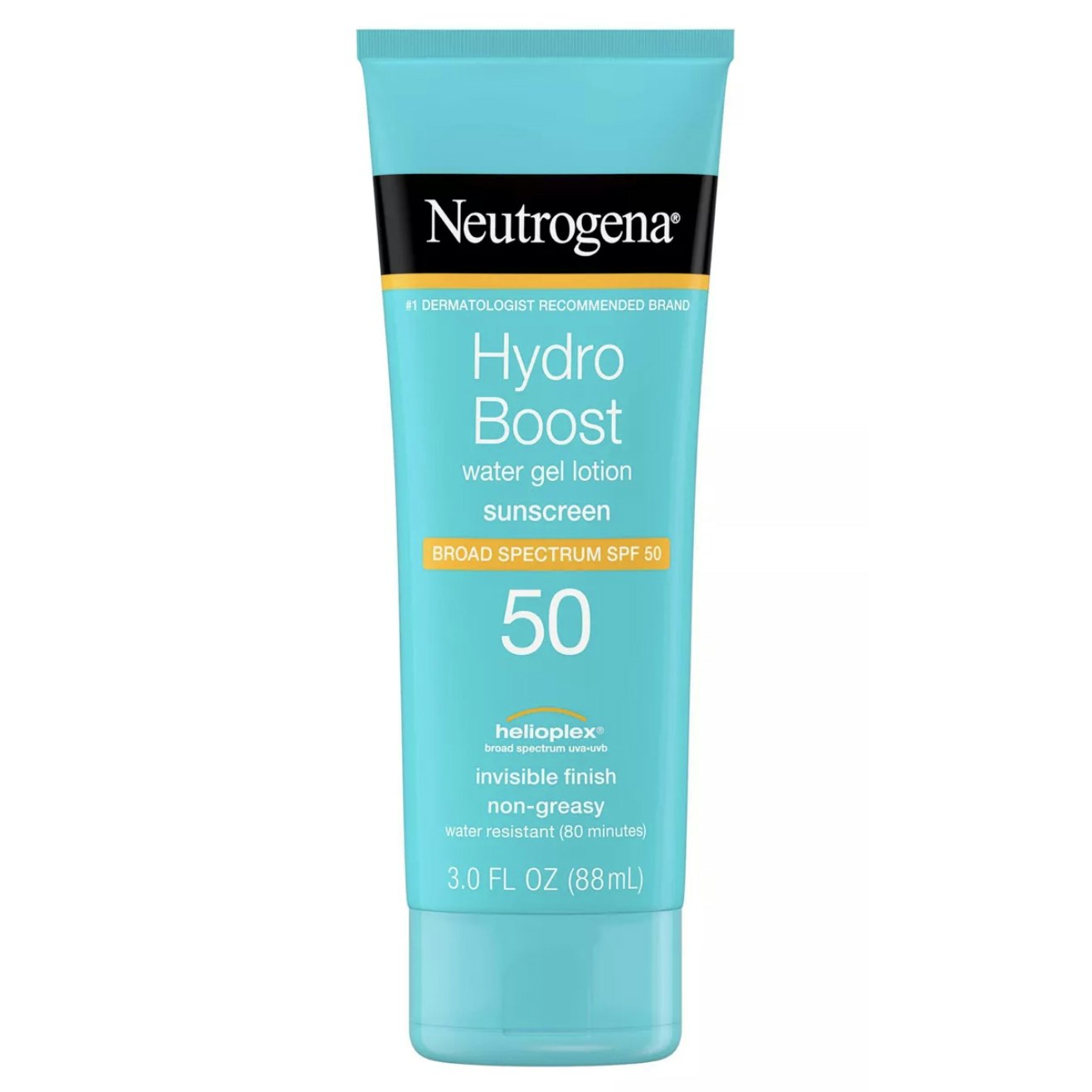 11/12
Neutrogena® Hydro Boost Water Gel Lotion Sunscreen SPF 50
Who: Sophie Wirt, Beauty Editor

Why: As someone whose skin is drier than the content on C-SPAN®, I'm often drawn to skincare with aquatic flair. So, naturally, "hydro boost water gel" sunscreen reeled me in. Cooling and quenching, this gel-like formula veers more "water cream" than "face oil." (As much as I love a rich, oil-based product, I prefer a lightweight option during the muggy months of summer.) For the record, this is actually oil-free; glycerin and hyaluronic acid — which attract and retain moisture — are responsible for the gleaming, glassy skinfinish. Don't fret over the formula's periwinkle tinge; I promise it disappears within seconds.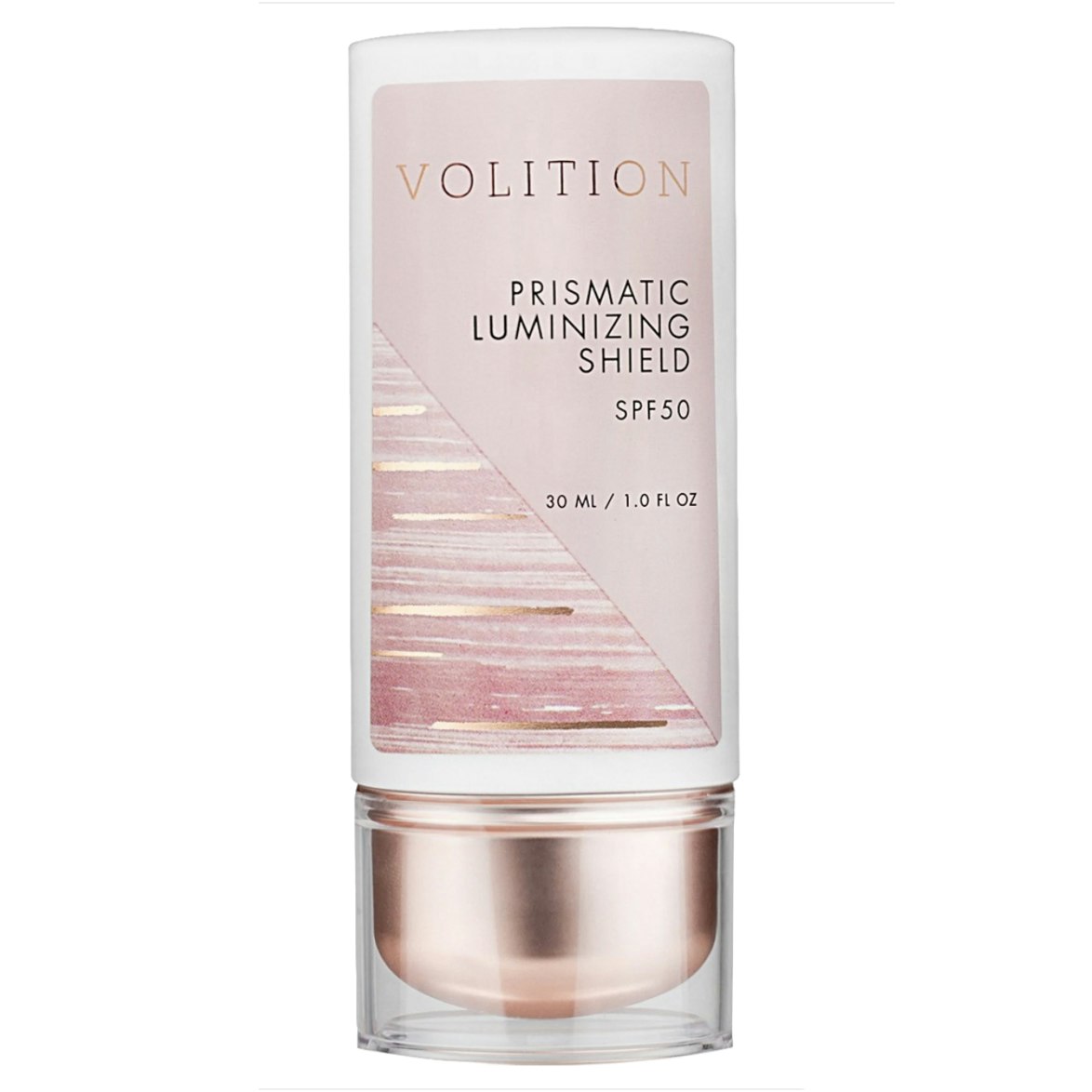 12/12
Volition® Beauty Prismatic Luminizing Shield
Who: Sophie

Why: The concept of lightweight sunscreen isn't new at this point; this formula, however, raises the bar for imperceptibility. Dubbed "the anti-sunscreen," it eschews pastiness, greasiness, and "sunscreen" smell, instead delivering airy, fragrance-free protection. The only trace it does leave behind: a veil of subtle shimmer that layers beautifully under makeup.
Some complimentary products were provided to the authors for the purpose of writing this article.

Product prices may vary from the time this article was written.

Allergan® may receive commissions for purchases made through links in this article.