Elle Macpherson never dreamed of being a model — or an actress, television host, or wellness guru, for that matter. With a resumé that includes five Sports Illustrated® Swimsuit Issue covers, countless runway appearances, 12 acting credits, a multi-million-dollar global health brand, and a reputation as one of the world's most beautiful women, it's difficult to imagine Macpherson pursuing any path but the one she's taken during her 56 years. The truth is that these accomplishments have all been divergences from her original plan.

Growing up in Australia, the importance of leading a healthy lifestyle was instilled in Macpherson from a young age. "There was always an attitude of authentic ease and natural way of living," she recalls. "People were strong and healthy; we are a nation that loves sport, clean lifestyle, and good food." She was barely exposed to fashion or beauty at the time, and didn't consider modeling to be a viable profession. Rather, she fantasized about studying law. She enrolled at Sydney UniversityTM at 17 in 1982, ready to start down that path, but needed to find a way to pay for the necessary books — so decided to defer for a year so she could model and earn money for her education. But, as she jokes, the old refrain "tell God your plans, and watch him laugh" soon rang true. After starring in a Tab® commercial that same year, Macpherson's career took off almost overnight.

Within the next eight years, she had graced the pages of Vogue®, ELLE®, Harper's Bazaar®, and TIME®, which famously dubbed her "The Body," and already had three Sports Illustrated Swimsuit Issue  covers under her belt. She quickly became a regular on the runways of Louis Vuitton®, Christian Dior®, Valentino®, and Ralph Lauren®, and she appeared in advertising campaigns for a long list of fashion and beauty brands as well as for Diet Coke®, Budweiser®, and even KFC®. 

For even the most sensible individual, it'd be easy to get cocky about such instant global success. But Macpherson stayed humble by remembering where she came from. "The '80s and '90s were an interesting era — especially in the fashion industry and living between New York and Paris — but I never took myself too seriously," she says. "Remaining authentic and cherishing my Australian roots helped keep me grounded." She also adds that she focused on being strong rather than skinny. "I did my very best to be sure my health and wellbeing was a priority." Her hard work paid off: Over the next three decades, Macpherson would earn her place as one of the world's most in-demand and beloved models, with the honors and distinctions that accompany such a position. 

In addition to her massive success as a model, Macpherson has also proved she has a knack for business over the past few decades. In 1994, she started her own company, Elle Macpherson Inc.  "I reached a crossroad when I wanted to explore licensing, and there was no real formula in the "agency" business model, so I left and followed a hunch, something that just felt right," explains Macpherson. She went on to license her name and images to a small lingerie company in return for a share of their sales. "It started very small, but lasted 25 years and grew to an exceptional-size business," she says. This led to her launching her own lingerie collection, and ultimately, WelleCo®, which she credits as the ultimate culmination of her life's learnings, personally and professionally. 

The plant-based nutrition brand launched six years ago, and in that time, its supplement, The Super Elixir®,  has garnered a cult following. "It took me a long time to discover that what I ingested had such a profound effect on my body's ability to heal and thrive," she says. "But I've found that when I make health and wellbeing a priority, everything falls into place, and when you feel your best, you will look your best." (So, it may not surprise you to hear that she credits her glowing skin and incredible physique to her line's supplements.) Keep reading to learn more about her philosophy on wellness, including how it changed when she became a mom, and how she keeps her skin so radiant and youthful.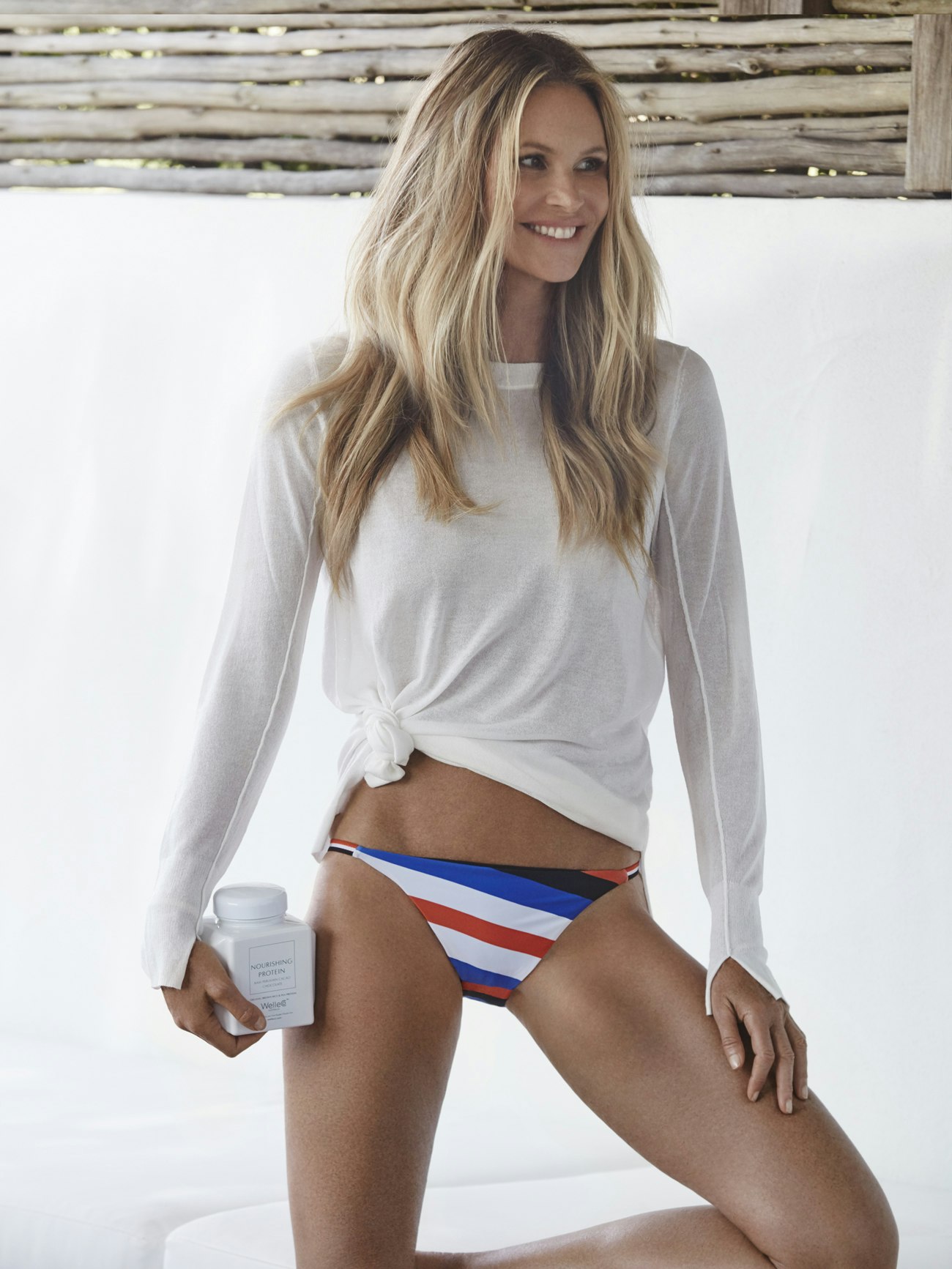 Spotlyte: How did your childhood in Australia shape your understanding of beauty?
Elle Macpherson: My family focused on the importance of being kind, thoughtful, helpful, hardworking, and having a self-effacing sense of humor — this is really important to Australians. When I first started modeling, like most people, I assumed youth and beauty went hand in hand, but as I've matured, I've realized the real alignment is actually wellness and beauty.

Spotlyte: You famously started modeling as a way to pay for your law books, but was there a specific moment when you realized it was something you could pursue full-time?
EM: One of my first bookings was a trip to St. Barts with Glamour®. Whitney Houston was the other model on the assignment, and Christie Brinkley was there shooting her beauty book with photographer Patrick Demarchelier. Billy Joel was staying at the same hotel, so we all spent time together after working hours. I didn't quite realize how monumental this trip was to become. Whitney shared her first singing tracks with Billy, Billy and Christie fell in love and got married, and I went on to build a career in a field that was only ever intended to be short term.

Spotlyte: What were some of the beauty tricks and practices you relied on in your early modeling days? Have any of them carried through to today?
EM: As a teenager, I grew up swimming. I trained to compete in school and state competitions, practiced synchronized swimming, and surfed. I still believe in the healing properties of water, both inside and out, so I swim laps when I want to get into peak condition, and I drink three liters of water throughout the day (constantly sipping). Hydration is highly undervalued in terms of beauty, and it has the greatest effect on your skin. This, coupled with two teaspoons of our WelleCo Super Elixir greens, has proven to be one of the best beauty hacks for inner and outer beauty and wellness.

In my early modeling days, I did a lot of dry brushing for circulation, skin texture, detox, and exfoliation, which I recently started practicing again. It's really great for exfoliation in addition to improving circulation.  
Editor's note  If you take blood thinners, talk to your doctor before doing lymphatic massage.
Spotlyte: What inspired your initial vision for WelleCo, and how did you take it from an idea to reality?
EM: Wellness has always been important to me, but when I was younger, my perception of wellness was really "fitness." As I matured and became a mother, I realized there was more to wellness than eating good food and exercising, so I explored options as they became apparent, and this grew my own personal views.

In that process, I met Dr. Simone Laubscher, PhD, my now-partner in WelleCo and formulator of The Super Elixir Greens. She introduced me to new concepts in wellness, lifestyle changes, and a greens formula, which is now WelleCo's hero product, The Super Elixir. I was experiencing incredible benefits from her formula and wanted to share my discovery with other people and help others the way I had been helped. That personal vision became our business.

Spotlyte: It's obviously been important for you to be in tip-top physical shape throughout your career. What have been some of your go-to ways of staying fit over the years?
EM: These days, I recognize that less is more. I prefer less stress, more joy, so I choose to de-stress (and enjoy) by spending time in nature. I love outdoor activities like swimming, water-skiing, snow skiing, surfing, and hiking. I love yoga classes and go faithfully three times a week. Often, I'll work out in my home gym, listening to music or watching a documentary, but will always follow it with time outside grounding my feet on the earth. Depending on how I feel, I aim to do some form of movement every day, and it's different. 
Spotlyte: Obviously, growing up in Australia and the sun-kissed, natural look you're known for comes with a lot of exposure to the sun. Has your approach to sun protection changed at all over the years?
EM: Knowing what I know now, I did not protect my skin the way I should have growing up. I would often wear no sunscreen and bake in baby oil (very Aussie). Today, I choose an organic and clean SPF 50+ if I am going to be outdoors, but I really prefer to wear a hat, cover up, and stay out of the sun rather than putting chemicals on my skin. In addition, due to the high rate of skin cancers in Australia, I have my skin checked throughout the year.

Spotlyte: What is your personal beauty philosophy?
EM: My personal beauty philosophy is that beauty is who you are, not what you look like. In my view, beauty is not skin deep, and it comes from within. I believe in nourishing heart, body, mind, and spirit and having a good dose of love and laughter. To feel changes you can see, I use The Super Elixir daily greens, Nourishing ProteinTM powder (I love the chocolate flavor), and Sleep Welle Calming Tea, combined with daily health hacks available online through our digital hub for our Welle Intentioned program.

Spotlyte: How do you stay looking as young and fresh as you do? 
EM: I'm much less focused on my appearance than I used to be, but I think that eating a nutritious diet is key to both looking and feeling fresh. I eat a mostly raw and organic, plant-based diet with lots of vegetables, and I incorporate WelleCo's Super Elixir Greens and Nourishing Protein into my diet every day, which has made a profound difference in how I look and feel.

I prefer to prioritize my inner health and ensure that I'm nourished and supported from the inside with clean nutrition and powerful supplements. I believe what happens within the body will manifest outward, and I've found that a holistic wellness approach is key for me.

Spotlyte: What is your everyday skincare and beauty routine? Which products do you use?
EM: I start with a cup of warm water with lemon before blending The Super Elixir into water. I then spend time in nature before having a shower. I dry brush, moisturize, and use WelleCo's Bush Flower Remedies collection, which includes a Brightening Face Mask for skin hydration, Restoring Hair & Scalp Mask, Nurturing Body Cleanse shower wash, and Uplifting Body Balm for nourishment. These are all part of my everyday beauty routine and all include Australian bush flower remedies, which promote spiritual healing and serenity. Other brands I love are Beautycounter®, Gucci Westman® Atelier, and Dr. Barbara Sturm®. RMSTM makes some beautiful cheek and lip pigment creams made from a coconut oil base, which look natural and act as skincare as well as makeup — a very soft, natural glow and color. I've been using them for years, and they always look great.  
Spotlyte: Whom do you trust with your skin?
EM: I am pro-natural, non-invasive timeless beauty, and I've found through personal experience and observation, that beauty and wellness start from within on a cellular level. When I do turn to experts for fine-tuning or some extra help, I look for people who believe in supporting healthy skin with no or very little invasive procedures. My favorite people include Dr. Roberta Del Campo in Miami; Jeannel Astarita at Just Ageless®, as well as Dr. Dendy Engelman in New York; Dr. Jean-Louis Sebagh and his team in London; and Dr. Joseph Halek in Australia.

Spotlyte: What treatments do you love?
EM: I prefer to prioritize my inner health and ensure that I'm nourished and supported from the inside with clean nutrition and powerful supplements. I do as little as possible as far as lasers are concerned, but I've seen some great improvements with sun damage and overall health of my skin thanks to my dermatologist, Dr. Del Campo. I Aerolase®, which works really well for promoting beautiful, healthy, and strong skin. Her team are amazing and have supported me on my journey knowing that I don't wish to pursue quick false fixes.

When I had a sport injury, I discovered TruSculpt® Flex and found that this was great for strengthening my core. I was amazed by how effective it was, and this helped me get back to yoga and heal through movement, especially when combined with the WelleCo Nourishing Protein powder to help build muscle tone.

For facials, I go to Just Ageless in New York and Dr. Halek in Australia for a red-carpet moment, which is fabulous. At home, I use my infrared sauna as a great way to detox. The best home portable sauna is by Theresage. I also use LiveO2TM Oxygenation training for physical well-being, which shows on the face and body as well as keeping me well on the inside.
Editor's note  As always, talk to your doctor before starting any new treatment, medication, or supplement.
Spotlyte: How has having your two sons affected your career? How do you achieve the coveted work-life balance?
EM: When raising the boys, I've been very fortunate to have support around me to maintain continuity between work and family. I always made my children my number one priority, and even though it was difficult in the beginning, it was well worth the effort. Life will never be fulfilling if it's not balanced, so I figured out the things that are a must (and the deal-breakers!) and make sure these are clear and prioritized, no matter what life looks like. As a family, we are very organized and make sure we diarize everything, especially important events. I take about 30 minutes in the morning before my family is awake to simply prepare myself for the day, meditate, and deep breathe. I find this centers and grounds me, so I can remain connected and present throughout the day.
 
Read more celebrity interviews:
Dr. Dendy Engelman is a paid Allergan consultant.