In our series Behind the CurtainTM, we get the scoop on the routines, careers, and more of those working so hard behind the scenes to make celebrities look stunning.
It might seem like success happened almost overnight for celebrity hair colorist Cassondra Kaeding, who boasts an impressive clientele list of stars like Kate Hudson, Rosie Huntington-Whiteley, Olivia Munn, and Gigi Hadid. But Kaeding has been strategically mapping out her career path for decades. What started out as funky Kool-Aid® dye jobs on her middle school friends has since manifested into a multi-faceted career as a colorist. 
Today, there is an ever-growing waitlist to get in Kaeding's chair at 454 North SalonTM in West Hollywood. Not only that, she also has residencies in the Middle East, San Francisco, and New York, is an agent at prestigious creative management company Wall GroupTM, and is a newly minted Redken® Ambassador deal to top it all off. In under eight years, Kaeding has accomplished more than many of us dream of doing in our lifetimes.
Hair has always been Cassondra's passion, but it wasn't a straightforward path. First, she had to strike up a deal with her parents, who were pushing her to get a business degree at the University of Denver® and play college soccer. The terms: complete her studies first, and pursue hair later if she still felt the urge to do so. After a Bachelor of Science degree and a quick stint as the goalie on professional women's soccer team the Atlanta BeatTM, Cassondra found herself working a full-time marketing job at Under Armour® — and attending five hours of hair school in the evening.
Fast forward to her first six months on her own as a colorist at Warren-Tricomi®, where she snagged one of her biggest celebrity clients to date and an American Vogue® cover (more on this later). A master of balayage, Cassondra is known for her seamlessly painted on highlights — but she prides herself on her versatility, too. Below, Cassondra shares how she got her start, how she "made it," and where she's headed. Hint: she has no plans to slow down. 
Spotlyte: How did you get started working as an assistant at Sally Hershberger®?
CK: As soon as I passed my state board test [for hair] and I received my cosmetology license, I started researching salons. I also would grab different magazines to see what salons were being talked about — this was way before Instagram®! I came across an ad for a salon that needed assistants and I applied. Within a few days, I received a call asking me to come in for an interview. At the end of the interview, I was asked to come back and shadow that very same week. 
My timing ended up being perfect: One of the busiest colorists [at the salon], Negin Zand, [happened to] need an assistant. I took the job knowing that I was about to learn so much and this was an opportunity I couldn't pass up, no matter how many days or hours I needed to work.
Spotlyte:  Who was your first celebrity client?
CK: Rooney Mara was my first celebrity client. Rooney was referred to me by another one of my clients, who texted me to see whether she could give one of her really good friends my number. Of course I said yes — I had only been [working] on the floor with clients for six months [at that point], so I could use all the clients I could get!  
Later, I received a phone call from someone who said she was the friend of my client. She said she would love to book a base color. I asked for her info and put her on my books. I remember thinking, "Rooney is a cool name!" 
Spotlyte: When did you realize it was Rooney Mara?
CK: The next day the front desk told me my client, Rooney, [had arrived]. It was Rooney Mara right when Girl With the Dragon Tattoo was about to hit theaters. Then shortly after our appointment, I saw her on the cover of Vogue with the hair color I had just freshly done.
Spotlyte: What is your biggest achievement so far?
CK: It definitely was becoming an official Redken Brand Ambassador. It totally pushed me outside of my comfort zone. [I had to] teach classes and do public speaking, but I was ready and so excited for the challenge. [Another huge achievement] was when I saw my photo and my formulas on a Redken color box. I thought, "Wow, colorists around the U.S. are going to see and try my very own formulas that I created!"  Knowing this amazing brand that I have used and loved for years believes in [me] is such a great feeling.
Spotlyte: What is your advice for hair pros who want to land a brand deal?
CK: I started sharing my work using Redken color on my social [pages]. My work [caught] their attention. That's where the relationship started. I also attended a few Redken events and really got a chance to talk to their team.   
Spotlyte: What are your favorite hair color products?
CK: Redken of course! I'm being serious. I'd been using Redken on a daily basis even before I became an Ambassador. The new Redken Shades EQTM natural ashes are my favorite right now because they reduce any unwanted red or orange tones on blondes and brunettes. Redken colors are so easy to use and the product is true to tone, meaning what you see is what you get.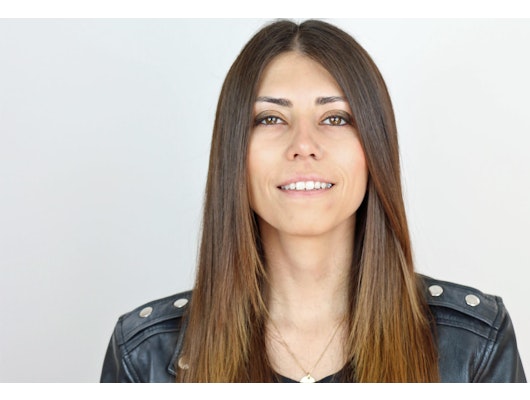 Courtesy of Cassondra Kaeding
Spotlyte: Who cuts and colors your hair?
CK: I haven't had a real haircut in a year, although I did trim my own ends a month ago. My go-to for cuts is Mischelle Navar. I actually don't color my hair, it's all natural. Clients always come in asking for my hair color, but really I just let the sun do its thing.  Sometimes I apply Redken Shades EQ clear gloss every two to three months to keep it looking fresh and healthy. 
Spotlyte: What hair products do you use at home?
CK: I use the Redken All Soft® Mega Shampoo and Conditioner ($44). I spray Redken One United® Leave-in-Conditioner ($24) when my hair is damp and just let it air dry. 
Spotlyte: Any favorite styling tools?
CK: I don't style my hair very often, but if it's a more formal event, I straighten it with a ghd® flat iron ($199). 
Spotlyte: What does your skincare routine and maintenance look like?
CK: I recently got a facial with Crystal Koro at Crystal ClearTM Skin and Beauty, although I'll admit it was my first facial in over a year. The last one I got was in Morocco at Riad el FennTM. I'm very simple with my skincare — I wash my face with whatever my girlfriend gives me or one of the million products in our bathroom. I use MARA® Universal Face Oil ($72) and the Glow Recipe® Watermelon Sleep Mask ($45). 
Spotlyte: What is your favorite hair color to create?
CK: As an artist, I love a challenge. I'm known for doing dramatic color corrections without messing up the integrity and health of the hair. I love doing brunettes, reds, bleach, and tones; each of these colors have different, very challenging attributes.
Spotlyte: Could you give us some examples?
CK: Reds don't stay red long enough — they are also one of the hardest colors to remove. Brunettes fade to warmer, unwanted [brassy] tones of red and orange. Bleach and tones oxidize and can turn yellow, but you only want to see white, which is also challenging because bleach can be very harsh on the hair. If you leave bleach on for too long, you could severely damage the hair. If the bleach is not on for long enough, the color can turn out yellow.
Spotlyte: What is the biggest hair color mistake you see clients make?
CK: The biggest mistake I see clients making is choosing a color because a celebrity or friend has that exact color. I always tell clients to choose a color that's going to enhance their [own] features. I ask my clients to do a little research and look at some of their favorite celebrities who have a similar skin tone and eye color. This gives them an idea of which colors are better suited for them. 
Spotlyte: Any advice for keeping platinum blonde hair looking gorgeous?
CK: Deciding to go platinum is a big decision — make sure you are ready for that big leap. It requires a lot of maintenance. You will notice that you will be visiting your colorist in between color appointments for glosses. You have to also make sure that you have all the necessary products to maintain the integrity of the hair, like super-hydrating shampoos, conditioners, and masques. Going platinum can cause your hair to become very porous — this means you do not want to use hot tools as often as you did before.
Spotlyte: What big hair color trends are you seeing for 2019?
CK: In 2019, you are going to see more brunettes! We will be seeing what I like to call the "cool gold brunette." It's a gold with blue, ashier tones in it. It sounds unusual, but it allows you to have the best of both worlds: a cool tone and some pieces of gold for pop and movement.
Spotlyte: What is your favorite way to unwind after a long, stressful day on your feet?
CK: I love to cook, so when I have free time I love to try new recipes. They don't always turn out as planned. I'm also a big foodie, so I love to try new places — even though I go to my favorite restaurant Daichan once a week!
Product prices may vary from the time this article was written.
Allergan® may receive commissions for purchases made through links in this article.