Forgive me, readers, for I have sinned: I only started regularly wearing SPF within the past few years.
I know, I know . . .  this kind of skincare error is inexcusable. There's pretty much no acceptable reason to skip out on sunscreen, but mine stems from more poor behavior — laziness. I have found that nearly 98 percent of sunscreens don't dry fast enough for my liking, meaning it's nigh impossible to effectively complete my makeup routine when sunscreen is incorporated.
My different layers of foundation, blush, concealer, and more products slide around and never fully set when applied over sunscreen, leaving me looking smudgy and patchy (albeit shielded from UVA/UVB rays). For a makeup aficionado like myself, this simply won't do, and for quite some time, I largely relied on the SPF in my makeup for protection.
That is, until I discovered sunscreen-infused primers. This product category completely revolutionized my beauty routine. I have long sung the praises of primers in general — they are essential for creating a smooth canvas for makeup and keeping it in place all day — but the addition of SPF makes them even more of a must-have. Plus, I never have to worry about the formulas not drying, as primers are designed to set quickly. They absorb so you can apply your makeup and go about your day without fear of smudging. And with SPF-infused primer formulas, you can also live without fear of sun damage. Keep reading to discover a few of my favorites.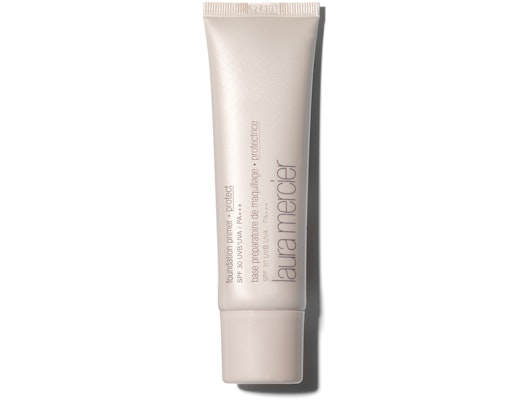 Silicones are oils, and anyone who's ever made salad dressing knows that water and oil do not mix. Pairing a silicone-based primer (which is the majority of most formulas) with a water-based foundation (check your packaging!) will lead to nothing but patchiness and despair. You must pair like with like! That's why the Laura Mercier® Foundation Primer Protect Broad Spectrum SPF 30 Sunscreen PA+++ ($38) is one of my go-tos. Unlike a lot of primer formulas, this one is water-based and doesn't have dimethicone or other silicones in it, and it plays beautifully with all of my water-based formulas. The sheer, gel-like texture is also incredibly lightweight on the skin.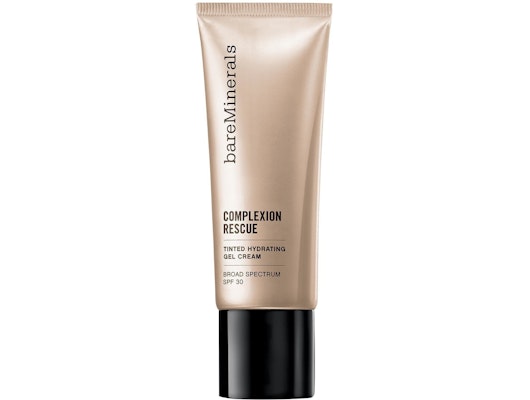 Exposure to blue light (HEV) from smartphone and computer screens can lead to premature aging and skin damage, just like UVA and UVB rays. BareMinerals® Complexion Rescue DefenseTM Radiant Protective Veil Broad Spectrum SPF 30 ($39) contains both sun protection and powerful antioxidant cacao extract to defend against HEV. The formula also contains crushed pearls to add luminosity to sallow skin. I like using this one on days where I'm planning to wear less makeup than usual, as I find the pearls make my complexion look more even.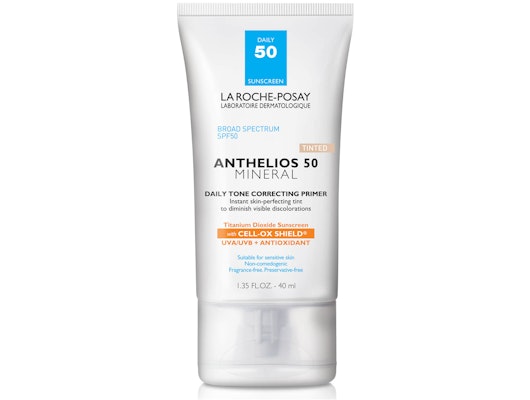 The La Roche-Posay® Anthelios® 50 Daily Face Primer With Sunscreen SPF 50 ($40) boasts an impressive sun protection factor of 50. This makes it a little thicker than most primers, but I find it's easier to work with once I've warmed it up between my fingertips. Regardless, the gel-to-powder formula still blends out beautifully, absorbs quickly, and plays well with makeup (no pilling!). This formula is also excellent at controlling oil, so I save it largely for summer use.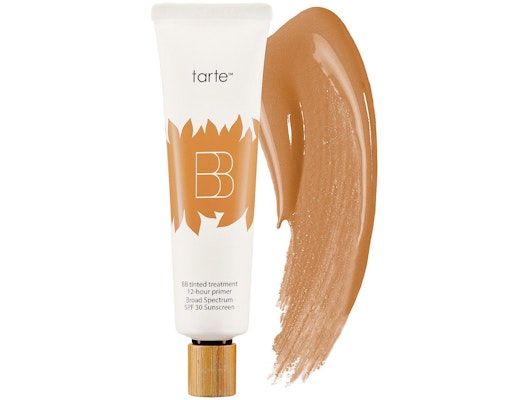 tarte® BB Tinted Treatment 12-Hour Primer Broad Spectrum SPF 30 Sunscreen ($37) is a little unique in that it functions as both a primer and a substitute for foundation. I've used it as both — primer on days when I want to wear more makeup, and as a BB cream when I'm just running errands. The silicone-based formula offers lightweight coverage (in four different shades), while blurring the look of enlarged pores and fine lines, and protecting your skin from sun damage. The vegan primer also contains diamond powder to give you a luminous (not sparkly) glow.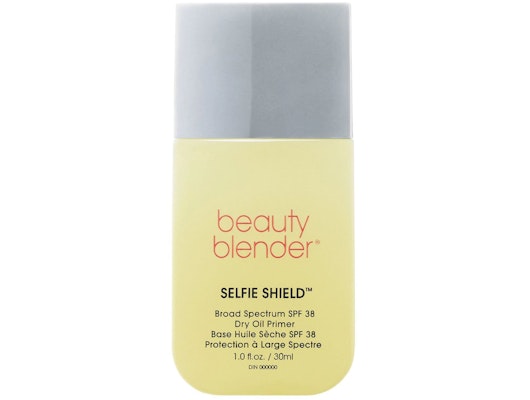 The beautyblender® Selfie ShieldTM Broad Spectrum SPF 38 Primer ($32) is the newest addition to my SPF-infused primer lineup and possibly the most unexpected format. This innovative formula is a "dry oil," which you might have experienced in body sunscreens before: it goes on slick, but when it's rubbed into skin, it immediately disappears, leaving only a light sheen behind (not a greasy one). It's a lovely option for both drier complexions and those who want to add a bit of radiance to their complexions before they even apply foundation. Even better, it goes on completely clear, so it won't leave a cast on deeper skin tones.
Some complimentary products were provided to the author for the purpose of writing this article.
Product prices may vary from the time this article was written.
Allergan® may receive commissions for purchases made through links in this article