It was a brisk day in Bed-Stuy, Brooklyn, when I pulled up to Ursula Stephen's apartment. The celebrity stylist had graciously invited me into her home to talk all things career, beauty, skincare, and medical aesthetics. Though she's known to be one of the most genuine and straightforward stylists in the industry, I still felt nervous as I rang the doorbell.  
If you don't know the finer points of Stephen's résumé, allow me to edify you (to prove why I was so nervous!). The 40-year-old Brooklyn native went to a vocational high school, where she first started to do hair. (Her talents were so quickly recognized that she had a whole host of clientele waiting for her to cut their hair after lunch!) Shortly thereafter, she spent a few semesters at Brooklyn College, until the opportunity arose to go on tour with singer and Real Housewives® of Atlanta star Kandi Burruss. "That was a big, big moment," she acknowledges, "because I could've said no."  
But she said yes, which led her to gigs styling rapper Remy Ma, singer Keyshia Cole — and that led to more connections with celebrity clientele, including Rihanna, Queen Latifah, and Serena Williams. And a quick scroll through her Instagram® feed reveals shots with even more big-name clients, including Iman, Zendaya, and Ciara. So, yeah, I was nervous to be in the home of such a talented person, rather than just interviewing her at the launch of a product or inside a salon (Stephen's own eponymous salon is just a few blocks away in Fort Greene).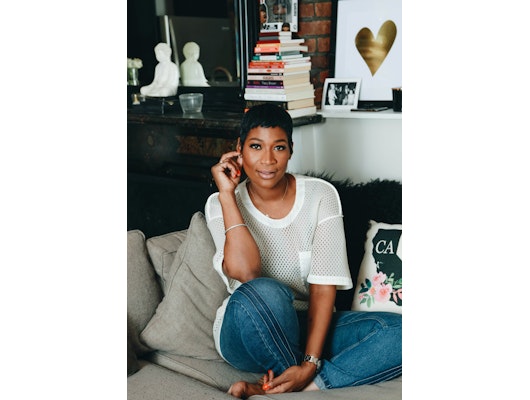 Joslyn Blair
As soon as I walked in the door, though, I realized I needn't be. There was incense burning on the counter, filling Stephen's warm, cozy space with an alluring haze and a spicy scent. Books covered nearly every available surface (always a good sign). Edgy, unwalkable high heels were turned into decorative art pieces. And Stephen herself welcomed me in, curling up barefoot on one of her plush sofas. 
The stylist is so accomplished that she doesn't have a dream client anymore (how is that for life goals?). She is honest about all of her successes, but never arrogant. "My dream client is now the client that I feel could benefit from what I do," she explains. "What really motivates me is the ability to come in and change something — like when I see a client [whose hair] is just not working for her. I wish I could get a chance to show her [something] and change the texture."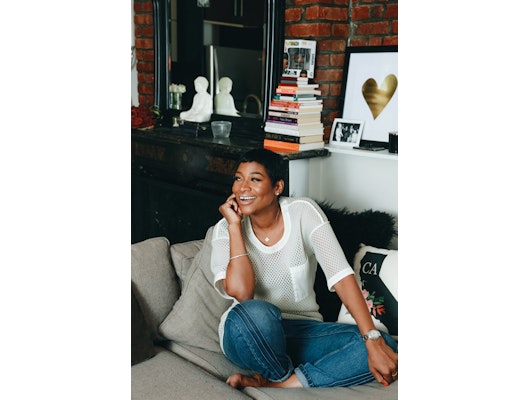 Joslyn Blair
But she does admit that being recognized for her talent and becoming a celebrity in her own right is exciting. "It's just showing how important we, the people behind the scenes, actually are," she dishes. Stephen notes that the trend of beauty experts-turned-celebrities has not only garnered more respect from clients, but is also inspiring new generations of stylists, and changing the general perspective that people have of her industry.
"I went to my beauty school in '92, and even then, I didn't think being a hairstylist was a career choice," she reveals. "It was so not respected, and before us was Paul Mitchell®, Vidal Sassoon®: the hair gods. Only now — after all the work that they've done and I've done — is it becoming mainstream." She adds, "Now, you can be a makeup artist or hair stylist and people respect you."
But the celebrity that comes with social media can be a double-edged sword, especially for rising stars in the beauty industry. It's not uncommon to see young artists' work take off on Instagram and become viral. But Stephen warns those who are just starting off to manage their expectations and trust the process. "Really take your time . . . you can't beat the process," she says. "You can't cheat . . . it really does take 10 years to be seen as an overnight success." While she admits there are exceptions to the rule, she says that there's value to not being in a rush to the top, including owning your own business.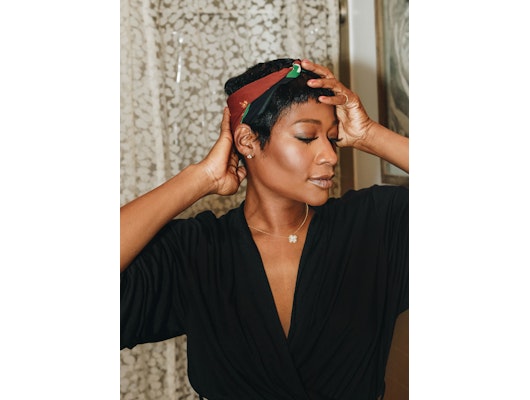 Joslyn Blair
"You have to pull pages from everybody's book," she continues. This includes learning tips and tricks from your fellow styling colleagues. Passion for educating clients and other stylists seems like a driving force behind Stephen. In addition to working with celebrity clientele, she's both a stylist and global hair care ambassador for Unilever'sTM Suave®, TRESemmé®, and Dove® brands, which she uses as a platform to not just inspire, but educate. One of her top pieces of advice for other stylists is to never stop learning, especially when it comes to understanding different textures.
"If you are in the business of beauty, you want to make people happy, want people to walk out of your chair feeling great — and feel like you want to be the best person for them — you have to educate yourself," Stephen explains. She notes that time (or lack thereof) is a common reason for stylists not learning about different hair textures but, now, it's essential to learn. "Races are mixing everywhere, so there's new textures . . . it's given a resurgence to our industry. Things were getting boring for a while."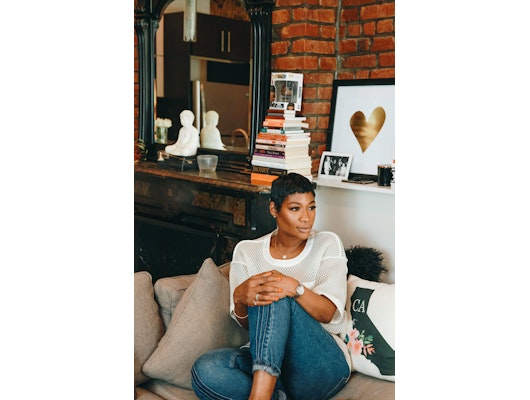 Joslyn Blair
To stylists who aren't sure where to start, she recommends bartering with other hair pros. "You may have a black stylist that doesn't know sh*t about blow styling, because that's just not easy. Maybe she wants to learn, so you can teach her, and then she can teach you a little bit about hair texture. It's about building a community amongst hairstylists." She adds, "It's really the responsibility of each stylist to learn something new when it comes to their craft."
Traveling around the world for her clients has led Stephen to learn about an entirely new category in the beauty industry: skincare. Though she'd always had flawless skin (especially as a teen), being on the road caused an unexpected surge of adult acne. "It was around the time that I was traveling a lot with Rihanna," she explains. "I would be in Europe for three days, come home for two, and back for five — I had no pimples and then all of a sudden, adult acne."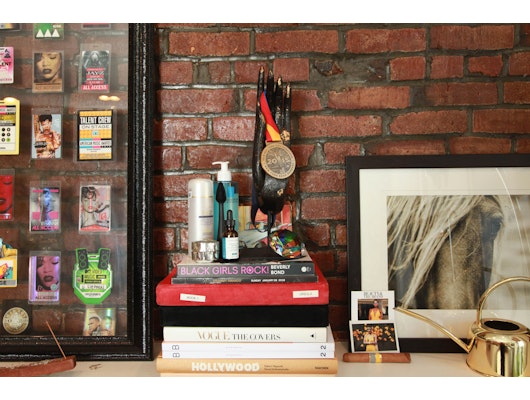 Joslyn Blair
That was the wakeup call Stephen needed to start seriously taking care of her skin. "I really started to invest in my face," she says. "I dedicated last year to really getting my chemical peels, getting on a regimen, figuring out what works, and just really sticking to it. I'm a grown-up now," she jokes. Regimen staples now include Clé de Peau Beauté® Intensive Eye Contour Cream, Biologique Recherche® P50 PIGM 400, Dermalogica® Daily Microfoliant, SkinCeuticals® Blemish + Age Defense®, and ResurfaceTM by Shani Darden - Retinol Reform. Additionally, she credits culling dairy from her diet as a game-changer for her skin's health.
[Editor's note: Retinol shouldn't be used by those who are pregnant, considering getting pregnant, or nursing. Please consult with your doctor before use.] 
But Stephen also understands the value of in-office treatments. Regular appointments at D'MaiTM Urban Spa and Tribeca MedSpaTM for dermaplaning, chemical peels (specifically, the VI Peel®), and laser hair removal have all contributed to the stylist's smoother-looking skin.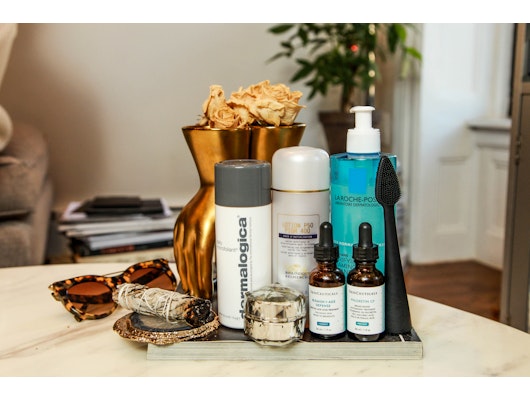 Joslyn Blair
"I feel like you have to try something," says Stephen of in-office treatments. "Some people just have the genetics, but when you're a person like me who is always on-the-go — I'm always traveling, always around different [hair] products spraying on my face, always on a plane — you have to do treatments. I'm all about it." And she's all about consistency, making sure she always has a chemical peel or facial on her calendar every few weeks.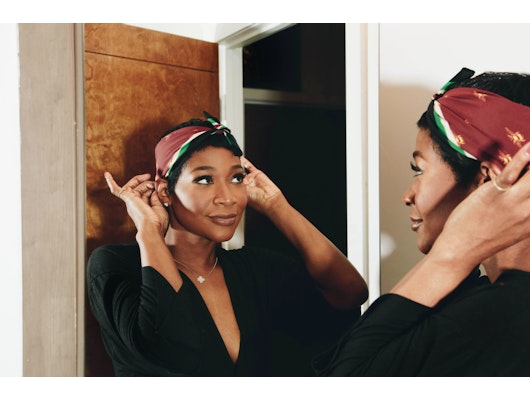 Joslyn Blair
Stick-to-itiveness is clearly Stephen's philosophy not just for her career, but for skincare, anti-aging, and treatments. "You've just got to do it," she stresses. "I never did [anything before], now I'm buying and investing in eye cream. Spending more kind of tricks the brain a little. You have to put the time in — that's the only way to see results." If Stephen's glowing skin, illustrious career, and beautiful apartment are indicative of what can happen when you trust the process and put the time in, then, hey — I'm on board.
Product prices may vary from the time this article was written.
Allergan® may receive commission for purchases made through links in this article.