In The Path, we spotlight different women making a difference in the fashion, beauty, wellness, and medical aesthetics industries. Here, the founders of Heymama share their road to success.
The word "Amazon" has gotten some serious flak lately — in particular, from New Yorkers. But its original definition, a member of a race of female warriors of Greek mythology, is how I often describe Wende Zomnir, the co-founder of Urban Decay®. Zomnir isn't a warrior warrior, but she is as badass as she is beautiful, a leader who inspires confidence in others, and an accomplished athlete. (She snowboards double black diamonds, competes in beach volleyball, and considers a morning nine-mile run a light workout.) See? Amazon.
Back in the early '90s, Zomnir and partner Sandy Lerner saw a swath of white space in the makeup world and dove in head first. Urban Decay® disrupted the cosmetics landscape, offering women of all ages the kind of vivid, playful makeup that we didn't even realize we needed so much… until we tried it.
At 51, Zomnir represents the modern woman who will never be defined by her age but by her accomplishments. The fact that she looks gorgeous as she continues to master the universe has us filled with all kinds of questions.
We spoke to Zomnir about her rise to success, how she juggles work life and home life (she's a mom to two teenage boys, who — shocker! — have the coolest names in the world: Crash and Cruz), and how her sunscreen routine sounds more like a contouring how-to.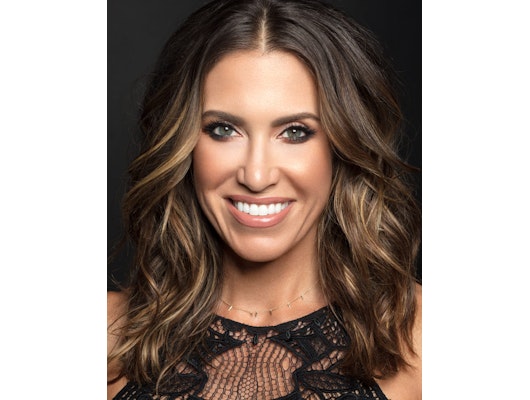 Julia Kuzmenko
Spotlyte: What were you like as a teenager? Were you always into makeup?
Wende Zomnir: I was! I'll never forget being sent home from school for wearing too much makeup in eighth grade. And this was Texas, where everyone wears a lot of makeup, so you can only imagine.
Growing up in Texas in the '80s, you had to decide whether you were a cute girl or a smart girl. The choice had to be made! Of course, that's not true anymore, which I love. But, I was probably 5' 8" by the time I was 13, and while I enjoyed being tall, I remember I was very aware that I was bigger than everyone else. But I never felt seriously awkward or ostracized about it. I was lucky that I didn't have to wear braces.
Spotlyte: How would you describe the makeup world when you started Urban Decay? Did you see an obvious white space?
WZ: The makeup world was very different than it is today. Back in the '90s, it was dominated by big players — a bunch of white guys in their ivory towers — of which there were two main ones. And these men were the ones who were defining what beauty was about! Back then, it was all about being skinny enough and white enough and pretty enough, which most of us aren't. It was always about aspiration and needing these products because you weren't good enough.  
Spotlyte: Did you see an obvious white space?
WZ: Yes! I wanted to flip that rule and make it about wanting these products to express yourself. Enhance whatever you wanted to enhance, and show off whatever you wanted to show off. So, I saw this white space, but the more obvious white space was that no one was playing in bold color in the prestige area. 
It was interesting because magazines were dominating the editorial world back then. There were no influencers, no dot coms. I wasn't sure how Urban Decay was going to be received by beauty editors — because a lot of you guys didn't wear a lot of makeup. I remember thinking, "Oh my gosh. How am I going to sell this?" But I felt like it was such a need that it was embraced and covered. I remember walking into Vogue® for the first time and meeting one of their beauty editors, who wore no makeup, and thinking, "This woman's never gonna buy into this." But she was all over it. All of you editors were.
Spotlyte: Were you always an entrepreneur wrapped in a bad-ass outfit?
WZ: I grew up watching my dad, who had a corporate job his whole life, but he always wanted to be an entrepreneur, and I was always telling him he should do it, but I know he didn't because he thought it would be unstable for our family. But I think I've always had that spirit in me.
After college, I worked at a really cool ad agency, and I worked on great accounts with really cool people. But every time I stepped out of the elevator and walked into that fabric-covered cube, a little piece of my soul died. I knew there was nothing wrong with it, but it wasn't speaking to me.
I kept doing it for a while, but I was always looking for that next thing. I ended up meeting Sandy [Lerner] and we just got Urban Decay off the ground.
Spotyte: Who came up with the idea for the brand?
WZ: Sandy did. I would have never thought I could do something as crazy as disrupt a giant established industry, but Sandy had already done it in computers. And as soon as she said it, I said, "Oh my god, of course! We have to do this." She was a great mentor; she showed me that this kind of thing can be done.
I'm the sort of person who, once I'm given a taste of an idea, I'll explode it, run with it, and that's what I did. I was like, "We've got to put it in medicine bottles! We've got to put it in shotgun shells!" Then we thought about how to make it more appealing to a broader audience. It's cool to be a niche brand — which I think we still are — but we had to spread the appeal across a spectrum of people.
Julia Kuzmenko
Spotlyte: How did you do that?
WZ: I invented a shade called Midnight Cowboy® ($20). I took a really basic shade of eyeshadow, a pretty shimmery beige that anyone would put all over their lid, then I put glitter in it. It doesn't sound like a very innovative thing today but, in 1997, that was some crazy sh*t. 
If you've ever seen the movie, you know that's not an innocent name; it had a lot of innuendo. It was just a way to wear something that was basic but had an edge. And that summed up what Urban Decay was: beauty with an edge. I feel like we paved the way for the super niche internet brands, which helped change the way people looked, that they could curate their life with these niche brands.
Spotlyte: What advice would you give to someone thinking about starting her own beauty brand?
WZ: You need to have a real vision. It's a very crowded space today, with completely different obstacles from when we started. Today, you're in a crowded, noisy space with low barriers to entry. When we started, it was the complete opposite: super-high barriers to entry and no one was doing it, nor was anyone on the lookout for super-niche brands, but we were the only ones out there, so we made a lot of noise. You have to be really clear about who you are and have a real point of view to start out.
Spotlyte: Looking back, what was the best advice you received about starting a business and who gave it to you?
WZ: Sandy once said to me, "There's only so much Wende bandwidth." And I repeat this story all the time. When you're young and starting out, you really think that you can do everything, and figure everything out. I remember being up at 2 a.m. hand-coding UPC digits myself. Don't do that. You have to delegate!
Spotlyte: What's been the most satisfying element to running Urban Decay?
WZ: By far, it's the fact that I have this office full of these incredible people who come to work every day and make good money and support their families so they can buy houses and cars. And we created this thing that enabled that.
Spotlyte: I perceive you as a wonder woman. You run a zillion dollar company, you're a mom to two fantastic boys, you're on a beach volleyball league, you snowboard, and you're gorgeous. What are your shortcomings? What slips through the cracks?
WZ: I'm really bad about keeping my desk, my office, and my closet organized. I'm not super good at physical organization anyway. My housekeeper tries to organize my closet, but I'm super protective of it; I have to do it myself.
Spotlyte: What's the most important thing you rely on to balance running your businesses and having a happy non-work life?
WZ: My husband and my family, because they don't put up with letting me get self-absorbed in my work. They don't care that I'm Wende who founded Urban Decay. They're like, "You've got responsibilities here." They keep it real for me.
Spotlyte: How much do you chalk-up being outdoors to maintaining your healthy youthful looks?
WZ: A lot, but I'm really good about sunscreen (to the point that I have two different sunscreen rituals). I have this super dorky pair of wraparound sunglasses and I always wear a hat. I'm too tan, but I have this thing that I call the Tale of Two Neighbors. One [of my neighbors] never went out in the sun [the area covered by sunglasses and a hat], and she's in a nursing home now. The other one is brown, thin, rides her bike every day, and is still out and rocking a bikini. So, I don't care if I have wrinkles, so long as I'm still out there living life.
Spotlyte: But you get your skin checked regularly?
WZ: Oh yeah. I have two dermatologists. One who does the lasers and all that other awesome stuff to keep you looking good, and another who's just for skin health. That's all she does.
Spotlyte: Can you tell us the sunscreen rituals?
WZ: For every day, I use the Urban Defense Primer ($36), which is SPF 30 and fills in pores and fine lines. It's a beautiful base for makeup, plus protection! But when I'm going to be outdoors doing sports (tennis, volleyball, surfing, or snowboarding), I still use the Urban Defense, but then I mix a concoction of Urban Decay One & DoneTM ($36) in Medium or Medium Light (SPF 20) with a shot of Shiseido® Sports BBTM SPF 50+ in Dark ($38). I squish it together on my fingertips, then apply the mix all over.
The Shiseido stuff has a good amount of coverage and the One & Done makes it prettier and less heavy looking. I then coat that with two different shades of the Shiseido Sun Powder ($30) in SP50 and SP70. I use the lighter shade on the high points and mostly all over, then I use the darker shade to add some dimension because SPF powders can look flat. I even use this on my eyelids! I put the dark shades in the hollows under cheeks, along the jawline and hairline and in the crease of my eyelids. I even put a little along the sides of my nose, but none of it is done in a crazy, contouring kind of way. I finish it all off with some All Nighter® Setting Spray ($32) to lock it down.
Spotlyte: What about other products or treatments?
WZ: I use bimatoprost eyelash serum, because I think that's really important. I use our own brow products, but I also have a little microblading done to keep the shape looking really good and to fill in the bald spots.
I do IPL twice a year. I tried a heavier laser, but it didn't feel like I got that much out of it and I feel that it hurt my skin and made me break out.
Spotlyte: What skincare products do you swear by at home?
WZ: I use [retinol consistently], and a lot of SkinCeuticals®. I use C E Ferulic®, then the Metacell Renewal B3 serum ($112) on top of it in the morning. At night, I use Skinceuticals Retexturing Activator ($80), B5 Hydrating Gel ($82), and Hyaluronic Acid Intensifier ($98), which is like a super hyaluronic acid plumper. Once all that dries down, I use the A.G.E. Eye Complex® ($98) and Triple Lipid Restore 2:4:2® cream ($128) on top.  
[Editor's note: Retinol shouldn't be used by those who are pregnant, considering getting pregnant, or nursing. Please consult with your doctor before use.]
On my lips, I use Lansinoh® nipple cream ($8) at night. It's thick and sticky; it's all medical-grade lanolin. It doesn't come off when you sleep. I didn't really like it for nursing, but I started putting it on my cuticles and my lips. It's such a great alternative to petroleum-based products.
Spotlyte: Understanding that you probably shake it up every day, what are your daily Urban Decay essentials?
WZ: I always do a mix of Naked Skin® Foundation ($40) and One & Done ($36), our legendary 24/7 Glide-On Eye Pencil ($21), because you can line your waterline with it, or do a cat eye because it's a nice, sharp point. Perversion® mascara ($24), All Nighter Setting Spray ($32). I always use the eyeshadow primer ($24) and right now, I'm super into our little On the RunTM palettes ($25). I can do a complete eye in that one little mini package. Probably my favorite lipstick is ViceTM Lipstick in Big BangTM ($19). I love a bright color, and it's a metallic hot pink which feels really modern to me right now.
Spotlyte: Shifting to you and self-care: How do you stay healthy?
WZ: I'm partially Paleo. I don't eat a lot of red meat; I'm more a chicken and fish kind of Paleo. And I do some cheese, not 100 percent dairy-free, though I try to eat raw cheese when I do. I also do some whey protein. But I try to keep it to veggies and a little bit of fruit. I had half of a cookie yesterday and now I feel yucky, so I've gotta to monitor the gluten. But it was a pretty serious half of a cookie. 
On weekends, I play tennis and beach volleyball and mountain bike. I just got a new mountain bike for Christmas. It's purple and it's rad. During the week, I do CrossFit® and yoga; usually HathaTM. It's more about the teacher to me than the type. I snowboard when I can chase the snow and find it.  
Spotlyte: What goals do you still wish to accomplish with the brand?
WZ: I'd like to refresh it and keep it energized. I'd like to shock people again. Once you get to a certain level of success, it's really easy to repeat the same successful thing. I want to continue to shake things up so people will say, "What did they just do? That's crazy."
Product prices may vary from the time this article was written.
Allergan® may receive commission for purchases made through links in this article.