In my household, Wednesday night is peel night. My boyfriend and I grab one of the chemical exfoliating formulas I've accrued from work, slather it on, and pop on HGTV® while we wait for the tingly goodness to kick in. By the time the TV hosts start tearing up concrete, our skin feels smoother and looks brighter. In addition to that hit of instant skin-brightening gratification, consistent peel use can leave pores looking fresher (read: looking smaller) and even help fade fine lines.
On a similar note, I use retinol for the same concerns. (The vitamin A derivative is an anti-aging superhero, thanks to its ability to fade fine lines and trigger collagen production.)
So when Estée Lauder® released a peel and a retinol as part of its Perfectionist ProTM line, I couldn't wait to bring the dynamic duo home. According to Dr. Nadine Pernodet, Vice President of Skin Biology & BioActivesTM, R&D, Estée Lauder, the latter product is the first ever retinol product for the brand. (Which is particularly exciting for a brand with an over 70-year legacy to its name.)
[Editor's note: Retinol shouldn't be used by those who are pregnant, considering getting pregnant, or nursing. Please consult with your doctor before use.]
First, I gave the peel a whirl. It did not feel quite as tingly as some that I'm used to, but this might just have been the point. Says Pernodet, "The Perfectionist Pro Instant Resurfacing Peel ($75) was developed with gentleness in mind." Gentleness should not be mistaken for inefficacy, though. On the contrary, the formula contains some of the most lauded players in the skin-sloughing game: alpha-hydroxy acids glycolic, tartaric, and citric acids, plus beta-hydroxy salicylic acid. "[This combination] helps to rapidly shed dead skin cells, dissolve pore-clogging debris, and improve natural cell turnover," Pernodet explains.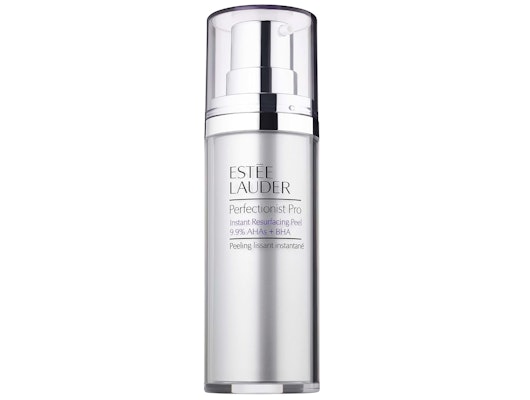 But if the thought of multiple acids makes you quake, rest assured. The peel is balanced with hydrating hyaluronic acid and potent skin-soothers like red marine algae. After I rinsed the peel away, my skin did feel soft, smooth, and not one bit irritated or flaky. Plus, I looked significantly more radiant. Success!
The following night, I made a mistake. I slathered — in the most literal sense of the word — a dollop of the Perfectionist Pro Rapid Retinol Treatment ($80) onto my skin. I should've known that using two actives in the span of 24 hours — on my dry winter skin, nonetheless — would lead to irritation. But alas, my curiosity got the best of me.
The following morning, I was flaking like baklava. I inquired with Pernodet about using the peel and the retinol products together, and her response confirmed I'd commited a skincare sin. "Both products contain powerful ingredients that promote skin cell turnover and exfoliation, so they have the potential to lead to some temporary skin sensitivity," she says, "As such, you should avoid using the formulas at the same time — even within the same day or week."
For the next eight days, I used nothing but formulas like Cetaphil® and CeraVe®. Once my skin had returned to apparent homeostasis, I gave the retinol another go. This time, I used the recommended pea-sized amount. I followed with an ultra-hydrating moisturizer, et voila, I woke up gleaming.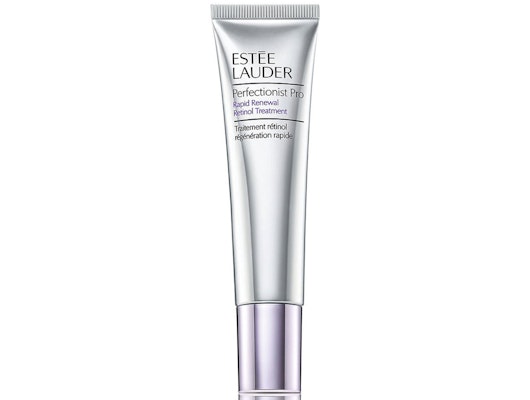 I continued this routine for a week or so afterwards, and — I'll admit — found my skin felt a little flakier than usual (albeit nothing like the first experience). However, this is totally normal and should be expected with any retinol-based product. "Some irritation, such as dryness and flakiness are common within the first couple of weeks, as skin often needs to acclimate," Pernodet notes, adding that skin generally normalizes as it builds tolerance. (Read more about how long it takes for retinol to work, here.)  
If you're a seasoned retinol user and your skin has already gone through the necessary adjustment period, this formula shouldn't cause any issue. Not to mention, this particular formula is spiked with hydrating hyaluronic acid and soothing algae extract (just like the peel), which helps lessen the irritation factor.
So, go forth and reap the benefits of increased cell turnover and smoother, brighter skin. Just don't get overzealous and use both at the same time!.
Some complementary products were provided to the author for the purpose of writing this article.
Product prices may vary from the time this article was written