I've always been passionate — maybe aggressively so — about exfoliating, and for one reason only: I'm in pursuit of that glow.
What I'm referring to is that enviable skin luminosity that you often see in beauty editorial shoots (which, having been behind the scenes for them, often comes courtesy of a cocktail of oils, highlighters, and photo editing). It's rare to see it on a face in real life, but usually it manifests as flawless, even skin with a literal sheen from the healthy cells reflecting light. When I do see it going about my day (say, on the F subway train during my morning commute), I'll ask a total stranger what skincare products she uses in the hopes of replicating it myself.
When in my early twenties, I read that exfoliation and hydration was the key to said glow, so I kicked up my scrub routine. (Too far.) I broke out my trusty Clarisonic® brush, dumped a cheap, packed-with-microbeads scrub on the bristles, and scoured my face like it was a baking dish encrusted with remnants of eggplant parmigiana. Instead of getting radiance, I got incessant flakiness on par with French pastries, so I tried switching to chemical exfoliants. At this point, I fell in love. My (admittedly clear) skin was the healthiest and freshest it ever looked . . . but I was also in my lineless twenties. And while my skin was smooth, that lit-from-within aspect was never really achieved — though I got as close as I thought I ever could!
Now in my thirties, I've gained wisdom and a forehead crease that won't budge, thanks to my years of scowling at a computer or phone for most hours. Even worse, I wake up with it looking more pronounced (am I grimacing in my sleep?). So, I decided to dabble with retinol. Both my beloved chemical exfoliants (like alpha hydroxy acids) and retinol promote cellular turnover, but the latter doesn't exfoliate. Rather, it kickstarts new cell growth from the bottom up. Even better, it stimulates fibroblasts, the skin cells responsible for collagen production. Finally, it helps control oil, which is why prescription-strength retinoids are a standard pick for acne treatment.
[Editor's note: Retinol shouldn't be used by those who are pregnant, considering getting pregnant, or nursing. Please consult with your doctor before use.]
These benefits all sound incredible, of course — and very relevant to my never-ending quest for luminosity radiance. But truthfully, until recently, I was entirely unimpressed by this "gold standard" ingredient. I had tried myriad different retinol formulas from celebrated and reputable brands, but had never seen any change in my skin until testing Drunk Elephant® A-PassioniTM Retinol Cream ($74).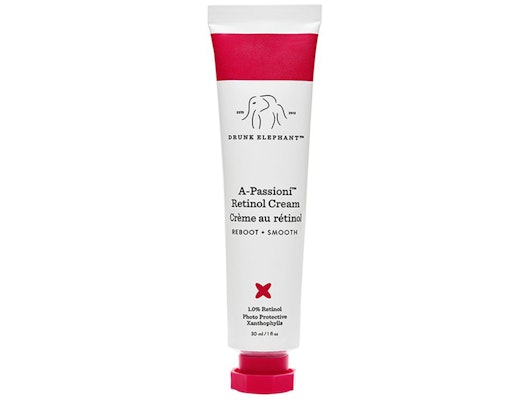 Originally, the brand team had never planned on producing a retinol product, which founder Tiffany Masterson admitted was because she didn't "understand" the ingredient. "When I first launched Drunk Elephant, I put retinol (Vitamin A) on my 'no' list," Masterson explains. "Like many, I was confused and scared by the ingredient. I now know it's a powerhouse of an antioxidant that teaches skin cells to act better . . . and I can't imagine my line without it."
Masterson designed her retinol to be both multifunctional and extra-nourishing: the formulation can be blended with any other products before you smooth it on, and it contains peptides, fatty acids, and superfood extracts like passionfruit, apricot, and kale. The result is a buttery vegan, one percent retinol cream free of any silicones. Bonus: the tube is even paired with a sample size of Drunk Elephant's B-Hydra® Intensive Hydration Serum to deliver a boost in moisture.
Because I am particularly talented at not learning from my mistakes, I dove into my A-Passioni with abandon. I mixed it with the B-Hydra and applied it daily for a week, despite knowing that I could be in for some peeling later on. I asked myself, How bad could it really be?
The answer: bad. A word to the wise, or those unacquainted with retinol — you should apply it once or twice a week to start. This is especially important if you're prone to sensitivity, but also if you're not. Remember, I wasn't a consistent retinol user, so my skin wasn't accustomed to the ingredient, and the result was a flakey complexion. But after easing up on my face (and my entire skincare regimen) for another week, I gave it another go.
For over a month and a half now, I've been applying B-Hydra to bare skin first, then slicking on A-Passioni, finally sealing it all in with a rich oil (my go-tos have been Le Prunier®, $72, and Herbivore® EmeraldTM, $48). I was using A-Passioni only once a week for the first two weeks, before ramping up to two and, finally, three times weekly. While I know it takes at least 12 weeks to see results from using retinol, I am already seeing satisfying changes in my skin.
I now wake up to a smoother forehead with somewhat diminished lines (so I must not be as much of an angry sleeper as I thought), plus improved texture on a small patch of my face that had always appeared rougher than the rest of my skin. And while I rarely get blemishes, the ones I do get are typically the type that lurk painfully under the skin and never come to a head. While using A-Passioni, those pimples are significantly less sensitive and inflamed, tending to fade in a day or two instead of over the course of the week.
But the best part? I got the glow. Recently, during a lazy, bare-faced Sunday at home, I embarrassingly did a double take at myself as I walked past my living room mirror. My forehead and cheekbones glistened as if they were slathered in highlighter or overly moisturized — but I had quite literally woken up like that.
---quiz start
---quiz end
Some products were gifted to the author for the purpose of writing this article.
Product prices may vary from the time this article was written.
Allergan® may receive commission for purchases made through links in this article.