If a time capsule sent us all back 20 years — heck, even 10 — and told us that we would be able to get professional hairstylists, makeup artists, and manicurists to do top-notch work in the comfort of our own home, we would all exclaim with one big, resounding, and collective scoff.
But Giovanni Vaccaro saw the possibilities. Or, rather, when entrepreneur Jason Perri presented his concept of an app-driven, on-demand, high-end, at-home beauty service, Vaccaro was wise enough to say yes.
Vaccaro's styling CV is an impressive one. Right out of beauty school, his first assistant job was at the esteemed Frederic Fekkai® Salon, where he swiftly rose through the ranks to become one of the salon empire's top stylists. After nine years, he joined Perri's new venture, Glamsquad®, initially as a consultant. Eight months later, he became its Artistic Director.
Vaccaro credits Glamsquad's forward-thinking leadership, as well as its rigorous vetting process (only 15 percents of applicants pass the hiring test), for the success it's had since it debuted in 2014.
And speaking of debuts, Vaccaro and his wife, Cosmopolitan.com® beauty director, influencer, and Instagram® darling Carly Cardellino just welcomed their baby girl, Delfina Celine on New Year's Day. Fortunately, we managed to steal some time with him right before the blessed day about his career, Glamsquad's new styling collection, and his self-professed beauty diva practices.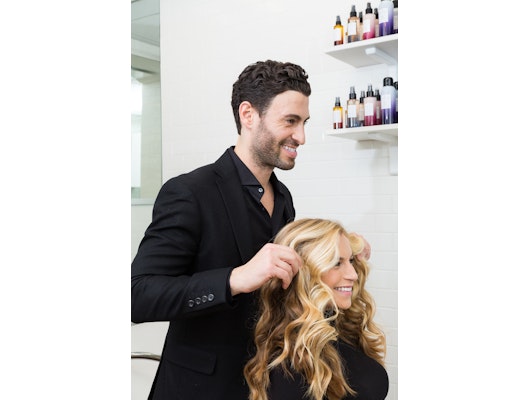 Kelsey Anne Rose
Spotlyte: How did you get into hair?
Giovanni Vaccaro: I didn't come from a long line of hairdressers, but I did grow up in the service world (my dad owns restaurants). When I was in my teens, I was really focused on fashion and beauty, but I didn't have any sisters!
My friend's mom had a salon in Greenwich, and I started spending a lot of time there after school. I'd see these women come in, then leave so uplifted from the experience. I remember thinking, I want to be a part of this some way, somehow. I could have joined my family's business, but I decided to go to cosmetology school.
Spotlyte: Getting a job at Frederic Fekkai straight out of beauty school was an impressive feat. How did that happen?
GV: During cosmetology school, all we heard about was Frederic Fekkai. His salon was the Harvard of salons, so a job there was the holy grail. One day a woman who worked there came to our school to do a demonstration, and I knew I had to seize my opportunity. I pulled her aside and said, "I need you to get me a job at your salon."  
I think she liked my gumption or maybe she could see the passion in my eyes. Whatever it was, she gave me her card and said, "Call me when you graduate."
I showed up for my blow dry test, and the first person I see checking out was Jon Bon Jovi. I'm a huge Bon Jovi fan. It was the first concert I ever went to when I was a kid. I remember thinking, "How the hell am I going to work at this place where people like Jon Bon Jovi are clients?"
Spotlyte: But you got the job.
GV: Got the job. I started the following week as an assistant, then worked my way up to stylist in a year and a half, which I'm quite proud of. But when I was an assistant, just doing shampoos, I gave the best damn shampoo clients ever had. Knowing how to make every experience of the process be amazing was extremely educational and something I've taken with me.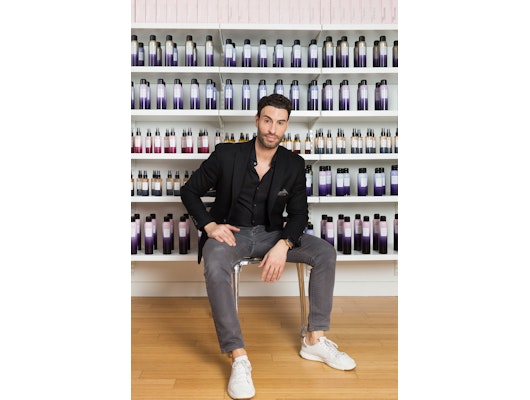 Kelsey Anne Rose
Spotlyte: How did you connect with Glamsquad?
GV: [Glamsquad co-founder and chairman] Jason Perri was a client. One day, he was in my chair and he said, "I've got this great idea. Let's grab lunch." So, we did.
He explained the concept of on-demand beauty services. This was six years ago, back when we were all starting to hear about [online, on-demand services like] Rent the Runway®, Seamless®, and Uber®, [which] were becoming a real thing. I can't tell you how many clients would sit in my chair and say, "If only you could come to my house tomorrow morning and re-create this." I thought, "Man, Jason is onto something."
So, I signed on as a consultant, hiring stylists, getting the technology in the right place, starting with friends and family. When Glamsquad launched in January 2014, that's when I became Artistic Director. It's been amazing to see us going from five appointments a week to thousands.
Spotlyte: Did you have idols in the business who inspired you early on?
GV: Frederic Fekkai inspired me from both a business and brand perspective. To see a stylist build an empire like he did was just incredible. It was the type of path I wanted to be a part of. From a creative perspective, Oribe had a huge influence on me. I was so lucky to get to meet him in Miami and spend a little time with him a few years ago (when Glamsquad launched, our pros first used Moroccanoil®, but eventually transitioned to the Oribe® line). Oribe was all about beautiful, big, sexy supermodel hair, and there was such a part of me that wanted to be that guy.
Spotlyte: What do you love about your work?
GV: I'm crazy passionate about a lot of things. The idea of building and creating is something I can't live without — not only from the business perspective, but I also love styling and cutting; I love creating something transformational, then watching a client look at herself in the mirror and say "Wow. I look damn good."
Spotlyte: What advice would you give someone who's interested in becoming a hairstylist?
GV: The word on the street is that creatives, in general, can come with an ego. My advice to anyone getting into the industry, whether you're a hairstylist, makeup artist, [or] manicurist, is: Never think you know everything, and never pass on the opportunity to learn something new. I'll be teaching a master class with our pros and someone will raise their hand and say, "I actually hold my brush like this," or "I actually tease that part of the hair," and I'll take that and incorporate it into my work, which can elevate it.
I never walk into anything thinking I know it all. You should always come with an open mind, and always think you're a student. I'm a student everywhere I go; I'm always learning.
Kelsey Anne Rose
Spotlyte: Describe a typical work day.
GV: No day is typical! And that's what drives me. The idea that I can be at a photo shoot or fashion show, then teach a master class to our pros from the looks we gathered from New York Fashion week, followed by conversations with different media outlets, then flying to one of our markets to talk about products, to then be in a meeting with our executive team, I love it. No day is the same, and that's what's the most exciting.
Spotlyte: Let's get a little personal now. How do you like to relax? Are you a spa goer?
GV: I am such a diva, you have no idea. I don't go to spas as much as I should, but when I do I am in my glory! I will keep that spa robe on for hours. I love taking care of my skin, I love massages. I recently stopped at one of those in-terminal spa places at LAX for one of those 15-minute massages, and I said to the lady, "You are going to find knots on my body like you've never seen before." I fell asleep despite all those noises and announcements coming over the P.A. system.
Spotlyte: Do you have a favorite spa?
GV: I typically get treatments when I'm traveling or on vacation, but I do love the Spa de La Mer® at the Baccarat Hotel®. I feel like a king when I'm there.
Spotlyte: Have you tried aesthetic treatments?
GV: I have not had any work done yet. But who knows where that's going to go after we have this baby? You may not recognize me next year! I'm only kidding. I haven't had anything done yet, but I'm completely open to it.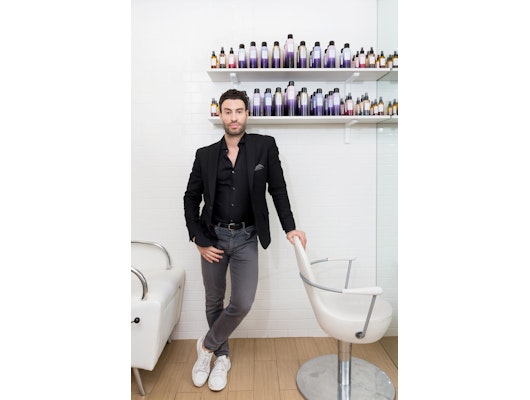 Kelsey Anne Rose
Spotlyte: How has the business changed since you started?
GV: The industry was so different 20 years ago, no one would recognize it. I'm not talking about style, but the salon experience, and the fact that something like Glamsquad has been able to create this whole new world of at-home beauty.
Also, the obvious: social media has had such an influence on the beauty industry, from watching an actual service to pros who can own their own career, build their own portfolios, create content for themselves, almost becoming their own photographers. The timing is so fantastic for us at Glamsquad because we believe in the same thing — owning your career, having that flexibility.
When it comes to business, I think we've done a great job of building trust. There's such an acceptance to the idea of having a service brought into your home and providing the same high-quality experience you'd expect from a high-end salon, that's pretty amazing. And now to be able to incorporate products into the equation is pretty awesome. The industry has changed completely, and I'm a big fan of it.
Spotlyte: Where do you see yourself five years from now (aside from being a father to a five-year-old!)
GV: Wow. I have to stop and take in the fact that I'm going to have a five-year-old in five years . . . But, I think there's a massive opportunity. Today, we have three services — hair, makeup, and nails — but it would be so cool to see what other markets we could enter, and in which other countries. It just gets bigger and better with a pro community that is so crazy about being a part of the Glamsquad community. And with our product line, we're just scratching the surface.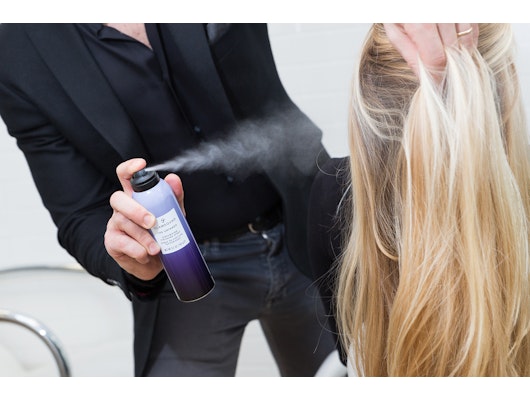 Kelsey Anne Rose
Spotlyte: What's your favorite hairstyle to create or cut?
GV: I'd say transformational ones, and that can be based on length or texture. I love when a client says "I'm ready for a change." That, for me, means a fun hour is about to happen, because when they say they're ready, you know you can push the envelope and get really, really creative. You're almost making someone brand new again. They're starting with a different chapter, which I love.
Spotlyte: What styles or cuts do you wish more women did?
GV: Women are much more comfortable going shorter right now, and that, for me, is exciting. I've heard it from other pros, too. Whether it's a bob or a pixie cut or a boy cut, it makes me so happy. 2019 is the Year of the Woman. They're owning their looks, and it's not just about having long, pretty hair anymore.
Spotlyte: Are there any looks or styles that should take a break for a while?
GV: I'd say no. Bring it on. Keep doing what you want to do. I'm not a fan of saying something should go away. Everyone has their creative outlets, so go for it.
Spotlyte: Who cuts your hair?
GV: I got married last year and the guy who usually cuts my hair called in sick, so I had to go to someone else. Not good timing to go to someone brand new three days before your wedding! But I usually go to Made Man BarberTM. It's a high-end barber shop, with all the classic elements, like the hot towel shave.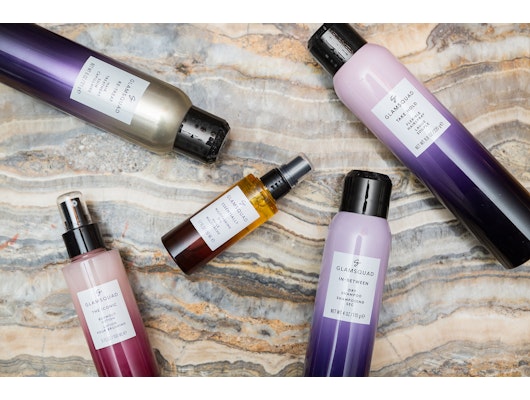 Kelsey Anne Rose
Spotlyte: What are your favorite Glamsquad styling products?
GV: So, so hard! I hate choosing favorites, but if I had to, I'd say our Re-TreatTM Hair Treatment ($34) is a true innovation. It's no-fuss — comes out like a spray lotion — but after just five minutes, your hair feels like butter. Also, our UntamedTM Texturizing Finishing Spray ($22) is the next level. It's in line with what's currently happening: texture, lived-in hair, second-day hair.
Spotlyte: Tell us about the products you love.
GV: I love [all] skin care!
Spotlyte: Well, aren't you lucky you married Carly, then!
GV: You know what? Carly initially thought this was the only reason I married her. Just kidding! But, seriously, I have a whole routine. I cleanse, tone, moisturize, night cream. I love SkinCeuticals® eye cream ($72), I use Erno Laszlo® Detoxifying Hydro-Gel mask ($60 for four), and I use their eye patches ($35 for six pairs), too. The one cream I can't live without is La Mer® ($175). I actually keep it in the fridge and use it at night, as well as during the day in the colder months.
Spotlyte: Do you wear a scent?
GV: Here's the funny thing. I love fragrance, but when Carly was pregnant, she had the nose of a canine at LaGuardia. So, now that Delfina is here, there are a few. I'm a big fan of Tom Ford's Black Orchid® ($125), but Tobacco VanilleTM ($235) is my number one. That's my go-to.
Spotlyte: Speaking of Carly, what's it like to live with an influencer? How did you two meet?
GV: We were set up on a blind date about seven years ago from a client who's also a friend of hers. It was a great date, but I think it was just timing. We were both in our twenties and still figuring life out, so nothing ever happened. A few months later, she came to do an article on me, then we kind of stayed connected over the years. She came to the Glamsquad launch, I'd help out with Cosmo® articles or Facebook® live events. About a year and a half ago, we reconnected, and it's been amazing ever since. I remember saying to myself, "Why haven't I been dating this girl the entire time?"
Product prices may vary from the time this article was written.
Allergan® may receive commission for purchases made through links in this article.