Before chef Stuart O'Keeffe was one of the hosts of Food Network's first digital-native cooking show "Let's Eat," he was pounding the pavement of Los Angeles, cooking behind-the-scenes for some of the town's biggest A-list stars. Even though his talents eventually landed him on the reality show "Private Chefs of Beverly Hills," it didn't mean he could quit his day job. That day job? Office manager of a high-profile dermatologist's office.
It might seem strange, but it was actually a brilliant move on O'Keeffe's part. He had moved to LA from his native Ireland without any contacts, so working the front desk at a busy dermatologist's office gave him a leg up. "I met a lot of people through the office and did my private cooking on the weekends," he says. "I was immersed in that world. My second year into it, I got onto the 'Private Chefs of Beverly HIlls' show and people coming into the office would recognize me." Along the way, he developed a deep knowledge and passion for skincare and beauty.
Christopher Brown
These days, O'Keeffe is balancing "Let's Eat" with private gigs, developing future projects and working on a new cookbook. To keep his movie-star good looks camera ready at all times, he draws upon the knowledge he gained at his former day job. And, it turns out that his cooking philosophy isn't so different from how he approaches grooming. "I like to be in the kitchen and get out as soon as possible," he says. "If you're slaving away in the kitchen [or in front of the mirror], the fun is lost in it. In cooking and skincare, I have to have quality products. That makes all the difference." His sense of curiosity helps too. "I have so much stuff. I love finding new products and trying them," he says.
So how does O'Keeffe put his best face forward when he's jumping from behind the stove to in front of the camera? (Not to mention, how does he stay so fit when his job is literally to eat?) We met up with him to find out his recipe for success.
Start With Skin
"The biggest thing I learned working at the derm's office was to wash your face at the end of the day — no matter what. You're taking off the dirt of the day. It seems simple, but you'd be surprised at how many people don't do it.  Also, use a good moisturizer at night. The magic happens when you're asleep.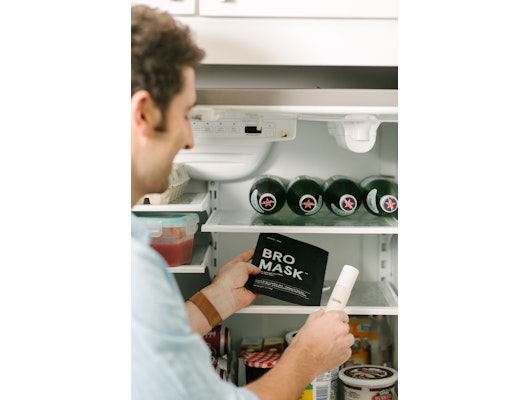 Christopher Brown
I really like La Roche-Posay® products. I use the Toleriane® Hydrating Gentle Facial Cleanser ($15) every day and the Clarisonic® Sonic Cleansing Face Brush ($84) two or three times a week. I also use a lot of SkinCeuticals®. The C E Ferulic® ($166) is amazing and the Emollience cream ($62) is really good too — it's nice and thick. I also use La Roche-Posay Hyalu B5 Hyaluronic Acid Serum ($30).  Right now I'm using the HimsTM Retinol Serum ($37 per month) and really love it. If you use it for a week, it really brightens your skin. I was always told to not use retinol too often. I was out in the sun a lot recently, so I gave it a break.
[Editor's note: Retinol shouldn't be used by women who are pregnant, considering getting pregnant, or nursing. They should consult with a doctor before use.].
Speaking of the sun, I use La Roche-Posay Anthelios® AOX Antioxidant Serum SPF 50 ($43). I think it's important to protect and moisturize your face no matter what you're doing. You don't want your face to get used to the same thing. You want to switch and shock it. Wintertime is a time to recharge and let my skin regenerate. I don't freak out if I get a little color in the summer, but I know it's bad for me.
I love to use the PeterThomasRoth® 24K Gold Mask ($18) as often as I can. It makes a huge difference."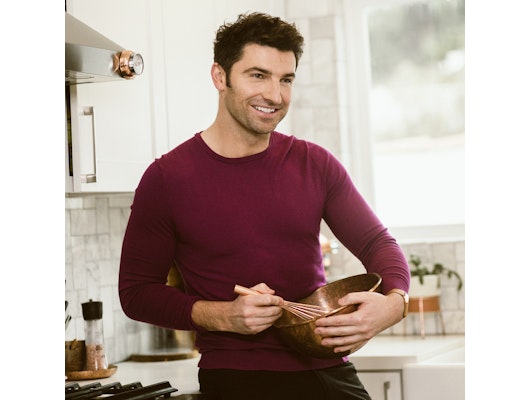 Christopher Brown
Add the Hair
"I take Propecia® for my hair. My dad is bald so it's in the family, but I'm on TV, so I can't lose it. I have to keep as much as possible.
[Editor's note: Propecia is a prescription drug that may increase the risk of high-grade prostate cancer. It is not intended for use by women or children. Women who are pregnant, planning to become pregnant, or nursing should not handle crushed or broken tablets. Talk to your doctor to see if it's the right treatment option for you.]
I'm big into OUAI® right now. My bathroom is full of their products. I'm obsessed with the smell of it. They don't test on animals and I like knowing that. One day I ran out and I used their dog shampoo on my own hair. I think it's probably the same thing. I mean, it's all natural, right? 
I get my hair cut by Anthony Ramirez at Rudy's Barbershop in Silverlake. I have so many friends that cut hair, but they've all gotten super busy. You start seeing them and then they blow up and you can't get in. I love Rudy's because they have cool, talented hairstylists there and it's not expensive. I can't bring myself to pay a lot for a haircut.
For products, right now I'm using Fatboy® Tough Guy Water Wax ($21) because it's water-based. I was told not to use oil-based products in my hair because that's what makes it fall. I used to love Kevin Murphy® Gritty Business but they took it off the market. I don't know why. You can actually get it still but people are charging like $80 for it. It was my favorite.
I've been using Schwarzkopf Professional® OSiS+® Dust It Mattifying Powder ($9) but I can only use it right after I get my hair cut before it gets too long. It's a powder. I'll put that in first and then I'll use a tiny bit of pomade. Then I'll use the Ouai hairspray to hold it in place if i need to."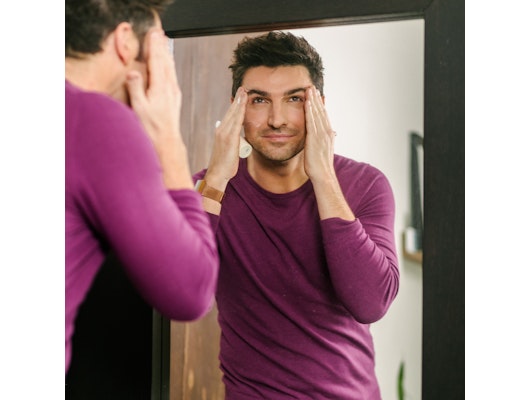 Christopher Brown
Mix In Makeup
"I've learned how to do my own makeup from being on camera so much. I'd have to get makeup done all the time but sometimes the gig wouldn't offer it. I got a makeup artist to show me how to do it on my own. Now I'm always looking for things that look better on TV. Some days, if I feel like my face is really tired-looking, I'll put some on before I go out at night. I'm very into NARS® All Day Luminous Weightless Foundation ($49) right now. One little pump gets so much coverage, it's crazy. I love the Laguna Liquid Bronzer ($40) too, so I'll mix that with foundation and it's insane."
 A Dash of Scruff
"I don't shave, I just trim with a Wahl® Beard & Mustache Trimmer ($20). I like having a little shadow."
Toss In a Manicure
"I love getting manicures but I don't have a regular pace. There is a place called Butter Nails in LA that I go to a lot with my friend Natalie."
Fold In a Facial
"I get a medical grade facial about twice a year. I keep my face so clean and I'm always using a lot of products that I don't need to go a lot."
Christopher Brown
Fire Up the Lasers
"When I worked at the derm's office, I got to try everything for free. I got really into all the lasers, but now I have to pay for them. I did Fraxel® about three months ago and it was amazing. I did the lower wave one — the Fraxel Dual. I want to do it again but probably only about once a year. My skin looked incredible a month later. It takes a while for your skin to heal and regenerate.
I've heard a lot about the CO2 laser and I'd love to try it, but you need a little bit of downtime which I never have. I've seen people right after they get it done and it looks great." 
Smooth and Plump With Cosmetic Injectables
"I've gotten injectable wrinkle reducers on and off for about six years. I don't get it as regularly as [I'd like to]. I have loads of movement right now but I'll typically decide to get it based on how I feel I look.
[Editor's note: Injectable wrinkle reducers should not be used more frequently than every three months.]
I've never gotten fillers, but I would definitely do it. It can really [enhance] a person's [features] in a nice, subtle way. I'm not sure where exactly I would get them now, but I'm looking into it."
[Editor's note: Injectable wrinkle reducers temporarily smooth the look of moderate to severe wrinkles in certain areas of the face, including the forehead, frown lines, and crow's feet. Injectable filler is a temporary treatment that adds volume to areas of the face such as the lips, cheeks, and laugh lines. Like any medical treatment, both injectable wrinkle reducers and injectable fillers have potential risks and side effects. Talk to a licensed provider to see if they're right for you. And learn more by chatting now with a trained aesthetic specialist.]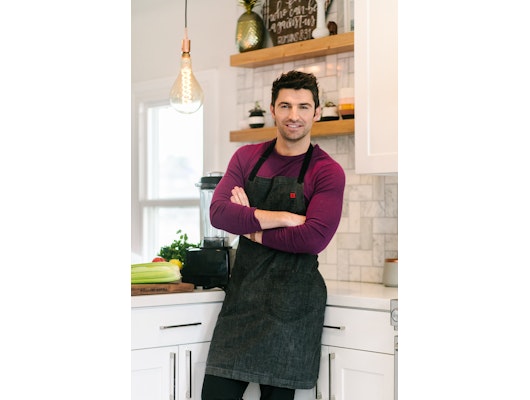 Christopher Brown
Finish With Fitness
"I had a trainer for about a year and I would go about twice a week. I've been a little lazy lately, but I'm trying to get back to it now. I go to Barry's BootCamp® and I'm about to start the Twenty Day Challenge. It's not that bad, it's five classes a week for four weeks. I have a love-hate [relationship] with them, but once you get into a rhythm of going, it's freaking awesome. The treadmill doesn't seem so bad when you're more used to it. You get a sweater when you complete the challenge. Everybody's doing it for the sweater.
I go to SoulCycle® when my friend Stevie is teaching. She used to live in LA but recently moved to New York, so I can only really go when I'm there visiting." 
Allergan may receive commission for purchases made through links in this article.