"My biggest nightmare with red [lipstick] is going out for dinner and getting it all over a cup," confesses Adriana Lima. "It doesn't look nice." The 5'10" model looks downright impressive — regal, even — in a scarlet jumpsuit adorned with jutting, puffy sleeves; her hair is styled into an impossibly glossy lob. It's an ensemble that certainly does not lend itself to a misplaced makeup smear.
Ergo, a lip product that's equal parts steadfast and stylish — specifically, Maybelline® SuperStay Matte Ink Liquid Lipstick ($8) — is a crucial component of the supermodel's makeup roster (today and always). "Literally," she asserts, "I can apply it, drive my kids to school, go to the gym, have lunch with my girlfriends, and it actually stays put."
It's high-performing products like SuperStay that have encouraged Lima's long-standing relationship with Maybelline throughout her career. (Her first stint with the brand was at age nineteen, and she has returned as a spokesperson many times since.) "I've seen how the company has grown up in every way," the now 37-year-old reminisces. "[Now], they are always following trends in beauty and from fashion shows." 
On her favorite lipstick shade
Today, Lima's lips are a poppy hue that could be described as the quintessential summertime red. It's a sweltering 90-something degrees in New York City — the optimal climate for the orangey-red shades she says she adores. But with autumn rapidly approaching, Lima is considering the cherries and burgundies she'll don in the coming months. There are many options, of course. But red — in all of its glorious renditions — is her favorite palette to play with. 
On her daughters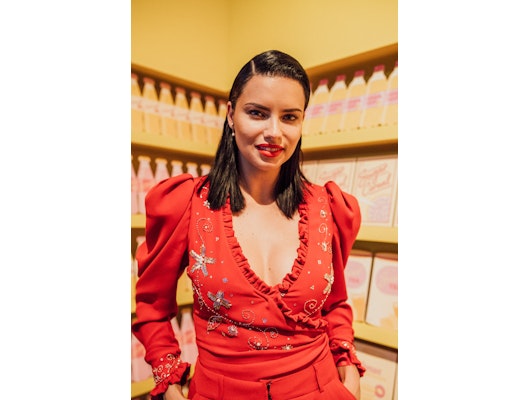 Emily Malan
Set aside the facts — including that the Brazilian-born bombshell holds a contract with an iconic makeup brand, is one of the highest-paid models on the planet, and was once dubbed Victoria's Secret's Most Valuable Angel — and you'll find that the mom of two isn't so dissimilar from many other women her age. For one, she adores her daughters.
"They're such girly girls," Lima gushes. Like their mama, Sienna (five) and Valentina (eight) are massive makeup fans — a predilection which, occasionally, becomes a playful point of contention. "Sometimes when I'm out of the house, [the girls] sneak into my room and steal lipstick and other things — and I cannot find it!" she laughs. "They are so spoiled [with the products]!"
On the intersection of beauty and wellness
In addition to a solid stash of foundation, Lima's enviably glowy skin can be attributed to an ultra-healthy lifestyle. Of course, exercise is practically written in indelible ink on a model's job description. But Lima has come to view her preferred workout — boxing — as more than just a means to professional success. "As a woman boxing, it's very empowering," she shares. "You learn how much strength you can have."
Her advice on working out: "Make yourself feel happy." It's a seemingly simple concept, but it's one that can easily fall by the wayside in a culture that tends to hyperfocus on physical results instead of overall health. Moreover, Lima considers her commitment to personal health, fitness, and nutrition as a way to set healthy examples for her daughters. As a working mother, the model values factors decompression time as a non-negotiable part of her daily routine: "I do meditation," she says, beaming. "Once in the morning and once at night, for ten minutes each."
On wearing makeup to the gym
Emily Malan
"Ask my trainer!" Lima laughs, "I always wear lipstick and mascara to the gym." Her favorite shade to rock while throwing punches is SuperStay Lover ($8), a mauve pink. Lima calls it her "low-key" look; and yes, it lasts throughout sweat sessions. 
Mascara, on the other hand, may not — but Lima has chosen to embrace the smudges. "My trainer [at Dog Pound in NYC] pointed out, 'you know, you always have the mascara running off, but it really looks quite bad-ass!'" Since then, the model says she never bothers to remove her mascara during the day. (Evening, of course, is a different story; Lima touts the importance of cleansing every single night.)   
On Brazilian beauty secrets
"It sounds a little bit awkward, but avocado is a beauty trick; every Brazilian woman would know this," the brunette beauty asserts. "Every week, we do a hair mask [made of] mashed avocado." Just simply slather it on, wait 15 minutes, then rinse it off. "I promise you," says Lima, "[you'll see] beautiful, shiny hair!" 
As far as other tips, Lima swears by super-nourishing natural oils, particularly coconut oil. "It's a little trick of mine," she says, noting that she uses it to hydrate head to toe. While oils have surged in popularity over the past few years, Lima has been on board for decades. "When I was [a child]I would put olive oil over my lips to make them look shiny," she laughs. "That was before Maybelline."
On her in-flight essentials
Like any good jetsetter who is serious about skincare, Lima never boards a flight without her trusty beauty bag. In it, she stashes a sundry of lip balms, sunblock ("I love Sun Bum — the texture, the smell, the packaging"), various shades of SuperStay, and Havaianas® Brazilian flip-flops ($26). For when she gets peckish: "I love the Gatorade® protein bar ($18) in Vanilla Almond flavor — it's so good."
Oh, and of course, like any good model, she drinks lots of water. 
Allergan may receive commissions for purchases made thrugh links in this article.