In The Path, we spotlight different women making a difference in the beauty and wellness industry. Here, they share their road to success.
 "Better sore than sorry" is the mantra emblazoned on the wall at SLT in NYC. And as someone who has taken the pilate reformer bootcamp class countless times, I can confirm: you will undoubtedly feel sore, but have no regrets when your abs feel flatter and legs leaner — after just one class.
We can thank Amanda Freeman — the 41-year-old boss lady behind SLT (which stands for Strengthen, Lengthen and Tone) — for our perkier derrières and ballerina arms. While the chain started in NYC, it now has 25 studios to date everywhere from Massachusetts to Michigan. The fitness classes have inspired a movement of people who want to burn fat and elongate their muscles.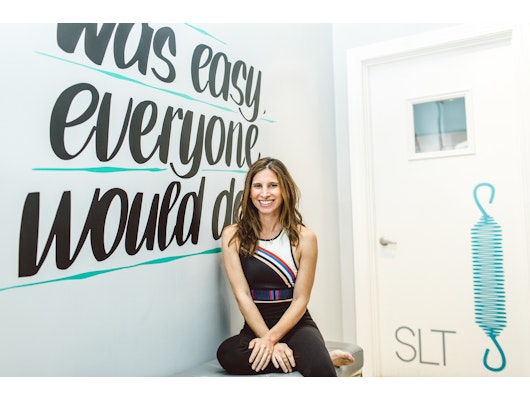 Sasha Israel
But Freeman isn't a one-trick pony. Her latest venture Stretch*d is a new service that offers clients personalized stretch sessions in their own homes (or office if you're really that busy). The angel investor also has her hands in successful wellness businesses like Carbon 38, The Wing, and 305 Fitness. So yes, she is busy. Did I mention she also has two children under the age of 3?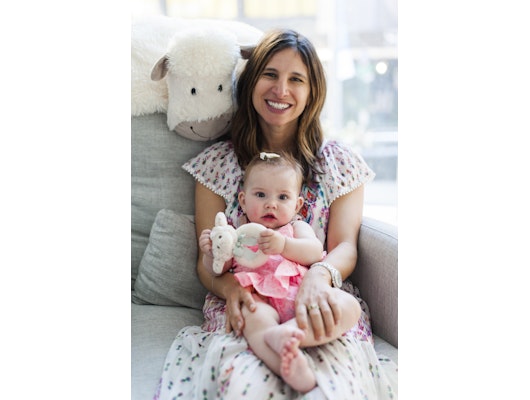 Jonica Moore
Being Amanda means working hard (and working out hard!), making savvy business decisions, and taking care of herself and her family. The Harvard Business School-grad shares with us her recipe for a successful business, glowing skin, and a sculpted body.
Spotlyte: What is your approach to anti-aging and skincare?
Amanda Freeman: Until recently, I was very low key and pretty mass (Cetaphil!) when it came to my skincare and anti-aging strategy. However, after a few comments from friends and a doctor in the past year, I've stepped it up and become hyper focused on all things skincare related. I rarely wear makeup, so it's extra important that I spend time and money on my skincare. I sought advice from my friend with amazing skin and knowledge and bought a ton of products she recommended. A ton. I'd say I'm now skewing natural, organic and expensive.
Spotlyte: What is your skin type? What are three products you love and use for your skin. Why?
AF: I have very oily skin and big pores...yuck!  Like most people, I often think of my skin as "sensitive," however I'm not entirely sure that that's true. I love the following products:
Shiva Rose© Glow Face Balm ($65): I use it morning and night to moisturize and nourish my skin and keep it dewy. It doesn't make me break out and has a scent I've grown to love.   
Dr. Hauschka Hydrating Mask ($58): Once a week, I use this mask to ensure I'm getting a deep, hydrating clean. 
Skin Gym© Facial Roller ($32): I'm obsessed, and so is my almost 3-year-old daughter.  I roll my face twice a day for two minutes each time. It feels like forever, but I know that it's restoring collagen production, so I carry on.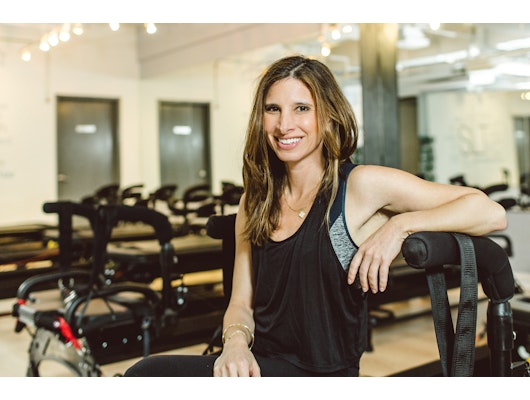 Sasha Israel
Spotlyte: Have you tried injectable medical aesthetics treatments?
AF: I'm afraid of needles but curious; so I haven't done it yet. It's probably only a matter of time...Not yet, but never say never.  
[Editor's note: Injectable wrinkle reducers temporarily smooth the look of moderate to severe wrinkles in certain areas of the face, including the forehead, frown lines, and crow's feet; they should not be used more frequently than every three months. Injectable filler is a temporary treatment that adds volume to areas of the face such as the lips, cheeks, and laugh lines. Like any medical treatment, both injectable wrinkle reducers and injectable fillers have potential risks and side effects. Talk to a licensed provider to see if they're right for you. And learn more now by chatting with a trained aesthetic specialist.]
Spotlyte: Are there any other treatments you've tried?
AF: I get a monthly facial with this amazing woman, Jordana, at CompleteSkin MD in NYC. She books out months in advance. I give her free reign to use whatever gadgets, peels, and products she deems necessary.  
Spotlyte: What do you eat or avoid for your best skin and why?
AF: I have become ritualistic about certain foods and beverages and aim to consume them every day for their many benefits, one of which is to combat the signs of aging. I drink a ginger tumeric homemade tea every morning, which fights inflammation. I also drink some form of green tea or matcha for its antioxidant benefits. When I remember, I add a packet of collagen protein to my tea for the added vitamins that aid not only skin, my hair and nail quality, as well. At the same time, I try to avoid eating too much sugar, dairy, and fried foods. 
Spotlyte: What does your weekly workout schedule look like?  
AF: Surprisingly, it's so hard to find time to workout. I consider myself lucky if I make it to two weekday SLT classes, and I try to be sure I do some sort of something on both Saturday and Sunday. I am fortunate to have a gym and swimming pool in my apartment building, so I like to swim or do my own workout one of those days and take a class that isn't SLT the other day. I mix it up between yoga (with music), a boxing class, or a dancing and toning workout.
When I work out in one of my own studios it feels like work. I notice things that annoy me, so I like to go to another studio once a week to really just focus on the workout. And when I notice things at their studio, it makes me feel better.
Spotlyte: Best advice for anyone who wants to tone up (in addition to SLT, of course)?
AF: Well, obviously, take three SLT classes per week and you'll be good to go. And if you can't do that do your best to replicate SLT-esque moves on the floor. Using a towel to simulate the movement of the carriage can help make lunges, planks, and other essential movements more challenging and effective. The added element of movement forces you to engage your core throughout. Also, go slowly so you can activate your slow twitch muscle fibers for an elongated look.
"You regret the things you don't do more than the things you do. So go for it."
Spotlyte: What is your advice to anyone who wants to start a business?
AF: Where to start? Hmm...there are so many pieces of advice, but one of the most important is "be decisive." You will have so many decisions to make on a daily basis. If you belabor them too much you won't get much done, and you'll get distracted from moving your business forward. Know that many of your decisions will be wrong, but you can always pivot and move on. You will learn a lot from both your right and wrong decisions.  
Spotlyte: Favorite dry shampoo or hair trick/product to go from a workout to out?
AF: I often don't have time or access to a shower post-workout (We don't have showers at SLT.) So I've become the queen of the scrunchie. Regular hair ties and rubber bands make major dents in my hair, so I avoid them for the most part. I either don't put my hair up at all when working out or use an old-school scrunchie that leaves my hair pretty much unscathed.
Spotlyte: What is your daily mantra?
AF: You regret the things you don't do more than the things you do. So go for it.