For every holiday, birthday, or special occasion that rolls around in celebration of my mother, I'm consistently stumped on what to buy her — even though she always asks for the same thing. "Give me anything with retinol!" she requests. As a woman in her fifties and the mother of a beauty writer, she learned pretty fast that retinol is the age-defying gold standard. And since retinol products frequently make their way across my desk, she's had the opportunity to try quite a few different options over the years. 
[Editor's note: Retinol shouldn't be used by those who are pregnant, considering getting pregnant, or nursing. Please consult with your doctor before use.]
For that reason, my mom is so well-stocked on skincare products that it's rare for her to completely finish one. In fact, she has an endless supply of half-empty bottles of retinol permanently stored in her bathroom cabinets. But after being particularly impressed by one product — the SkinMedica® Retinol Complex 0.25 ($62) — that I've been using recently, I decided to give the same one to my mother for her birthday this year. Contrary to her usual "use for a month and move on" strategy, she called me last week to tell me that she ran out of the line-smoother that I had recently given her and desperately wanted another one. Color me surprised.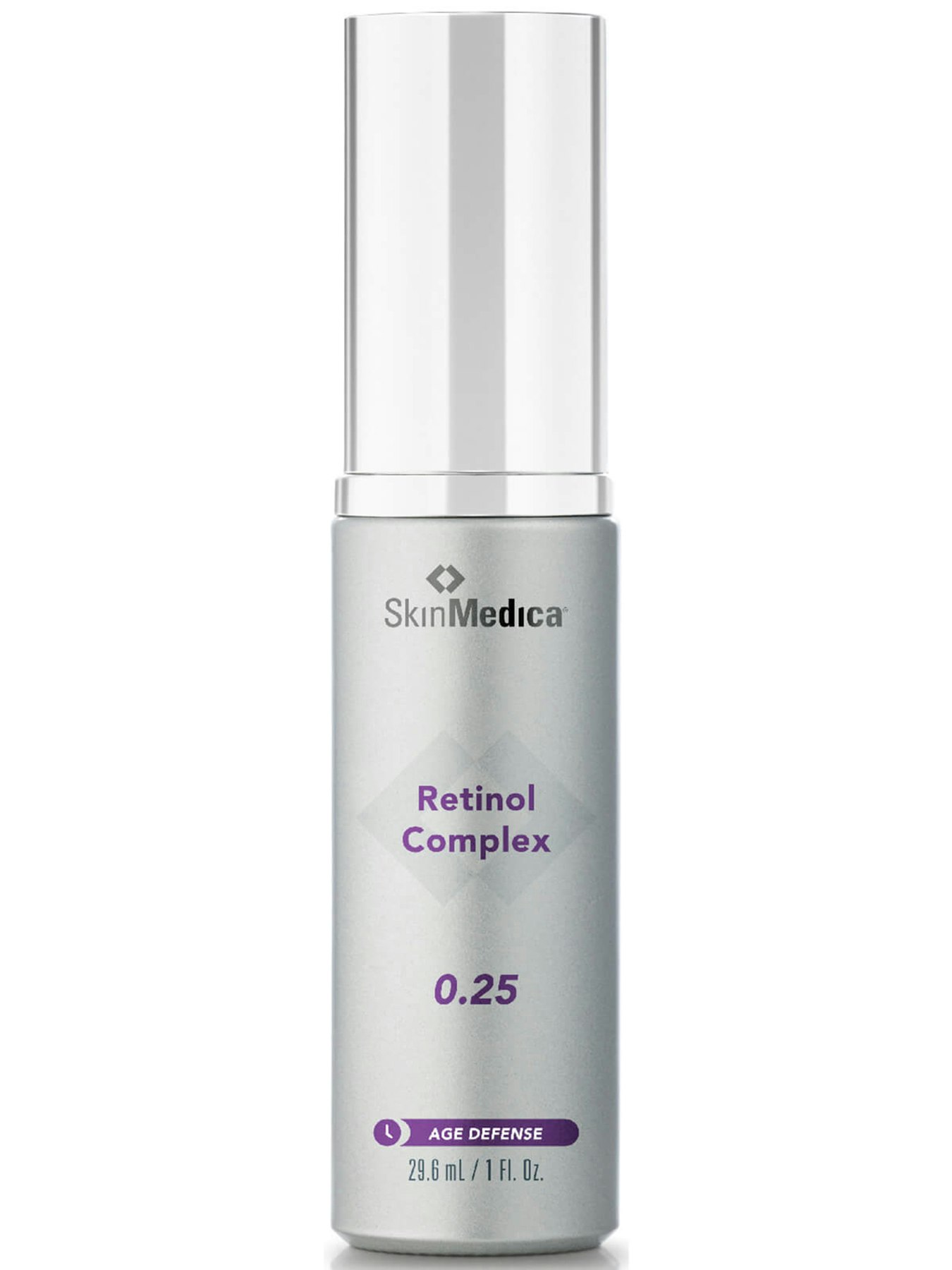 Naturally, I immediately started grilling my mom on why she flew through a bottle of this retinol while others from the past are still scattered around my childhood home half-empty. "My skin just looks brighter and feels smoother!" she excitedly exclaimed. "Plus, I didn't breakout like I sometimes do when using retinol." Since retinol can occasionally leave skin feeling dry and irritated, I had originally warned my mother to start off using the product only twice a week at night. 
This warning wasn't restricted exclusively to this product — I always worry that my mom will have an adverse reaction to the products I give her. Even though my skin responded beautifully to SkinMedica's retinol (two months of use have my skin glowing), my mother's Irish complexion is particularly reactive. Because of this, I was surprised to find out she didn't experience the kind of inflammation that's often associated with retinol. 
The reason behind her lack of skin sensitivity is simple: In addition to line-smoothing vitamin A, the product's formula includes niacinamide, peptides, and magnolia bark extract. Now, if your skin is already preconditioned to retinol, SkinMedica offers this same formula with higher concentrations of retinol (SkinMedica Retinol Complex 0.5, $78, and SkinMedica Retinol Complex 1.0, $93, respectively). Also, all three products include the brand's PhytoShieldTM Complex. This proprietary technology encapsulates the retinol to deliver it in a targeted way to the skin, while offering antioxidant defense against free radicals. 
Since incorporating this lotion-like retinol into our routines, my mom and I have both seen visible improvements in our skin. I have noticed that my pores look much more refined and my skin feels softer. My mom, on the other hand, claims the appearance of the fine lines in between her eyebrows and along the top of her lip have diminished a bit. With my mom already on her second bottle and my first bottle almost completely finished, it appears we're becoming loyalists to this formula — for the time being, at least!
SkinMedica® is an Allergan®-owned product line.
Some complimentary products were provided to the author for the purpose of writing this article.
Product prices may vary from the time this article was written.