As far as beauty goals go, there are few desires as ubiquitous as the one of a glossy, voluminous mane. Afterall, it's hard to beat the confidence that comes from a good hair day. Yet, growing healthy, shampoo commercial-worthy tresses can be a challenge. While avoiding the overuse of heated styling tools and chemical processing is a crucial part of keeping hair in good condition, it's our DNA that dictates many of the factors of hair strength and texture.
"How thick and how long our hair grows depends on genetics, which determines the length of the anagen [phase] or active growth phase of the hair [follicle] cycle," explains Jennifer Chwalek, MD, board-certified dermatologist in New York City. In other words, the longer the anagen phase you were blessed with at birth, the longer your hair can grow. For those with a short growth cycle, there's still hope, Dr. Chwalek assures. "There are products that may help thicken or promote hair growth, especially in people with female pattern hair loss," she says. (With female pattern hair loss, women typically begin to see hair thin around the part line and temples.) Supplements, diet adjustments, and in-office treatments are also options for boosting strength, length, and fullness.  
[Editor's note: As always, talk to your doctor before starting or stopping any new treatment, medication, or supplement.]
So, the good news is, yes, despite your genes, you can grow longer, stronger, thicker hair. "But first, you must identify what is preventing you from having [it]," notes Francesca Fusco, MD, an assistant clinical professor of dermatology at Mount Sinai® in New York. To help you figure it out, we asked dermatologists and hairstylists to weigh in on the signs that your tresses might be in trouble, what might be causing the issue, and which specific solutions will help get your mane back to its full potential.
What causes hair thinning, loss, and damage? 
What the doctor says: Genetics, hormonal changes (due to pregnancy, menopause, or birth control), and endocrine conditions (i.e. thyroid disease and polycystic ovary syndrome) are some of the major interferers of hair growth — and are often beyond our control. "Thinning begins in the forties and fifties in women, although it can occur as early as the twenties," explains Dendy Engelman, MD, a board-certified dermatologist in New York City. Stress and weight loss may also contribute, she says, but perhaps it's genetics that play the biggest role. "If your mom or sister has thinning hair, you are much more likely to experience it as well," she notes. 
What the hairstylist says: Excessive chemical processing (color, perms, and relaxers), too much heat (from blow dryers and irons), and the improper placement and maintenance of extensions are the big culprits of damage. In time, these can all lead to weakened hair that won't grow as long or thick. Celebrity stylist Tommy Buckett, whose clients include Elisabeth Moss and Zosia Mamet, says one of the biggest causes of thinning that he witnesses is a dirty scalp. 
"I typically see this in someone who uses a lot of dry shampoo," points out Buckett. "The hair follicles get clogged with excessive use of products or dirt and oil." When the follicles "get sick," he says, that's when hair starts to fall out. According to UnileverTM celebrity stylist Ursula Stephen, another cause of hair thinning and damage is not using the correct products or treatments for your hair type. "For example, some people do not know when to use a protein treatment for weak hair versus when to use a deep-conditioning treatment for dry hair, or a repairing treatment for damaged hair," she explains. 
What are the signs I'm losing too much hair?
What the doctor says: We've all witnessed the unnerving sight of hair loss, be it a clump of our strands entwined in the bristles of our brush or sliding over the shower drain. And while it's completely normal to shed between 50 and 100 hairs per day, the problem arises when our strands stop replacing themselves at the same rate of fall out.
"When the amount you shed outpaces the regrowth, then thinning becomes evident," explains Dr. Chwalek. If you've noticed more hair loss than usual for an extended period of time (a month or more), adds Dr. Fusco, "it's time to investigate." A receding hairline, a widening part, a more visible scalp, and/or a ponytail that seems to be shrinking in diameter are all signs that you may be losing more than the standard amount of hair each day. 
What the hairstylist says: When hair becomes weaker it breaks, snaps, or splits more easily — all issues which contribute to the appearance of shorter, thinner-looking hair. To decipher between hair-thinning and breakage, Stephens suggests looking at the length of the hair you're losing. Long strands that fall out straight from the root are considered thinning, whereas short pieces of hair are generally a sign of breakage from the mid shaft. If you're unsure, follow Buckett's advice: "If entire clumps [of hair] are coming out in your comb, that's when you need to take action."
Does diet make a difference? 
Our experts agree that strong, healthy locks start from the inside, which is why what you put on your plate matters. Follow Dr. Engelman's advice for a varied array of nutrients to keep hair in good health. Start with protein."Your hair is made of it!" says Dr. Engelman. Seek out lean meats, beans, and fish. You also shouldn't skip healthy fats like oily fish (such as salmon), nuts, flax, and avocado. "They help keep hair soft and silky, and are necessary for nutrient absorption," she says. Incorporate vitamin A-rich foods like milk, eggs, and yogurt, too, which help maintain skin health. "A healthy scalp supports healthy hair growth," reminds Dr. Engelman. 
You've likely heard how crucial vitamin B is to your hair, but it's worth reiterating: Biotin supports the growth of hair, skin, and nails by helping break down fat and carbohydrates. When your body is biotin-deficient, hair loss and weakening ensues. To keep hair growing strong, get this vitamin from foods like salmon, chicken, and potatoes. Lastly, don't underestimate the importance of iron. Iron helps distribute oxygen to cells to keep them healthy. Since low levels can lead to hair loss, Dr. Engelman says, "The fix may be as simple as adding an iron supplement to your routine." Or, you can load up on foods like lentils, turkey, and spinach, all of which are rich in iron.
What are my options for strengthening, thickening, and lengthening hair? 
What the doctor says: For a DIY option to stimulate hair growth, doctors still say minoxidil is the gold-standard topical. "It's not new or sexy, but it's very effective at decreasing hair shedding and promoting new hair growth," says Dr. Engelman. The time-tested ingredient works by increasing the length of the hair growth cycle and the size of hair follicles — promoting the delivery of oxygen, blood, and nutrients. The results make existing hair stronger while helping re-grow new hair simultaneously. Try Rogaine® products like the Women's Foam For Hair Thinning ($25), which contain minoxidil as a main ingredient. 
[Editor's note: Minoxidil shouldn't be used by, or come into contact with, women that are pregnant, considering getting pregnant, or nursing.]
At the dermatologist's office, PRP (platelet-rich plasma) treatments are a popular option for jump-starting hair growth. During the process, a patient's blood is drawn and its components are separated, and the nutrient-rich plasma is injected back into the scalp. For best results, doctors recommend four to nine treatments spaced out over a few months. 
If you prefer lasers over needles, you have other options. Dr. Fusco is a fan of the Sunetics® Model G laser. The device uses low level laser therapy to help stimulate follicles in order to grow thick hair, sans discomfort or downtime. The MEP®-90 Hair Growth Stimulation System is another pick. This FDA-cleared treatment, which is designed to help stop hair loss and regrow hair, works to revitalize the health of blood vessels in the scalp in order to stimulate hair growth. Talk to your dermatologist about what's best for you. 
What the stylist says: The quickest way to fake fuller and/or longer hair is with extensions. That said, if not properly maintained, extensions can do more harm than good, so speak with your stylist about the right type for you. 
If your hair is fine or fragile, celebrity stylist Justine Marjan, who works with Kerry Washington and the Kardashian sisters, recommends Hidden Crown® hair extensions. The headband styles are goof-proof to apply, since they blend in seamlessly, she says, and "won't pull or tug on the hair." 
Buckett is also a fan of extensions for creating longer or thicker hair. For the most natural result, he recommends using them for fullness and cutting them to match your length. If you want to add a few inches, don't go more than two, he says, recommending the brands Great Lengths® and The Hair Shop®.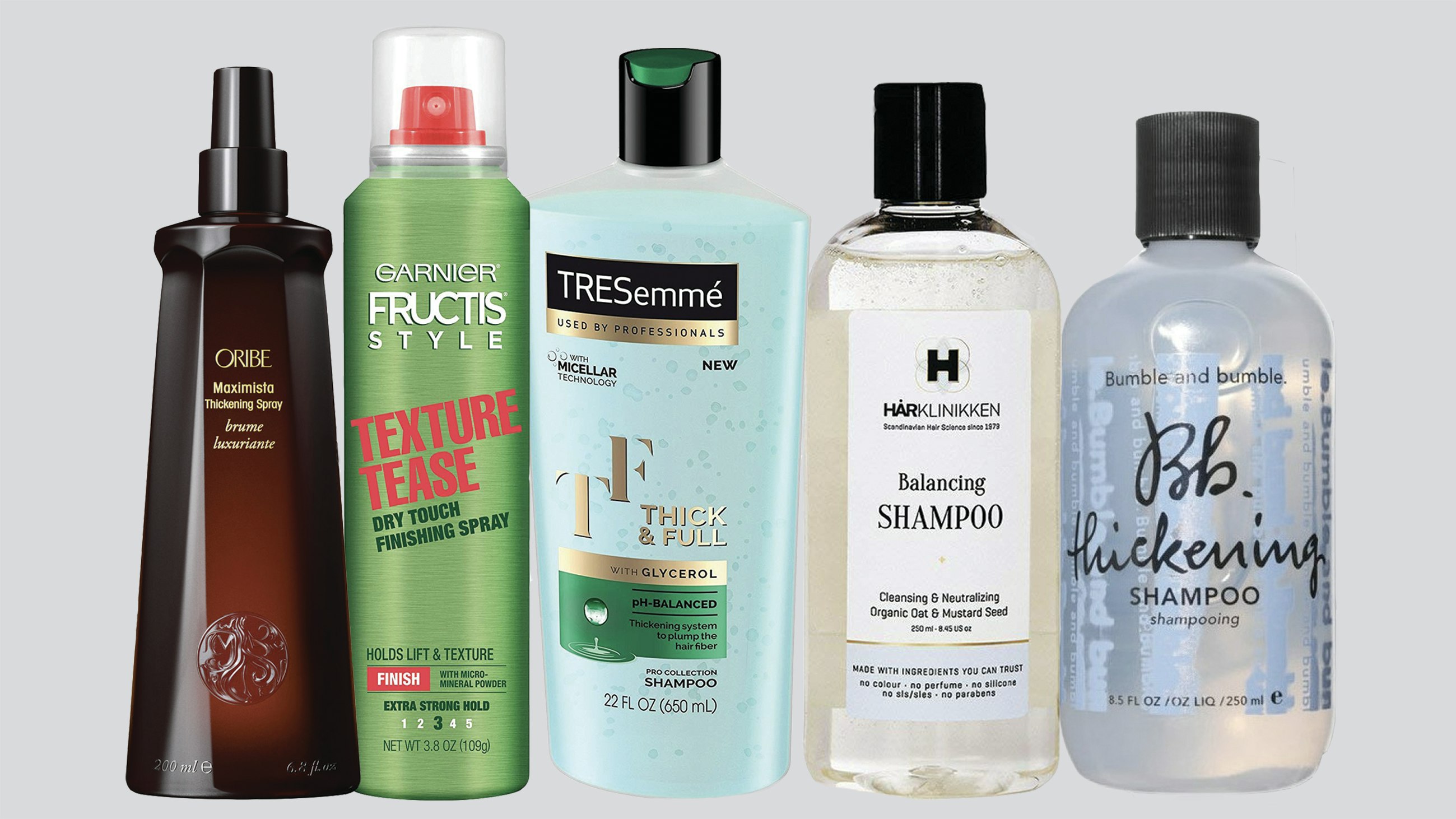 At home, the products you select for shampoo and styling can make a huge difference in making your hair look denser than it actually is. Our stylists recommend formulas such as Bumble & BumbleTM Thickening shampoo ($28) and conditioner ($30), HarklinikkenTM Balancing Shampoo ($36), and Tresemme® Thick & Full shampoo and conditioner to fake a fuller appearance. To add oomph when styling, try spritzing Oribe® Maximista® ($39) on dry hair for lift at the root, while Garnier® Texture Tease® Finishing Spray ($4) can add height at the crown. 
What should I have in my at-home hair kit?
What the doctor says: Stocking up on certain supplements may boost scalp and follicle function. "Oral supplements can help support the body's natural production by being absorbed through the bloodstream, supporting underlayers first," notes Dr. Engelman. "With hair production, supplements act by supporting follicles in different phases by providing the nutrients to extend them." Viviscal® ($100 for three months), a favorite among the doctors interviewed for this story, is a supplement containing marine molecules, biotin, vitamin C, and iron that promises to target hair thinning when taken twice a day for three to six months. 
Another derm-recommended option is Nutrafol® ($88). This supplement claims to improve shine, strength, and density. It's also said to yield faster hair growth with a potent blend of damage-reducing antioxidants, saw palmetto, biotin, and a variety of highly concentrated botanicals "to revive follicles and increase scalp circulation," adds Dr. Engelman.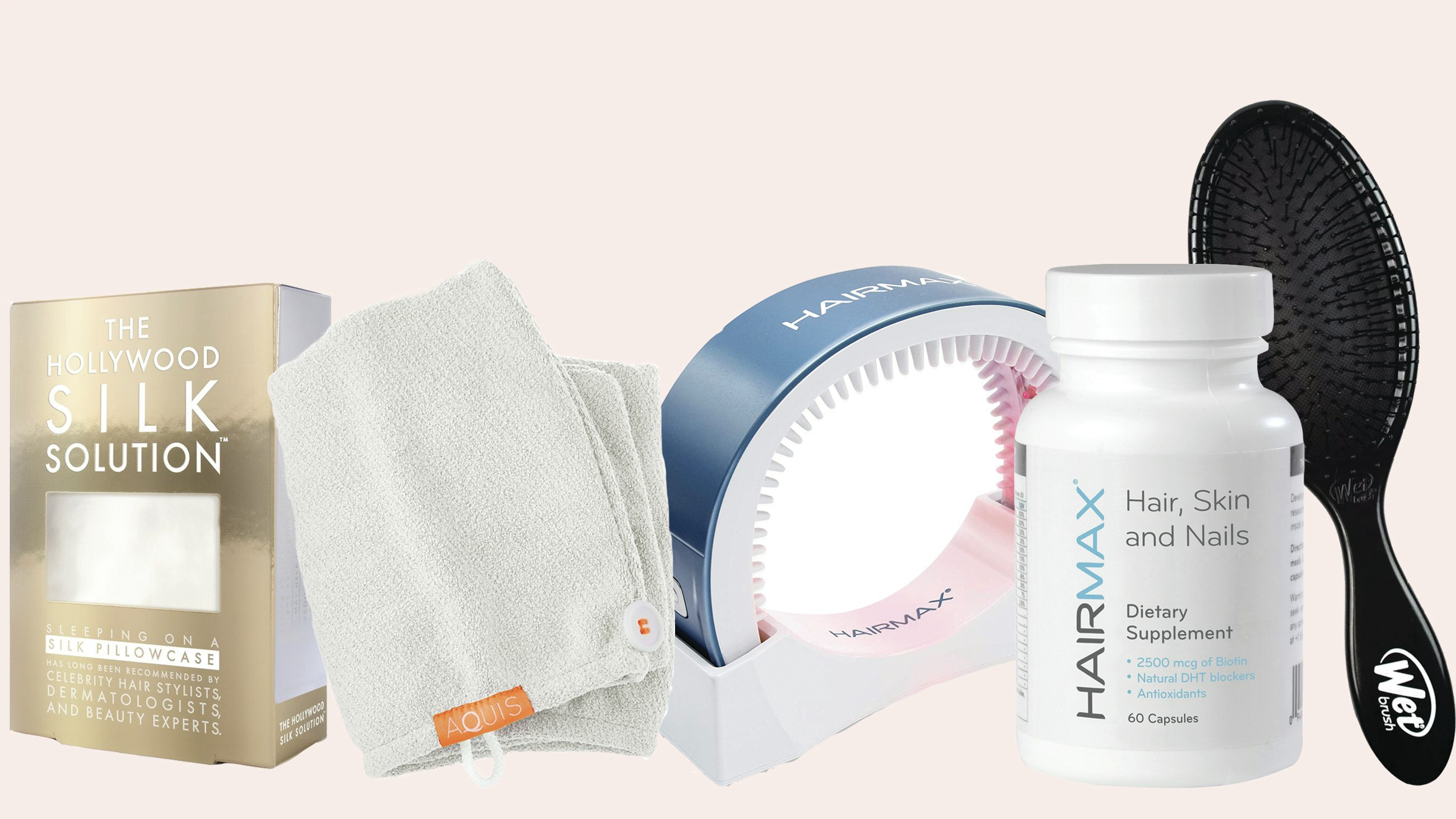 For a combined topical and oral at-home treatment, doctors also like the HairMax® dietary supplement ($19) and accompanying at-home light therapy device ($545). The ingredients (including saw palmetto, zinc, and amino acids) are "critical to healthy hair," says Dr. Fusco.  
What the stylist says: Updating your hair arsenal with the right products and tools is an easy way to keep your strands silky and tangle-free. Remember, the less you rough up the cuticle, the longer and stronger your hair can grow. Marjan's favorite tools include The Hollywood Silk Solution® pillowcase ($45) (bonus: the slippery fabric will help extend the life of your blowout, too), the Wet Brush® ($10) for gentle detangling, and the Aquis Prime® hair turban towel ($30) to avoid breakage when towel drying post-shower. 
When it's time to style, Stephen says the secret is investing in a quality hair brush that won't snag or snap your strands. She recommends the Mason Pearson® ($275), which features gentle boar bristles to unsnarl tangled hair. Her other picks: no-tug elastics and scrunchies, root-lifting sprays for those prone to a flat-looking crown, and a deep conditioner to repair damage, like Dove® Intensive Repair Crème Conditioner. With these simple changes to your styling routine, you should see fuller, thicker-looking hair practically overnight. 
Dendy Engelman, MD is a paid Allergan® consultant.
Product prices may vary from the time this article was written.
Allergan may receive commissions for purchases made through links in this article.