When you're a beauty editor, there are two things battered into your brain more deeply than "don't talk to strangers" was as a kid:  
First: Wear sunscreen. At all times. SPF 30 at a minimum, even on a cloudy day in November.
Second: Use retinol. If you want to have smooth skin. If you want to have clear skin. Basically, if you want to have good skin.
Editor's Note
Retinol shouldn't be used by women who are pregnant, considering getting pregnant, or nursing. Please consult with your doctor before use.
For two decades now — from my first beauty gig as an assistant beauty editor at Redbook through my beauty director-ship at Allure, then into my role as Editor-in-Chief of Women's Health and now as a content strategist and writer, I've been a rapid proselytizer of both rules. On my own face, I've been a diligent follower of the first. But even as I lecture others on the importance of retinol, I've never used it myself.
And now, at 43, I fear: Have I screwed my skin?
Let's back up. The reason dermatologists love retinol, or vitamin A, with the passion of a Jane Austen couple, is because it's part of a skincare family called retinoids that trade in legitimacy, not poser-hood. "Retinoids as a class of ingredients are the ones with the most scientific evidence of anti-aging action," says Heidi Waldorf, M.D., associate clinical professor of dermatology at the Icahn School of Medicine at Mount Sinai in Manhattan, who has a private practice in Nanuet, NY.
The most potent retinoid is prescription tretinoin, which contains all-trans-retinoic acid. "All other forms of vitamin A must enzymatically convert to all-trans-retinoic acid in order to exert biological activity," says Jeannette Graf, M.D, an assistant clinical professor of dermatology at Mount Sinai, with a private practice in Great Neck, NY. Translation: In order for over-the-counter retinol to work, it has to morph into retinoic acid, which is why it's less potent than the Rx varieties.
The attraction of topical retinol, however, is that it requires no doctor's appointment and is less expensive than prescription strength formulae. And unlike many over-the-counter ingredients, it actually penetrates the skin. "It repairs the skin on a DNA level," says Graf. Per a 2015 study published in the Journal of Cosmetic Dermatology, both retinoic acid and retinol "increased epidermal thickness" and "upregulated genes for [two types of] collagen. Facial image analysis showed a significant reduction in facial wrinkles following 12 weeks of retinol application."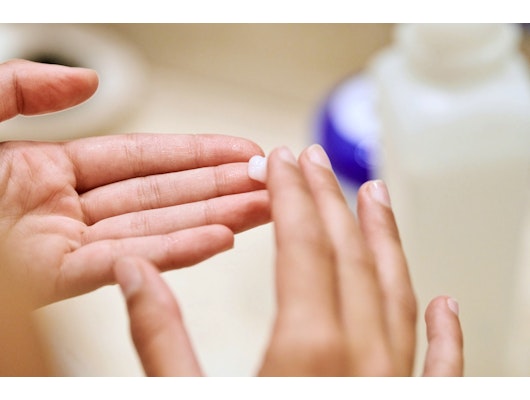 Stocksy United / Guille Fanigold
In other words, by stimulating collagen and inhibiting the production of tyrosinase (an enzyme that pumps out melanin), retinol can soften lines, fade spots, even out tone, and keep skin looking plump. It makes pores appear smaller (when collagen breaks down, pores get stretched out) and gives back some of that uber-softness (the kind I had when I first started hearing about retinol).
So, yeah, retinol is pretty awesome. Like, Meghan Markle-level awesome. Hence why I've just now 'fessed up to my retinol slackerism. Guilty as charged! (When I told one of my closest friends — also a veteran beauty editor — about this story, she responded with thinly-veiled shame: "You've never used retinol?") What was I thinking?
To UV or Not to UV?
Turns out, I haven't completely botched things up with my skin. Because UV exposure is responsible for 80 percent of "visible facial aging signs," per a 2013 study published in the journal Clinical, Cosmetic, and Investigational Dermatology, a retinoid's most pivotal role is to turn back time (Cher's words, activated!) from accumulated sun damage. "When we did the original [retinoid] studies, we saw that new collagen formed with a reversal of a number of the signs of photoaging," says Graf. "If you didn't use it until 40, it's fine if your skin didn't age that dramatically."
So I'm OK on this front, since my skin hasn't sustained much sun damage, thanks to my religious application of sunscreen, lack of serious childhood burns, one and only teenage trip to the tanning bed, and current under-umbrella style of beach lounging. If you burned every kiddie vacation, were a lifeguard pre-rash guards, and continue to lay out, you've defaulted on more retinol effects than I. (Sorry, but #truth.)
However, there's also that 20 percent of non-UV-induced "visible facial aging signs," which retinol fights too. A 2007 issue of the journal Archives of Dermatology found that "topical retinol improves fine wrinkles associated with natural aging." And, according to other studies in 2012 issue of Dermato-Endocrinology, "[retinol] has positive effects not only on extrinsic but also on intrinsic skin aging."
"Natural aging," "intrinsic aging," or as it's also called, "chronological aging" — this is where I've lost out by skipping retinol. Of course, my goal isn't face-freezing or looking like a tween — but I wouldn't have minded delaying the newfound roughness, bit less tautness, and forehead crinkling I've got going on. "The earlier you start [using retinol], the more effect you're going to get," says Waldorf.
Now, we all have an internal reservoir of retinol that gets regularly replenished from our diets (beta-carotene is retinol-rich and available by the truck-load in spirulina, Graf tells me; you can get it in pill form if 10 spinach shakes a day don't sound delicious). But topical application fortifies that reservoir before the aging dam breaks.
Still, neither derm acts like it's gloomy for my emerging wattle (OK, I'm being slightly dramatic, but it's worth noting that no amount of retinol can halt gravity). "The goal would be never to have to play catch up," says Waldorf. "But that doesn't mean that you can't reach the same point now. It's never too late to start." It is, however, going to take longer to arrive at that point.
Is Nighttime the Right Time?
The main reason I never used retinol — and never talked about not using it — is because it's linked to another cardinal beauty sin: not always washing my face at night. As the p.m. hours are routinely touted as the best time for prescription retinol, it would have sat atop my non-cleansed skin, doing little but watching Law & Order reruns with me.
What's wrong with non-prescription retinol by day? Rumors are rampant that the ingredient both makes the skin more sun-sensitive and degrades in light.
I say "rumors" because dermatologists themselves don't seem to agree on the former, with some claiming it's a myth, and others getting into semantics. (More specifically, that retinol itself doesn't sensitize skin, but by disrupting dead cells and cleaning out pores, it does leave your face more exposed.) As Waldorf puts it, "sun sensitivity has been misunderstood. Using a retinoid just makes your skin more like a baby's behind — think: newer skin that needs protection." She continues, "But it isn't more likely to burn. In fact, in the Northeast, retinoids are better tolerated in the more humid, warm months than the dry, cold ones."
[Editor's note: To be sure, ask a doctor you trust when the optimal time to apply it is.]
As for degradation, it's true that retinol, as an ingredient, is susceptible to oxidation when exposed to UV light — which would render it ineffective. But "retinol penetrates [the skin] so rapidly, it won't degrade in the sun once it's in your skin," says Graf. So unless you're dipping into an open vat (see "The Container," below, for more on this) in a bathroom filled with bright streams of sun, you don't have to worry so much about it breaking down, she explains.
Wait. This is game-changing music to my "only at night"-pummeled ears. I actually can wear retinol during the day?
If I also wear sunblock, Graf says, then yes. "I think it's fine." There are also many over-the-counter retinol moisturizers that contain SPF protection. Be sure to check product labels to see which ones are labelled for use in the daytime, nighttime, or both.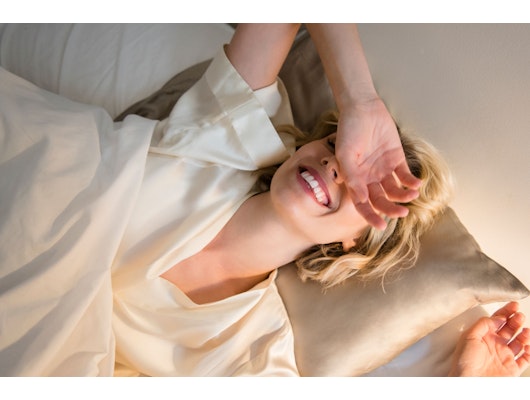 Stocksy United / Jamie Grill Atlas
However. There is another reason pros prefer retinol during werewolf hours: Skin is in repair mode at night, when its circulation is at its highest, so retinol is more effective then — not to mention it doesn't have to compete with daytime sebum production and sun protection. When Waldorf outlines a regimen for her patients, her general mantra is "protection by day, renewal by night." Graf does the same on her own skin: antioxidants and sunscreen in the a.m. and retinoids/alpha hydroxy acids and heavier moisturizers before bed.
Your Mini Guide to Retinol
With all this information locked into your head, you now know that whatever your current age, you can still make headway — faceway? — starting today. Here's what to look for on the shelves.
The Container
We've discussed the pitfalls of light exposure on retinol molecules. You're best off choosing an airless pump or airtight foil tube that is opaque (even clear black packaging, says Graf, might not prevent degradation). This way, only the container's tip sees any light, heat, or air when opened. All of the recommendations below come in such a pump or tube.
The Type
Retinol isn't the only OTC retinoid available. It's got cousins — mainly retinaldehyde and retinyl palmitate — but it's more impressive than most. Graf cites a 1996 Journal of Investigative Dermatology study that "compared the rate and penetration of all retinoid varieties. The results showed retinol penetrated most quickly." Retinyl palmitate, she says, has the lowest absorption rate in the skin, so higher concentrations are required (which can then be irritating). Retinaldehyde is closer to retinoic acid on the chain — meaning it has to go through fewer enzymatic contortions to start working — but it doesn't penetrate as well as retinol. For this reason, though, retinaldehyde can be a good alternative if retinol is giving you skin ouch. Try Eau Thermale Avène® RetrinAL 0.05 Cream ($61).
The Concentration
Most formulas don't note the exact retinol percentage they contain, but derms say it doesn't matter as much as you'd think anyway. Sure, you don't want a teensy-weensy dribble of it in your cream, but the most effective products are more than a number (you've got to weigh in the delivery system and base too — see below). For products that do list a percentage, be careful of falling into the "more is more" trap, especially if you're a retinoid newbie.
That's partly because going higher doesn't always equal higher payoff: A double-blind study published in the Archives of Dermatology in 1995 compared the effects of .025 percent and .1 percent prescription tretinoin creams on photoaged skin; researchers found "statistically significant improvement in both groups with no statistical difference in degree of improvement," says Graf. "There were, however, more side effects of irritation with the 0.1 percent group."
Since it takes time to see results, if it becomes unpleasant to use, you'll likely give up before the effects kick in. Also, as Waldorf points out, "you might be trading using a high-concentration twice a week versus a lower concentration nightly — both might give the same result, so I'd choose the one that is easier for the patient to do regularly."
SkinCeuticals® makes both a .5 percent and a one percent retinol if you want to alternate or titrate up. Start with SkinCeuticals® Retinol 0.5 Refining Night Cream ($64); its retinol is slowly released into the skin. Which leads us to . . .
The Delivery System
Not to be overshadowed by concentration, the delivery system is critical to retinol success. "They increase the efficacy of the concentration and/or decrease the irritancy of the active ingredient," says Waldorf. One method is to encase the ingredient's molecules in a lipid, such as a liposome, to boost their absorption and stability (preventing oxidation). Another is time-release technology, which "forms a reservoir in the skin," dispensing a bit of retinol into the wilds of your epidermis over many hours. This, "in my opinion," says Graf, "is the most well-tolerated delivery system."
The latest systems — which Waldorf refers to as "express trains" — ferry retinol quickly where it needs to go. "If the retinol is encapsulated well, it should remain stable even when worn during the day," says cosmetic chemist Ron Robinson of BeautyStat.com. (Yay, I say.)
How would one know whether a product has a decent delivery system? Look for the words "time-released" or "encapsulated" on its packaging or online writeup, says Robinson. Try Marie Veronique Gentle Retinol Night Serum ($110), which is microencapsulated ("with stabilization assist from vitamin E" — antioxidants do further stabilize formulas, Graf says); the time-released Philosophy Help Me® Retinol Night Treatment® ($49); or PCA Skin Intensive Age Refining Treatment® 0.5 Pure Retinol Night ($109), which relies on proprietary Omnisomes, which Graf believes are "more stable than a liposome delivery system."
The Base
Oily skin can typically tolerate retinol, but if you have sensitive or dry skin, "the base can make or break irritancy," says Waldorf. You want a creamy, time-release formula with hydrating ingredients to buffer any potential inflammation. RoC® Retinol Correxion Sensitive Night Cream ($23) contains a lower dose of retinol along with hyaluronic acid (a humectant that draws moisture to the skin), dimethicone (an emollient), and shea butter (a humectant and occlusive). (Fun fact: In 1957, RoC became the first retinol product in the U.S.)
For Day
If you're lazy like me and daywear is really the only realistic option, a slew of brands now offer retinol formulas with SPF. (However, most dermatologists still recommend topping them with a separate sunscreen.) CeraVe® Skin Renewing Day Cream SPF 30 ($24) blends a time-release, encapsulated retinol with broad-spectrum sunscreen, ceramides (blockbuster hydrators and repairers of the skin barrier), and hyaluronic acid. I plan to start using this tomorrow…morning.
Some products were gifted to the author for the purpose of writing this article.
Allergan may receive commission for purchases made through links in this article.