Despite being a beauty devotee and editor by profession, I've never been one for a spa day. I often find myself squirming through lengthy and luxe massages. I leave indulgent facials that focus primarily on relaxation (and are therefore free of painful extractions) disappointed. Maybe I'm a masochist, or maybe I just need to pop a chill pill. Either way, I expect a treatment to do something. And that's exactly what AQUAGOLD® Fine Touch delivers.
This souped-up version of microneedling simultaneously infuses a customized cocktail of glowy skin ingredients through 20 hair-thin channels plated with 24-karat gold. "Previously, you'd microneedle first and layer a serum afterward," explains Joshua Ross, celebrity aesthetician and founder of SkinLab in Los Angeles, California. "The problem is that the micro-injury is already closed up and starting to heal itself by the time you apply any topical product. With AQUAGOLD, we're able to deliver those serums real-time as we create the injury."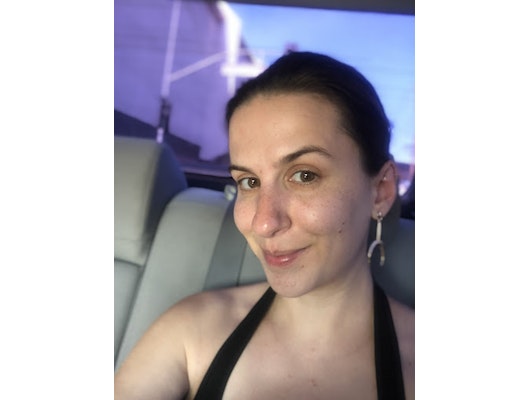 Before
For my treatment, Ross combined a bespoke blend of vitamins A, C, and E in a tiny glass vial. "I use vitamin A in the form of retinoic acid to speed up cell turnover," explains Ross. "L-ascorbic acid, which is pure vitamin C, is a brightening agent and antioxidant that helps lift some pigment and gives the skin an all-over glow, while vitamin E offers hydration and slip." It is important to note that the vitamins used are "pharmaceutical grade," as over-the-counter products often contain "fillers and other agents" that shouldn't be infused into the skin, he adds.
The treatment started with a quick cleanse and swipe of "de-greaser" (i.e., alcohol or acetone) to disinfect and break down the skin's lipid barrier (this has occlusive oils that prevent ingredients from penetrating). Then it was time for the AQUAGOLD action to start. While I stared at the Christian Lacroix butterflies floating across the ceiling of the sterile-yet-fabulous treatment room, Ross stamped the needle-topped vial across every inch of my face. He applied gentle pressure with a slight twist, puncturing the surface and delivering the precious, complexion-reviving concoction just under the dermis (the skin's second layer). With each imprint, I felt a bee sting-like sensation that wasn't necessarily painful, but wasn't exactly pleasant either.
Luckily, the entire treatment was finished in under 15 minutes, which was far less than the time it took me to get to SkinLab in L.A. traffic. As someone with zero patience for the long, drawn-out fluff that usually comes hand-in-hand with a facial (such as stifling steam, multiple masks, delicate massage, and the sound of crashing waves on repeat), I was thrilled. I looked a little worse for wear, but a bit of redness and a slightly tacky layer of vitamins on the surface of my skin didn't stop me from heading straight to dinner with a friend. Ross recommends forgoing cleansing for a full 24 hours to allow the vitamins to fully absorb. He also suggests avoiding makeup and skincare immediately following a treatment, as both can contain ingredients that may irritate a compromised complexion.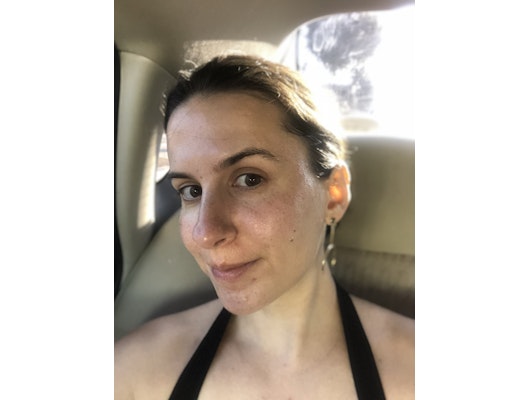 Immediately after
While my AQUAGOLD experience could be described as blissfully brief, the real work wouldn't take place until well after I left the office. Let's just say things got worse before they got better. In the days following the appointment, my skin was more sensitive than normal and there were red rings where the vial was pressed firmly into my face. Shortly thereafter, I experienced mild flaking (a standard side effect of retinoic acid).
Approximately a week later, however, I began to see results. Not to toot my own horn, but my skin was positively radiant. The fine lines between my brows and near the outer corners of my eyes were less noticeable and the freckles I've earned in the California sun seemed to fade. Even a friend from New York City asked me if I got injectable filler after chatting with me on FaceTime. (For the record, I hadn't.) As the old adage goes, the best things in life are worth waiting for, and AQUAGOLD proved that statement to be true — even in the age of instant gratification.
One week later
Ross recommends booking the treatment two weeks prior to a big event. Follow-up appointments can be made anywhere between two and four months. In addition to the face, AQUAGOLD's Fine Touch can be used to treat the neck, decollete, arms, hands, etc. The price hovers around $600 to $1,000 per treatment depending on the cocktail that's being infused. While that may seem like a big spend for a 15-minute session, if you break down the dollar amount across two to three months (the length of time those luminous, skin-plumping effects typically last), it's practically a bargain. Even better, AQUAGOLD allows restless beauty fanatics like myself to skip over the spa music and get straight to the good stuff: it yields real, I-woke-up-like-this results.
Services have been gifted to the author for the purpose of writing this article.