In The PathTM, we spotlight different women making a difference in the fashion, beauty, wellness, medical aesthetics, and more industries. Here, Kopari Beauty co-founders Kiana Cabell and Gigi Goldman share their road to success.
Whether it's glancing up at California's palm trees or sipping a piña colada on a sandy Caribbean beach, there's just something about coconuts that makes them universally synonymous with paradise. But the tropical fruit, it seems, is also the ultimate wonder-ingredient: it's fueled biodiesel for planet-friendly cars, and in recent years, it's become a mainstay on kitchen shelves everywhere as an all-natural alternative to butter and cooking oil. And, as Kopari® Beauty founders Kiana Cabell and Gigi Goldman have proved, coconut can also be a key ingredient for skincare as well.
Because she grew up in Hawaii, Kiana Cabell had always used a lot of coconut-based products, especially in cooking, but it wasn't until she attended a natural foods school while living in New York City that she really understood the fruit's far-reaching powers. "I learned about the health benefits and properties of coconut oil," she explains. "And at the same time, I saw coconut emerging in the world of whole foods, with coconut water having its moment and coconut oil at the head of every checkout." 
Cabell, 30, was taking the coconut oil from her kitchen and using it all over her body — as a moisturizer, shaving oil, a hair mask, and even a lubricant — and she realized that there was nothing really like it in the beauty world. "I just had an aha moment to create a beauty line around coconut oil," she remembers. She began fleshing out the idea and reached out to her friend James Brennan, who'd co-founded juice company Suja®, and asked him to connect her to his packaging person.
Around the same time on the other side of the country in San Diego, stay-at-home mom of three Gigi Goldman had a similar idea. Goldman, 45, had long used coconut oil in the kitchen, and after reading about its benefits for hair and skin, she started using it on her body as well as her kids'. "Out of pure convenience and chaos with all the kids running around, I would use it as a body moisturizer, I would use it on their skin after sun, and I would use it on scars," she explains.
Goldman was amazed by how quickly and effectively the coconut oil worked, so she went to her husband Bryce, a beauty industry veteran of 20 years, and shared her idea for a coconut oil brand. The couple then met with their old friend James Brennan about the concept, and, as Goldman says, "The timing was just perfect." The Goldmans, Brennan, and Cabell took a giant leap of faith and decided to go into business together, and Kopari was born.
The beauty line officially launched in 2015 as a direct-to-consumer brand. It immediately began generating buzz, both among consumers and in the industry. In under five years, Kopari has landed on the shelves of over 2,000 stores nationwide, including Sephora®, Nordstrom®, and Anthropologie®. It's even picked up celebrity investors like Karlie Kloss, Ashton Kutcher, and Mila Kunis along the way. 
These days, there are more than 25 products in the Kopari line, including lip balms, deodorant, and toothpaste, and the San Diego-based company now has over 60 employees. We sat down with Goldman and Cabell to discuss their rise to the top of the beauty world, their favorite products and treatments, and more.
Spotlyte: How did your respective backgrounds inform the idea for Kopari and the eventual launch?
Kiana Cabell: For me, it's really about living that beach lifestyle in Hawaii, so you see a lot of tropical elements in the branding, ingredients, and in all the things we do in the marketing space. A lot of people say that when they use the product, it transports them, and that it's a nice break in their day
Gigi Goldman: Coconut naturally aligns with the beach and the tropics. When you smell or think about a coconut, it takes you to those palm trees and the sand. So, Kopari really represents the tropical life we're all living, whether it be Hawaii or California, and you can really see it in our marketing, visuals, and packaging. The brand resonates with people so much because it really is authentic to who we are. My husband is a big surfer, and we all live on the beach. 
We also have a really unique voice, and it's actually how we all talk — you know, we really do give a big middle finger to sulfates. It's very conversational and approachable, and the price point is reasonable with nothing over $44, so I think we had a really unique perspective and filled a white space in the beauty market.
Spotlyte: What are your beauty philosophies?
GG: We're similar in the sense that we just kind of embrace our natural beauty. If you look at both of us, we're not really doing ourselves up. We just like to keep it simple. And, for me, especially being 45, it all starts with your skin, whether it's your body or your face. When you have hydrated, glowing skin, you can do anything. I think for me, skincare is super important because it gives you that foundation to apply makeup, et cetera. It's really about embracing your natural beauty and your uniqueness, and I would say one of your biggest beauty assets is your smile.
KC: I don't necessarily do a 10-step system in the morning and the night. I keep it a little simpler — maybe about a four-step routine! But I'm really just into wellness overall. Whether it's doing something like oil-pulling or cryotherapy or yoga or just being active and eating well, it's really good to just balance everything out. It all reflects inner and outer beauty.
Spotlyte: How do these philosophies inform Kopari?
KC: A lot of it is about balance and finding these clean products that are performance-driven, but also make you feel good and round out your self-care routine.
GG: If you go to our office and just see our lifestyle, it's all really aligned. In our office, we have a recycling program, everyone eats really healthily, and a lot of people have clear exercise and wellness routines. So, in a way, the line was inspired by what we were all looking for — a simple, multi-category, clean brand that we knew would work.
Spotlyte: Where do the ideas for new Kopari products come from? And how do you know when it's really something?
GG: It's a collaborative process. Kiana comes up with a lot of the innovation, and then we look to see where we have gaps in our portfolio, and we ask our consumers what they're looking for. We also see trends, but we're at the forefront of trendsetting. We really strategize as a team, come up with concepts, and then Kiana makes it something amazing from a Kopari vantage point. 
Spotlyte: Tell us about the process. Where are these ingredients coming from?
GG: We actually sustainably source the coconuts from small, family farms in the Philippines. Kiana, my husband, my eldest son, and I actually went there in March, and we built houses in our coconut grove for people who lost their homes in natural disasters. It was an incredible experience. We got to see how the coconut is cut down from the tree, how it's manufactured, and what a miracle ingredient it is. It has so many aspects to it, even outside of beauty and food. 
KC: There's so much that coconut is used for from that sustainability aspect. They're bringing in an insane amount of coconuts, but are still only tapping into around 10 or 15 percent of what's available in the region.  
Spotlyte: Obviously, Kopari is known for its use of natural ingredients. Why is that so important to you both?
KC: Clean is having its movement, which is so great because the beauty industry really hasn't been regulated. So being a trusted, clean beauty brand really helps the consumer navigate products that they're using. If you turn over most labels, there are so many ingredients that most people just don't even understand or recognize. 
GG: Before it was a movement, it was important to us — just from having a family and being concerned with health and wellness. We wanted to create products that we could use ourselves, and feel happy about our kids and friends and family using as well. Clean beauty today isn't even a movement anymore; it's almost expected that people are moving into that space and planting their flags in it.
Spotlyte: What's on the horizon for Kopari?
GG: We're going to be playing with a lot of different natural ingredients that are trending. We're still going to be true to our north star ingredient, coconut, but we're continuing to build out our franchises with other unique ingredients, so stay tuned. Another thing that we're super excited about is that we finished our first 20 houses in the Philippines, and we're going to start raising money to build an additional 20, and then another 20, so that Kopari VillageTM can house as many people as possible. We're also working with Waste2WaterTM to get a more permanent water source to this village. 
Spotlyte: Kopari has seen crazy success in its four short years, but that must take a lot of energy from you both. How do you find your work-life balance? 
KC: I love that question. Some days, we find it, and some days, we don't. It's a growing brand, and there has been the opportunity to bring in more and more people for specialized roles and responsibilities, so as that's happening, we have had more time to focus on ourselves and our families and our kids. Some days, it's crazy, crazy busy, and we're traveling a lot, and then other days, it's a little bit more laid back, and we can have more "me" time.
GG: Because my kids are older — 17, 14, and 10 — they're really supportive and understanding. They were able to witness this whole company unfold from the days before we launched. We were having them smell and test the products and give their opinions on seeing [the products] become this success. So, they've really learned that anything is possible and that mom has to travel, so she might not always be at their sports game or whatever it is. When I am home, though, I really try to be engaged and focused on the moment and connecting with them, and not distracted by emails or work. It's about being present with whatever you're doing at the time, even though that's never easy.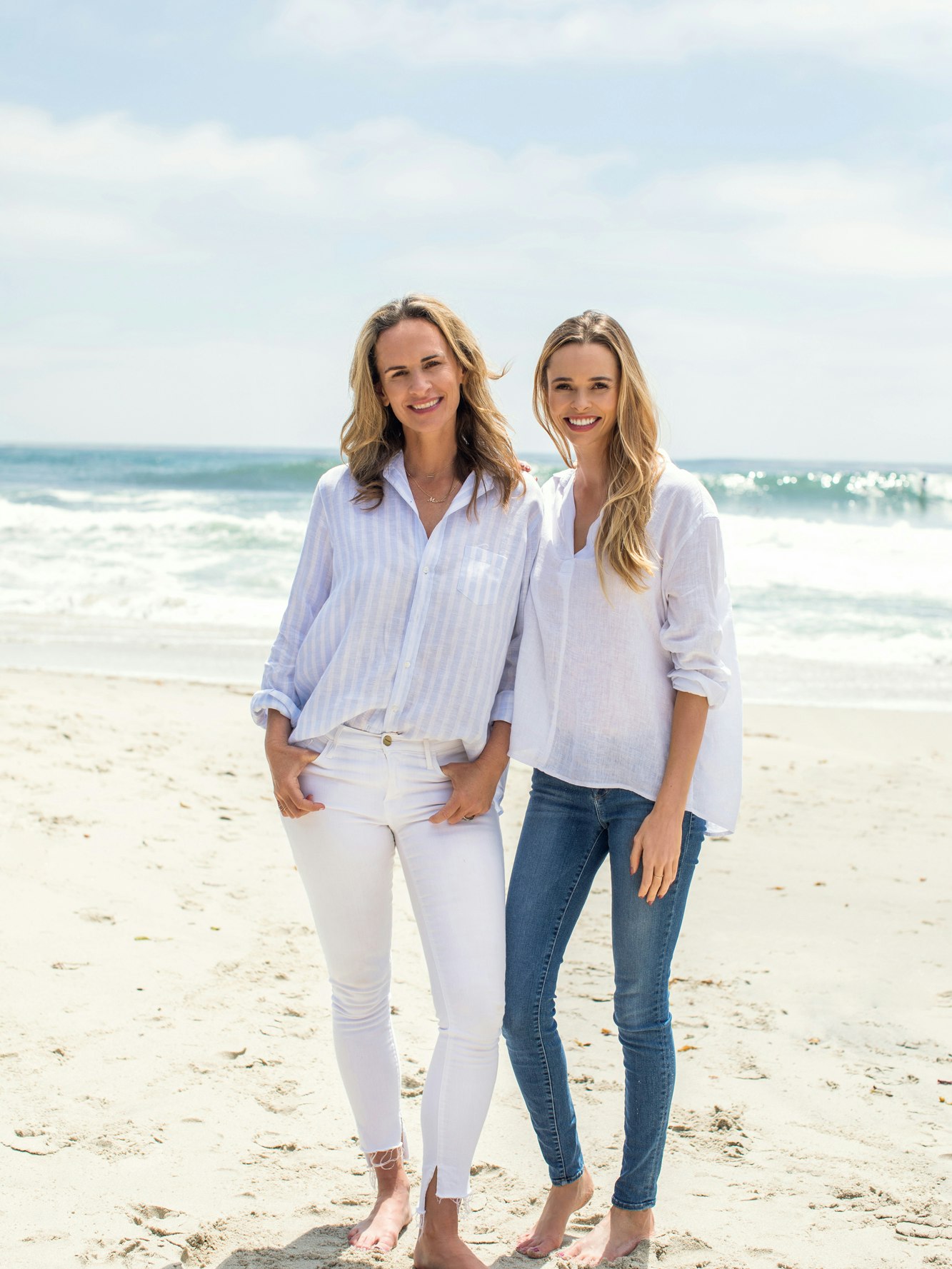 Spotlyte: What's your biggest advice for anyone looking to enter the beauty industry today?
KC: We just say you've got to go for it. It's important that you have the right idea and the right space. And a lot of it's about the timing. You have to have that right idea — if you really believe in it, and you have the passion, you just have to go for it.  
GG: And surround yourself with the right people. There are so many people who are willing to help. Kiana and I always used to say, "Just do it." For all four of us, we always felt like we'd rather know that we tried than just wonder "What if?"...To be honest, it's not always easy. It looks perfect from the outside, but there are a lot of challenges on the inside. I wouldn't change a thing, though, because it's been an amazing and humbling experience.
Spotlyte: What are some of the beauty products, Kopari or otherwise, that you can't live without?
KC: I absolutely love our Coconut Melt®. It's kind of why we wanted to start the brand. I use it for everything. I put it all over my baby, I put it all over my body, I shave with it, I take my makeup off with it, and I use it as a hair mask. So, that's really kind of my hero. I also love our Shower Oil, which is a body wash, and it has a really nice lather that leaves your body hydrated. I also love SkinCeuticals® C E Ferulic®, which is great every morning. And the thing that I really can't get out of my regimen is the Mario Badescu® Drying Lotion. I'm a picker, so if I have any kind of a blemish, it's perfect. And I love Living Proof® shampoo and conditioner.
GG: For me, it goes back to the Melt. If I left home with only one thing, it would be the Melt, because I can use it any which way. I use it as an overall body-hydrator. I use it on my face. I use it to take off makeup. And we just came out with Coconut Melt Wipes, which are so convenient. I always carry them with me on the plane, and they're always in my travel suitcase. 
The other thing I really can't live without is our Kopari Lipgloss. I put it on about 10 times a day. I also like DevaCurl® shampoo, because it doesn't have any sulfates. I have curly hair — it works well and doesn't dry my hair out.
Spotlyte: What are your biggest skin concerns, and how do you address them?
GG: Being 45, my biggest concern is dry skin, so I exfoliate a lot. I drink a ton of water. Coconut oil is so hydrating, so I use that from head-to-toe. The other thing I really love is our Cleansing Oil — it's a two-in-one makeup remover and cleanser, but it doesn't strip my skin of moisture, so that's really big for me.
KC: I have more combination skin. I have one of those super-magnifying mirrors, and if I see anything, I just can't help myself, and I start picking, which I know you're not supposed to do. So, I do use that Mario Badescu product. I [also focus on] really cleansing well, exfoliating my skin. I've been trying different kinds of chemical exfoliators, but just being consistent with washing your face every night and drinking a ton of water is so important to have a good complexion.
Spotlyte: What are your daily skincare routines (morning and night)?
KC: I wash my face every day, right when I wake up. I do a lot of the product development stuff for Kopari, so I'm constantly switching up products in my own routine to try what's new and out there. So, right now, I got an Indie Lee® face wash in a gift bag, so I'm trying that, which is nice and clean. And then I do my C E Ferulic. Sometimes, I'll do a hydrating gel and then a moisturizer.
At night, I'll do a little bit more. I'll wash my face, and then I'll do a chemical exfoliant. Right now, I'm trying the Farmacy® Honeymoon Glow®. And then, I'll use our Kopari Eye Balm, which has caffeine and hyaluronic acid, so it helps plump fine lines and brighten undereyes. And then I'll do a different moisturizer at night, usually something a bit heavier; [right now] I'm using Drunk Elephant® moisturizer.
Spotlyte: Have you tried any medical aesthetic treatments? 
KC: I've never done anything other than injectable wrinkle reducers, but I want to. There are just so many things, and it's intimidating. I love the idea of it, and I'm educating myself on what's the right treatment and what it can do, but I just feel like adding more onto my plate that I'd have to keep up with is just — ugh. I honestly can't be bothered to add more treatments after the hair, nails, and everything.
Editor's Note
Injectable wrinkle reducers are used to temporarily smooth the look of moderate to severe wrinkles in certain areas of the face such as the forehead, frown lines, and crow's feet. They should not be used more frequently than every three months. Like any medical treatment, they have potential risks and side effects. Be sure to talk to a licensed provider to see if they're right for you. 
GG: I did microneedling once, and it was good. But for me, the recovery was pretty long. It took seven days to fully recoup, and it's hard to take seven days off. 
Spotlyte: What are your thoughts on aging?
GG: My thoughts [are] just age gracefully and stay out of the sun. That's one thing that's really hard with Southern California. You're so exposed, from the car to walking through the door. The best philosophy is to really just embrace aging. For me, every year I get older, I feel like I'm wiser and actually happier. There's more joy in my life, and I don't think a few wrinkles are going to change that. I've also been married for 20 years, and he hasn't noticed anything or at least said anything. Accept yourself at every stage in life, and if you choose to get a little help in that, that's fine too. But when I eat well and exercise and do my yoga, that's when I really look my best. 
KC: I agree with Gigi. I think it's just owning and being happy in your own skin. You know, everyone's aging, so there's no way to avoid that, but being preventative as much as you can and staying out of the sun is key. Growing up in Hawaii, I used to put oil all over my body and sit in the sun for days on end. I'm starting to see the effects so many years later, and it's becoming real.
Spotlyte: Whom do you trust with your skin?
GG: I finally put monthly facials on my calendar. They're so relaxing, and I walk out of there feeling completely rejuvenated. I go to Zio Skin Spa℠ here in San Diego. It's the whole experience. My esthetician uses a lot of products she created, but it's just really relaxing. She does all the extractions, and I just walk out feeling like my skin is glowing, and I've had an hour to just totally shut down and relax. 
Spotlyte: What is your favorite beauty trend currently?
GG: I really like a lot of the tools, like jade rollers and stuff. I'm really into massage and lymphatic drainage, and I recently actually had a lymphatic facial that was incredible. Face massage, really getting the circulation going, just makes your skin look better. 
[Editor's note: If you take blood thinners, talk to your doctor before using a roller tool or getting a lymphatic drainage massage.]
KC: I recently bought an infrared sauna, so I try to fit that in twice a week. I've noticed such a difference in my overall skin and complexion, but also just energy levels. You feel like the circulation really gets going, so I love that, too.
Spotlyte: What are your favorite self-care rituals and practices?
KC: I really like oil-pulling, which is basically swishing coconut oil in your mouth. We have these oil-pulling packs, which have this natural coconut flavor. I go into the shower and swish anywhere from five to 10 minutes, and it's really relaxing. It takes some getting used to, but now, I find it really soothing and meditative. After you're done, you immediately notice your teeth and your mouth — which are a breeding ground for all the bacteria in your body — feel a lot cleaner. 
GG: Basically, I really like yoga — it's so centering. I like hot yoga, so it's a lot of physical exertion, but it's also great for the mind. On my best days, I love to meditate. Those are two things that really help keep me centered, along with eating well and a grateful mindset. It really shifts my perspective when I walk into every day just being grateful and optimistic. 
Allergan® may receive commissions for purchases made through links in this article.